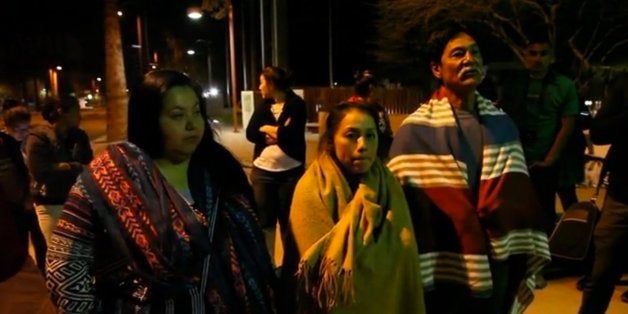 Phoenix police on Tuesday night broke up an encampment of activists on hunger strike to protest deportations, arresting two participants, according to witnesses. That same night, U.S. Immigration and Customs Enforcement deported the son of one of the hunger strikers.
"ICE fully respects the rights of all people to voice their opinion without interference," ICE said in a statement emailed to HuffPost.
The authorities' actions mark a heightening of tension between activists and Phoenix officials over the weeks-long hunger strike. On Feb. 17, six undocumented immigrants with family members locked up in the Eloy Detention Center, owned and operated by Corrections Corporation of America, pitched tents in front of Phoenix's ICE office and began fasting. They have demanded the release of their relatives and a halt to President Barack Obama's record-setting pace of deportations. They have also been joined by sympathizers who have visited the round-the-clock camp to show support.
Authorities arrived around 11 p.m. Tuesday night to clear the tents and disburse the encampment, according Reyna Montoya, 23, a sympathizer who had visited the hunger strikers daily.
"We went to get some food, because we were not fasting," Montoya told The Huffington Post. "When we came back, we saw a lot of cops ... They blocked the intersection from both sides and they came and just started taking down the tents and taking down our stuff."
Police arrested Carlos García of the activist group Puente and Erika Andiola, a co-founder of DRM Action Coalition. Natally Cruz, an organizer with Puente, said Andiola and García had been charged with trespassing and would appear in court some time Wednesday. The Phoenix Police Department did not immediately return a request for comment.
The hunger strikers returned to the location of their former encampment within hours of the police action.
"I'm not intimidated by the police," Anselma López, 48, told HuffPost. "We're going to continue with the strike."
López said she joined the strike because her son, Elder Gómez, has been detained at Eloy for more than two years.
"I have a lot of faith and I think my prayer will be heard," López said.
Despite the protesters' pleas, ICE deported one of the hunger strikers' children Tuesday night.
José Valdéz said a family friend had received a call late Tuesday from his son Jaime, who said that he'd been deported and was now in Nogales, on the Mexican side of the border. Police arrested Jaime on a DUI offense almost one year ago, which landed him in deportation proceedings.
Jaime, 31, is the third son that Valdéz has lost to deportation since illegally immigrating to the United States with his family 15 years ago from the Mexican state of Michoacán. His second-oldest son, Luis Felipe, was deported to Mexico last year, where he was killed while being robbed, José says.
"We're always living this terrible nightmare," Valdéz told HuffPost. "We're not drug addicts. We're not criminals. We came here to work."
ICE said Jaime Valdéz was deported because the the 9th U.S. Circuit Court of Appeals had denied the appeal of his deportation order on Monday, the day before the police broke up the protest encampment. He had two DUI convictions, according to ICE.
"While we continue to work with Congress to enact commonsense immigration reform, ICE remains committed to sensible, effective immigration enforcement that focuses on its priorities, including convicted criminals and those apprehended at the border while attempting to unlawfully enter the United States," ICE's statement continued.
Despite the deportation of his son, Valdéz also said he remained optimistic about the protest.
"Everything that's happening to me gives me strength to help my companions who have family inside Eloy," Valdéz said.
Before You Go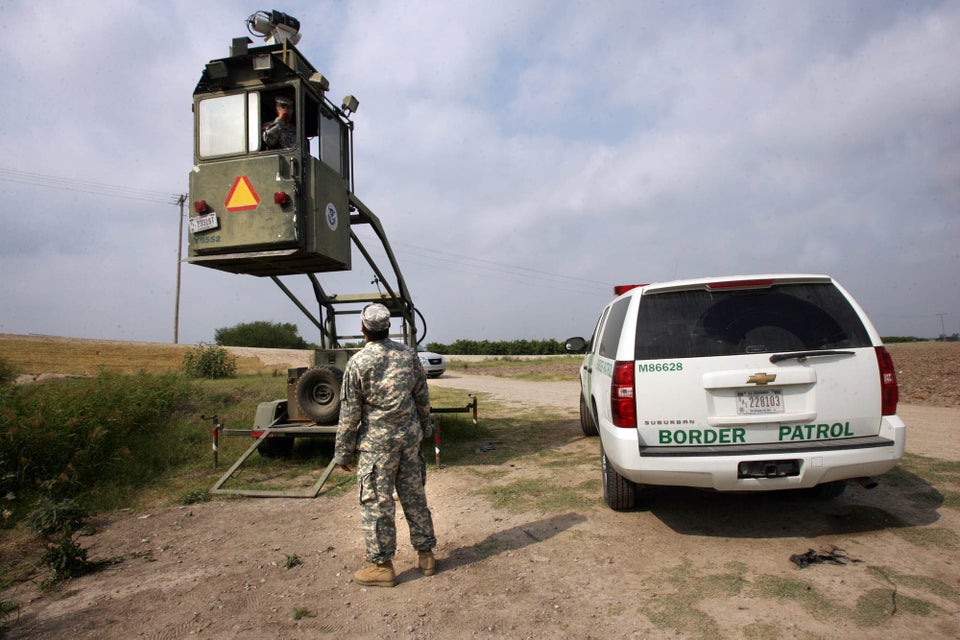 6 Misconceptions About The Border
Popular in the Community