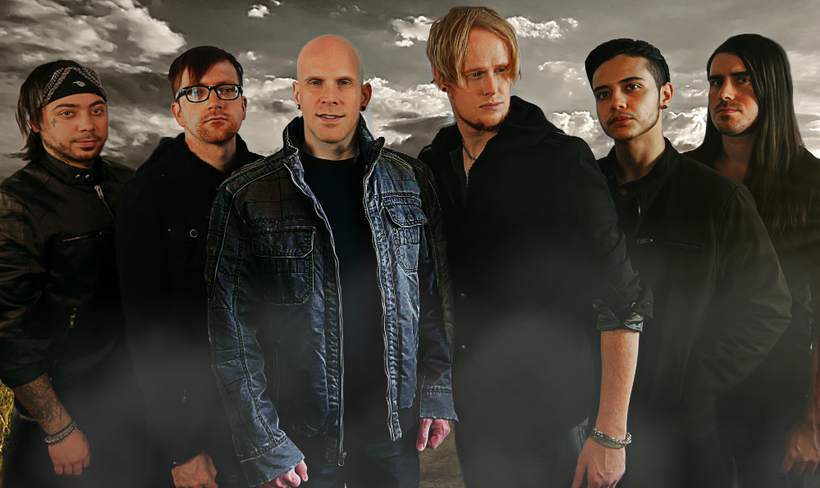 Phoenix Rising is a brand new music group from Dallas, TX comprised of Scott Lathwood (vocals), Kent Summerour (vocals), Lee Deane (Guitar), Mark Ridlen (Synth), Allan Kurt (Bass), and James Espinosa (Drums). They came together in 2017 in the most unlikely of places: a Craigslist ad posted by Summerour in search of like-minded musicians who not only wanted to make music with substance, but who wanted to create a live spectacle like nothing else in the local music scene. After a short search and a lot of luck, the ad was answered by five seasoned musicians, one of whom was Australian.
Like setting fire to gas, the newly formed group had written an album's worth of material in one month, so they set off in the search for the perfect producer. This search led them to Tyler Smyth; however Smyth was on tour six hours away in San Antonio. With no way to get in touch with Smyth, Summerour went down to San Antonio with a pillow and a sleeping bag, on a mission to maneuver himself back stage, and persuade Smyth to listen to the demos, hoping that after hearing the music, Smyth would be driven to work with the band. Mission complete, Smyth agreed to work with Phoenix Rising in LA and shortly thereafter, the band flew out to record their debut album From the Ashes.
Each member has years of musical training under their belt and tour experience with other groups that they have been a part of in the past. Their music combines Rock, Hip-Hop, EDM, and Classical elements into Pop song structures that sound like a contemporary Linkin Park blended with other bands such as Skillet, Killswitch Engage, Falling in Reverse, or Starset.
Lyrically, they strive to have a real message that can resonate with anyone and would rather sing songs about moving beyond personal boundaries and standing up for what you believe in, than songs about drinking and being in the club objectifying women.
Their latest single "If I Say No" is their story, and with it's very clear storyline of oppression and defiance I wondered if this was a common theme throughout the album. "It seems as though everyone we know has, at least once, had their spirit crushed by someone else trying to exert dominance. It can be a bully, a teacher, a coach, a significant other, or even yourself! These are personal stories that many people have been through and about how you can put an end to the cycle of being bullied and degraded. At some point you have to say "No, you are not going to do this to me anymore". You have to fight back for yourself to be free. You cannot stop being who you are as an individual because someone tells you fit inside their "normal." Defying the status quo, drawing a line in the sand about what is acceptable and what isn't is definitely a theme throughout the album and the core of what our music is about" explains vocalist Kent Summerour.
Pheonix Rising's songs inspire standing up for one's self, working hard and achieving, human rights, political injustice, embracing our differences, and calling out the wrongs of the world. This album couldn't have come at a better time.
Calling all HuffPost superfans!
Sign up for membership to become a founding member and help shape HuffPost's next chapter
This post was published on the now-closed HuffPost Contributor platform. Contributors control their own work and posted freely to our site. If you need to flag this entry as abusive,
send us an email
.