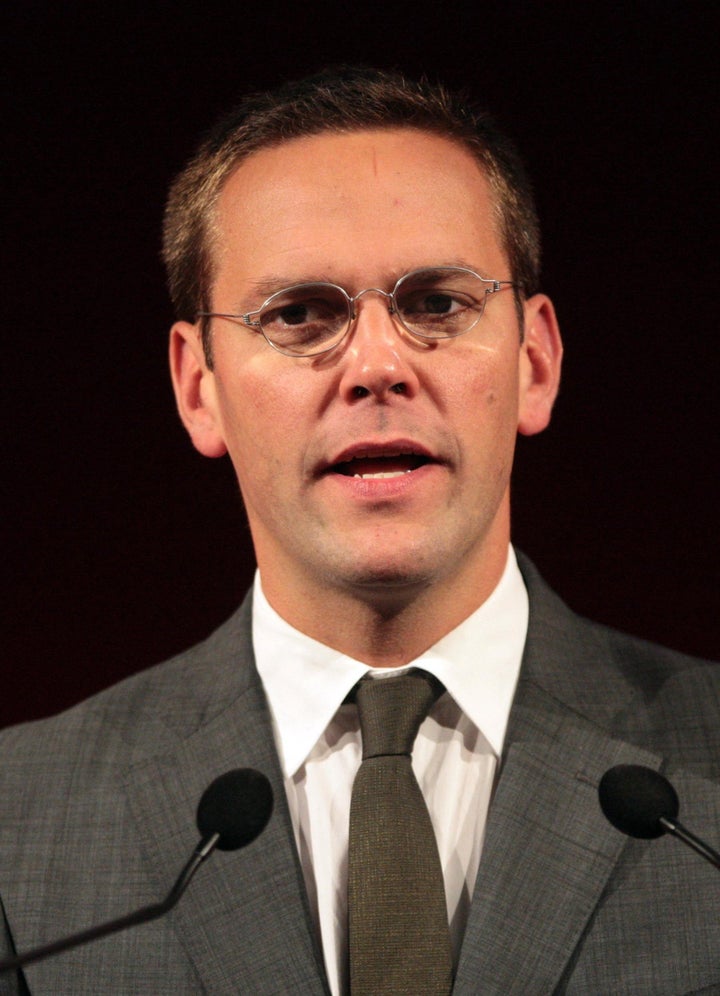 A series of internal News International memos could contradict one of James Murdoch's central claims about his knowledge of the phone hacking scandal.
Murdoch has long maintained that he was not aware that phone hacking at the News of the World went beyond Clive Goodman, the reporter jailed for hacking in 2007, until late 2010. Colin Myler, the paper's former editor, and Tom Crone, News International's former chief legal director, caused an upheaval when they insisted that they had informed Murdoch of more widespread phone hacking as early as 2008, when Gordon Taylor, the head of the British soccer union, uncovered damning information as part of a legal action against the paper. Murdoch denied that he had been given this information, saying only that he had signed off on a huge settlement with Taylor without knowing why he was doing so.
The documents come from Farrer's, the law firm that represented News International at the time of the Taylor situation. Julian Pike, a lawyer for Farrer's who worked closely with NI, provided a series of memos and notes relating to Taylor. Pike recently testified to Parliament, saying that Murdoch and several other top executives were firmly aware of the widespread nature of phone hacking.
One of the documents is a memo that Crone prepared for Myler for a meeting with James Murdoch -- a meeting Murdoch says he cannot recall taking place.
The memo that Crone apparently prepared for Myler is very direct. It says that, through a court order, an email from Mulcaire to a "News of the World reporter" surfaced. The email, the memo says, had a "large number of transcripts of voicemails from Taylor's telephone." This is presumably a reference to the so-called "For Neville" email, which was sent to the paper's chief reporter, Neville Thurlbeck.
The memo also says that, through a court order, Taylor unearthed a "list of named News of the World journalists and a detailed table of Data Protection infringements between 2001 and 2003." The memo says that some of the journalists named in the document are "still with us," and that typical beached include "'turning round' car reg. and mobile phone numbers (illegal)."
Crone calls the evidence "fatal to our case" against Taylor, and says that it puts News International in a "very perilous position." He also writes that he has authorized a settlement offer to Taylor because he is "recognising the inevitable."
Another document provided to Parliament shows Pike's notes to himself of a call he and Myler had following Myler's alleged meeting with James Murdoch.
"Spoke to James Murdoch," the note begins, presumably referring to what Myler was telling Pike. The notes are rather hard to decipher, since they are full of abbreviations and internal language, but a few sentences jump out. "Les evidence to committee," one reads--an apparent reference to Les Hinton, the former head of News International whose tesitmony before Parliament has come under question. "Les no longer here--James wld say get rid of them--cut out cancer," another reads.
That document is followed by an equally intriguing set of Pike's notes--these from a call he had with Crone.
"Mtg with JM + CM [James Murdoch and Colin Myler]," the notes read. "JM sd he wanted to think through options." The phrase "paying them off" also turns up.
There has not been any comment from James Murdoch about the new documents.
Calling all HuffPost superfans!
Sign up for membership to become a founding member and help shape HuffPost's next chapter
BEFORE YOU GO
PHOTO GALLERY
Phone Hacking/Bribery Scandal Timeline