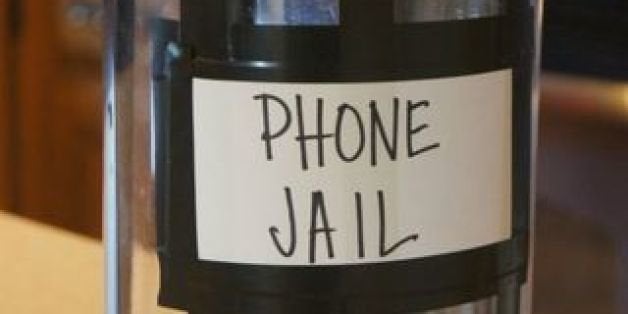 As phones are able to do more and more things for us, we tend to spend more and more time on them. You always see pictures of people at restaurants spending more time on their phones than with each other.
I sometimes think we are just a few steps away from the hover chair society in Wall-E.
As a writer, I'm no exception. I continually email back and forth with clients, and I use social media to interact with followers, and network and keep contact with the outside world. I don't have family nearby and I tend to feel isolated sometimes living out in the country.
I also use my phone to make grocery lists and balance the bank account. But the fact of the matter is, even if I'm doing the most noble thing in the world on my phone, the kids just see me on my phone.
I share with them what I'm doing and I let them see what I'm doing, but there comes a time when phones just need to be put away for real face-to-face relating.
One of my former high school teachers, Mrs. Seidl shared this picture towards the beginning of the school year. (High school was over 20 years ago for me, she is still teaching, bless her!)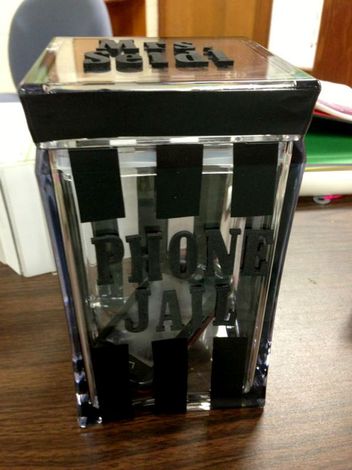 © J Seidl
She created a "Phone Jail" for her classroom as extra incentive to curb the new-age distraction of the cell phone. (If you look closely you can see it didn't take long to snag one!) I thought, what an awesome idea!
It inspired me to create my own phone jail for home as extra assurance of uninterrupted family time for dinner and an activity afterwards.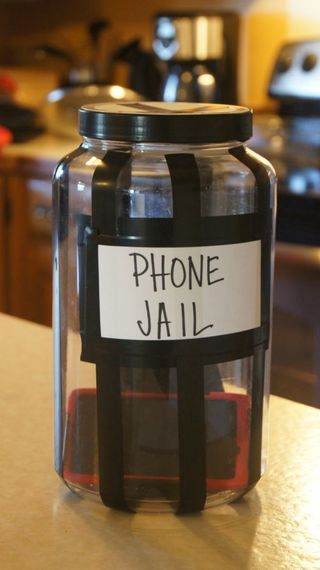 © D Rogers
The phone jail is for me and my husband. Our kids are young so they don't have their own yet (though my toddler likes to stick his play phone in there sometimes.)
I just got an old plastic large-sized clear container I had in a laundry room cabinet, and used electrical tape to create the stripes. (Electrical tape is wonderful to work with because you can stick and unstick several times and it's still good.)
The label is just folded computer paper and a Sharpie. I know Pinterest folks can really jazz this up if they want to!
This particular night we just kept it very simple and turned off all the lights to make shadow puppets.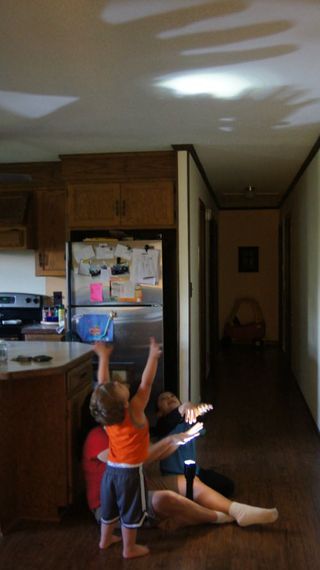 © D Rogers
The kids loved it, and my older boy really looks forward to "family game night."
We have also thrown water balloons at each other outside or just sat on the porch watching fireflies.
Sometimes if mom and dad are especially weary, we just watch a movie together with snacks. Anything you do counts and in my book, the simpler the better.
Is a phone jail really necessary?
Can't we all just turn off our phones and lay them on the counter? Yes.
But seeing this jar reminds me every day that we are investing in that time, and I look forward to it. Plus, I like doing crafty things and the kids think it's cool that we have a jail on the counter.

It also helps me disconnect from my phone, which I am feeling more and more attached to lately. That little notification light drives my OCD tendencies a little nuts. When my phone is in phone jail, it's off to avoid the temptation to check for little blinking lights!
You could also use a phone jail for a girls night in or a date night with your significant other. Or even eating out at lunch. The phone jail on the table would be an interesting conversation piece to meet other people!
I would personally think it was cool if I saw one on someone's table.
I'm not mad at phones. Mine has come in especially handy on a road trip with the kids. Just know when to put it away, and make a phone jail if you need help!