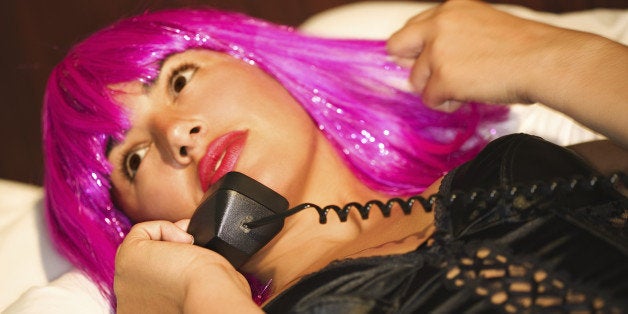 That sex sells is an undisputed truth; that it pays is more debatable. In recent years, the surge in the number of young women entering the sex industry has increased, indicating that there is some truth to this. The fact that the sex industry can pay far more than a minimum wage job cannot be ignored.
Take Belle Knox, for example. Describing herself as an "acclaimed porn performer" and "sex-positive feminist," the Duke University student and aspiring lawyer made global headlines when she turned to porn at the age of 18 to pay for her education. Knox received widespread vitriol from a large portion of society for her decision, but remained defiant:
"The cost of studying at Duke University is $60,000 a year. I didn't qualify for any government loans, so I had the option of taking out private loans at the rate of 11% interest or simply paying out of pocket. I knew that sex work was lucrative ... I saw that porn could give me the financial independence I needed."
This is an extreme example, of course, but the reasoning behind Knox's decision resonates. While the number of young women entering the porn industry has remained relatively steady, phone sex lines are another matter. Far less intimate, intimidating and exhausting than porn, many women are seeing the phone sex industry as an easy way to make a fast buck. It's not just young college students either. The number of mothers pursuing sex work has recently increased by 400 percent.
But what is the reality of being a phone sex operator? Many women deride it as a degrading activity akin to prostitution, but is it? And how do those involved in the trade feel about their work? I spoke to 22-year-old Marie, who's been working for X-rated chat site 121 Girls for eight months under a different name.
In the final year of her studies, Marie is part of the 121 "college girls" category, but this is as far as the truth stretches; the picture beside her sex chat persona is a voluptuous, sultry brunette. The reality is a petite and softly-spoken blonde who seems as far removed from an insatiable, risque vixen as you can get.
"Like all jobs, there are ups and downs," Marie says. "It can be so much effort when you're tired or in a bad mood and have to say dirty things to some random guy, but then it can also be fun and interesting. It's without doubt the easiest money I've ever made."
Total anonymity is ensured by the girls' alter egos, which Marie says are vital to feeling good about the job.
"The good thing about this job is that you really do leave it all behind at the end of the day. Nobody has to know if you don't want them to. I'm not ashamed of what I do, but at the same time, your sexuality is very private and has nothing to do with your day-to-day life. I would hate it if people recognized me on the street and thought they knew exactly the type of person I was because they saw me in an adult film."
How different is it, though? Marie readily admits there are several negative aspects to working on the phone lines, but insists the job bears no relation to porn and expresses shock at Belle Knox's extreme money making methods.
"I was never going to do porn," she says firmly. "I wasn't that desperate for money. But making a decent wage from just chatting to a guy, and keeping your anonymity... it's a whole different ballgame. There's a huge difference between working as a phone sex operator and being a porn star, it's silly to lump them together."
Still, Marie concedes that her job has left her feeling upset and drained on numerous occasions.
"It's definitely not for everyone, I can say that. Most phone sex operators only last about three months and there's a reason for that. If you don't have the right attitude it can be really tough maintaining a healthy outlook on sex. Usually I can detach myself from what's going on over the phone, but if you're feeling vulnerable for whatever reason you can feel pretty worthless at times. You're just a vessel for a stranger's sexual gratification, so unless you're a tough character that can have a really negative effect."
According to Marie the 121 girls have many different reasons for taking on this rather unusual job, although the recent financial boost of the sex industry remains the main factor. 'Mainly it is for the money, but some of the girls enjoy the male attention. Some girls don't think they have a choice. There's no 'type' of girl who becomes a phone sex operator and we all deal with it in different ways. Most of us are doing other things while we chat... painting our nails, emailing friends... one lady even knits!'
So aside from the easy money, what are the upsides of the job?
"It can be very funny! Unless you're an especially sensitive person, it's sometimes hard not to laugh when you hear what these guys want to do to you, what they think turns women on. I'm always amazed at how many guys genuinely believe a girl will orgasm after 60 seconds of chatting to a heavy-breathing stranger -- but then I don't think the majority of men who call us know much about women at all."
There is probably a lot of truth in that, and Marie acknowledges she often feels sorry for the callers which helps her remain detached. But she also recognizes that her job exposes her to the darker underbelly of sexual desire. Her views often seem contradictory; it's the "easiest" job she's ever had, but at the same time can leave her feeling "worthless." She doesn't come across as feeling especially exploited, but there is clearly real truth to her view on life as a phone sex operator: it's not for everyone.
Ella Jameson is a freelance writer, blogger and contributor to many different websites, blogs and magazines.
Related
Popular in the Community