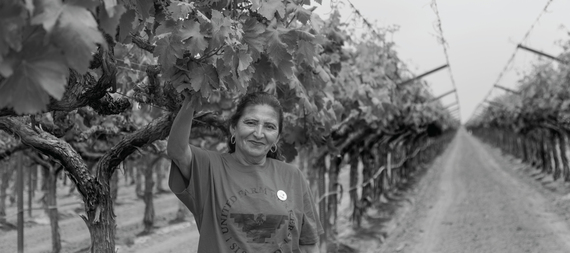 Maria Amalia, a farm worker, has lived in the United States for more than 20 years and has three children who are U.S. citizens. Credit: Faces of DAPA & DACA

By Lawrence Benito, Angelica Salas and Gustavo Torres

On November 2014, President Obama announced a series of executive orders aimed at delivering temporary relief to an estimated 5 million undocumented immigrants. Known as Deferred Action for Parents of Americans ("DAPA") and Deferred Action for Childhood Arrivals expansions ("DACA+") these orders would provide temporary work permits and relief from deportation for those eligible.

These executive actions came in the heels of yet another failed legislative effort to bring about a permanent solution to a hopelessly broken immigration system. Despite the estimated 11 million undocumented immigrants in this country, Congress has failed to pass any meaningful legislation since 1986. Because of this, millions of immigrants continue to live in the shadows; subject to deportation, workplace abuse, discrimination and other forms of exploitation. Families are separated every day as the deportation machinery continues to infiltrate communities and target many innocent immigrants, including those who fled their home country to escape violence and possible death.

Almost immediately after the President announced the executive orders, Republican Governors and Attorneys General in 26 states filed a lawsuit to stop the orders from moving forward. The lawsuit made its way all the way to the U.S. Supreme Court, and immigrants and their allies now wait a decision from the court. DAPA and DACA+ are on hold, as are the lives of those who could be positively affected by this decision.

To some Americans, undocumented immigrants are nameless and faceless. To others, we are seen in the worse possible light, largely because of the way politicians demonize immigrants, advancing a racist and xenophobic agenda to further their own political careers.

The Fair Immigration Reform Movement recently launched a national photographic exhibit known as "The Faces of DAPA and DACA+". It is a national exhibit that tells the stories and captures the images of all of those whose lives could be forever changed as a result of DAPA and DACA+. The exhibit has so far traveled to Phoenix, AZ, Bakersfield, CA; San Jose; CA; Los Angeles, CA; New Haven, CT; Chicago, IL; Charlotte, NC; Lincoln, NE; Brooklyn, NY; Milwaukee, WI; and today lands on the Supreme Court Steps in Washington, D.C.
The exhibit sheds light on who we are, and tells the stories of the struggles and challenges of our immigrant families, our perseverance and tenacity, and our dreams and our fears. Stories like those of Maria Amalia, a mother of three US citizen daughters who has lived and worked in California for over two decades, toiling the fields as a farm worker. Two of her children were deported. As Maria tells us, "[f}amily separation is a heartache I live with every day. If DACA is implemented, I would at least know that I will stand by my girls as they achieve their dreams without the fear I live with every day as I go and return from work."

We invite you to see the images and click on them to read the stories of impacted families and if you are so moved - join our movement in support of the human rights and dignity of all immigrants in this country.

Lawrence Benito, Angelica Salas and Gustavo Torres are Co-Chairs of the Fair Immigration Reform Movement, the nation's largest network of immigrant rights organizations.

REAL LIFE. REAL NEWS. REAL VOICES.
Help us tell more of the stories that matter from voices that too often remain unheard.