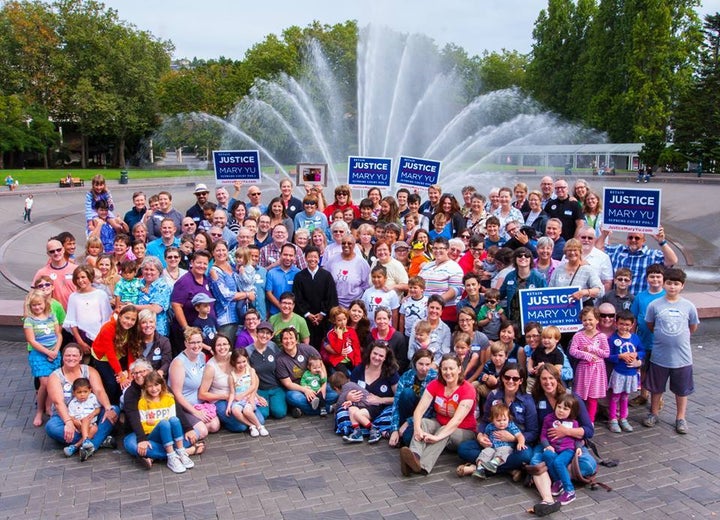 They say a picture is worth a thousand words, but one photo in particular left Seattle speechless on Sunday, August 28.
More than a hundred people gathered in front of the Seattle Center Fountain on Sunday, August 28 at 11:00 a.m. for a moment that would reunite countless families with the woman who brought them together under legal protection - Washington State Supreme Court Justice Mary Yu.
"This feels like one big family reunion," Justice Yu said during the unprecedented event. "Some of these families I haven't seen in years. It is so wonderful to see them again!"
Her enthusiasm - contagious. It is clear to anyone in the vicinity that Justice Yu genuinely cares for each and every couple and family she's help unite through marriage, adoption or, in some cases, both.
"This is what my work is about…this is the reason for all of it," she added.
Justice Yu became the first in her family to attend college, receiving a degree in theology from Dominican University. Soon after, she began social justice work for the Roman Catholic Archdiocese of Chicago. After 10 years and a graduate degree in theology, Yu decided that rather than appealing to someone's heart for positive change, she wanted to make it illegal to discriminate based on race or social class. She obtained her law degree at the University of Notre Dame, eventually moving to Seattle. She served 14 years as a trial court judge on the King County Superior Court beginning in 2000.
In 2012, Justice Yu celebrated the legalization of same-sex marriage in Washington by officiating some of the first marriages at 12:01 a.m. on December 9. Emily and Sarah Cofer had been in Yu's court before when Emily adopted their daughter, Carter. It was important that Yu be the one to officiate their marriage because of her caring role in the adoption.
"She said how great it was that we had our friends and family to support us," said Emily, reflecting on her adoption process. "And she reminded us how important it was for us to be that support for Carter, and to love who Carter loves."
Justice Yu writes on her campaign website, "I was appointed to the state Supreme Court on May 1, 2014 after serving as a King County trial court judge for over 14 years. I was subsequently elected to a two-year term and I am now running for a full term in 2016. While on the trial court, I presided over a wide range of civil and criminal cases and hundreds of family law matters. The most important values for me as a trial judge were to treat everyone with respect and fairness, to approach each case with an open mind, to decide cases impartially and to understand that every decision I made impacted the lives of real people. As a Supreme Court Justice, I continue to hold those same values."
Hundreds of respected and well-established organizations and individuals have endorsed Justice Yu in an effort to allow her to retain her contested seat. A running list of endorsements can be found here.
It's Time to Take a Photo
When the family group photo announcement was posted to Facebook at the beginning of August, the event was shared with thousands of interested participants - many committing to travel to Seattle even though they'd previously relocated outside of the city. There were more than 100 shares on social media and upward of 15,000 in viewership. Comments ranged in the hundreds, each with their own memory of focus.
Renee Holt said, "Justice Mary Yu, I have to tell you that I selected you for our wedding initially based on your name alone. I said to my partner of 25 years at the time: 'Who better to Marry Us than Mary Yu?' I spoke to your wonderful clerk on the phone. She was so warm and welcoming! Then I looked you up online and saw that there were many other reasons to select you...your kindness, your advocacy, your tireless pursuit of justice. Thank you for marrying us, Mary Yu! You made us a legal relationship and a legal family in the eyes of the state (and later, the nation). What a gift you are to Washington State."
Leslie Peterson said, "For both our second adoption and, eight years later, our marriage, we thank you. It was such a blessing to finalize an adoption in a supportive, celebrative court and then later to do the same with our marriage."
The families united by Justice Yu weathered the storm of inequality and sacrifice.
"In August of 2011 Whitney [Taylor] had unexpectedly been diagnosed with a brain tumor shortly after our daughter was born," Amy Babcock wrote. "We wanted to make sure Whitney's second parent adoption of our daughter was finalized before her surgery to remove the tumor, so Justice Mary Yu spent her lunch break the day before Whitney's surgery finalizing the second parent adoption for us. It was a time of fear and uncertainty for our family, but Justice Yu provided us joy and thankfulness during that time. We are forever thankful to Justice Yu for ensuring our family was protected and celebrated. In 2015, Justice Yu performed the second parent adoption of our son as well, and we were able this time to celebrate with a room full of friends and family."
Families unable to physically attend the family photo shoot were asked to share their stories on Facebook with the hashtag #becauseofyu - and many of them did.
Lori Sabado said, "First, you presided over the adoption of both our kids, and then five years later, you married us. We will be there in spirit, however, our bodies will be on the East Coast."
April Thomas wrote, "My dear friend, Sandy Aprill, and her wife Lauren were so honored to be married by you. They moved to the east coast and cannot be there. Would you allow their daughter or me to stand in with their photos? It would mean the world to them."
The answer was a resounding affirmative.
A collage of families physically unable to attend the gathering will be compiled over the next few months and posted to Justice Yu's Facebook page as a way to further unite the group.
Popular in the Community