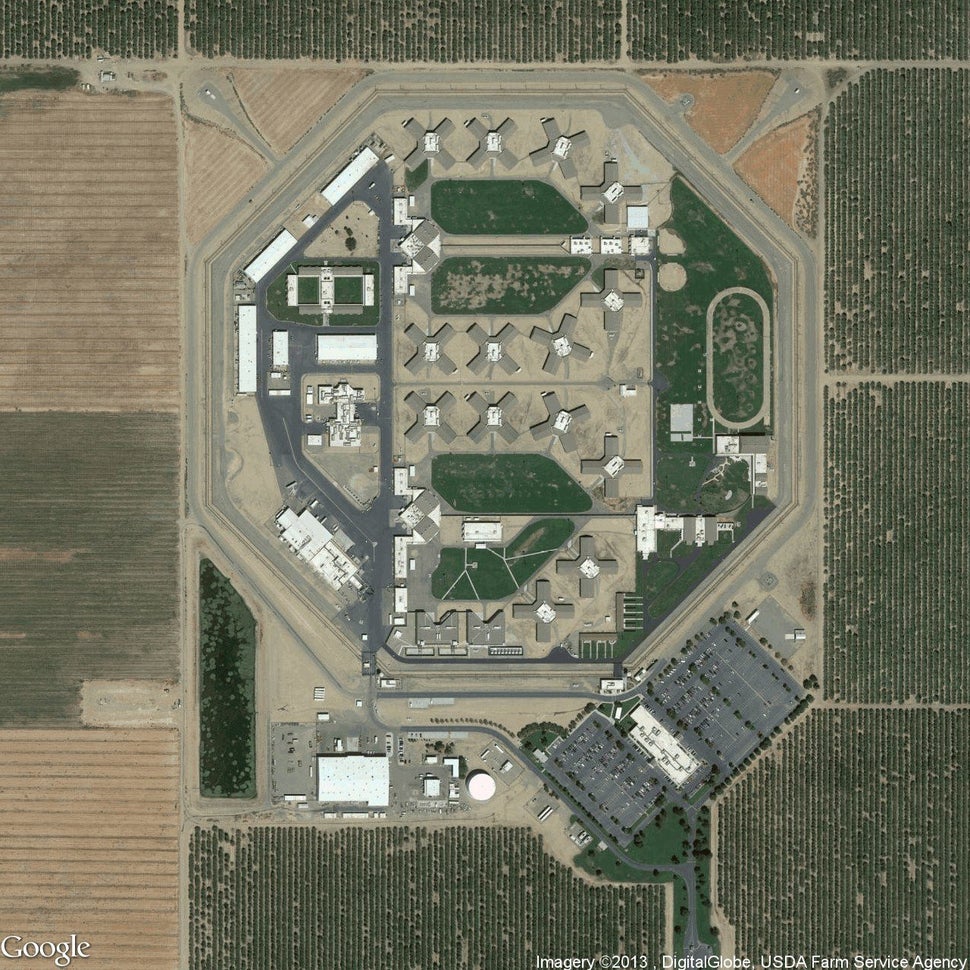 Since 2008, editor and curator Pete Brook has cultivated and written about the various images that capture the brutal realities of American prisons. In 2013, he began touring the images he'd acquired in the form of an exhibition titled "Prison Obscura."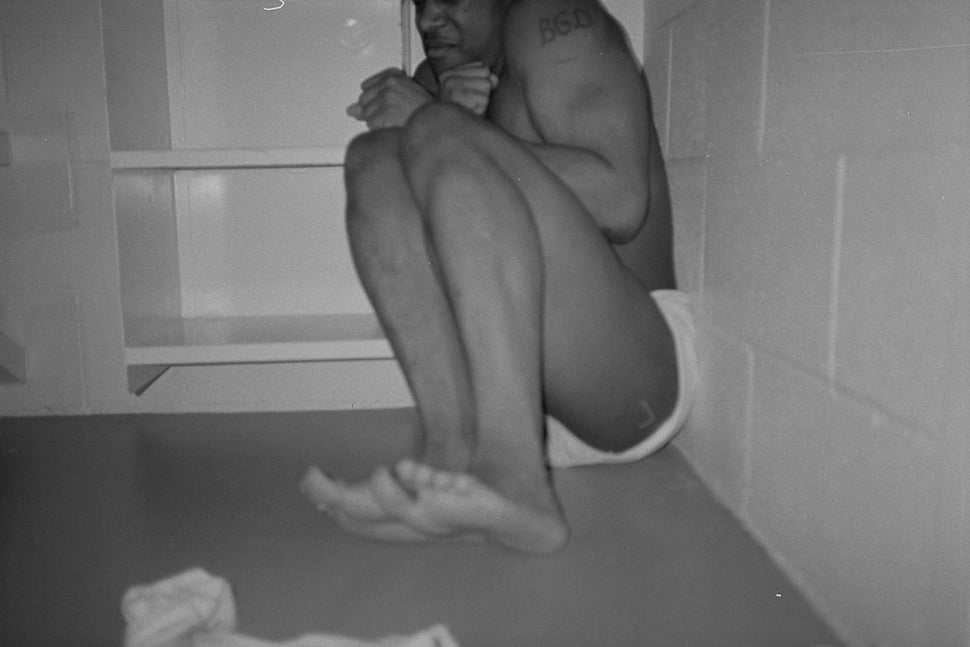 Brook's goal is simple yet staggeringly ambitious: open the eyes of the American public to the atrocities that occur behind prison walls. "No society in the history of mankind has incarcerated so many of its citizens than the U.S. today, now," Brook said to The Huffington Post. "We need to disassemble the notion that prisoners are different. They are us and prisons are ours. It might not seem like prisons are part of our society, but they are. So we need to be conscientious consumers of images."
For his exhibition, Brook collected together images of various origins and perspectives. Josh Begley's "Facility 492," from his Prison Map series, featured on top, offers a bird's eye view of a prison facility, with all the human struggle packed inside it abstracted into geometric tranquility. Then there's the anonymous untitled photo above, which presents a stark, close-up image of a singular moment inside a facility that hints at the immense pain housed inside prison walls. An inmate cowers in the corner of his cell, as the viewer hovers over, almost as if playing the aggressor. Some of Brook's selected images are also snapped by prisoners themselves, allowing inmates to reclaim agency over their personal narratives and the way their experiences are archived and dispersed. 
Brook is aware of what's at stake in his photographic endeavor, as well as the dangers and pitfalls that too often accompany the medium. "I want to point out that photography is not a neutral agent," Brook clarified. "Photography has, at times, played its role in demonizing prisoners and perpetuating negative stereotypes. I wanted to consider how the medium has dealt with closed systems like prisons. We think photography is revelatory, but images can only be made where cameras exist."
"If cameras are in prisons, who operates them? To see is to wield power. I want to ask gallery goers not only to consider the images seen in 'Prison Obscura,' but also consider the images they never see; consider the images that are never made. What happens when there is no witness?" --Pete Brook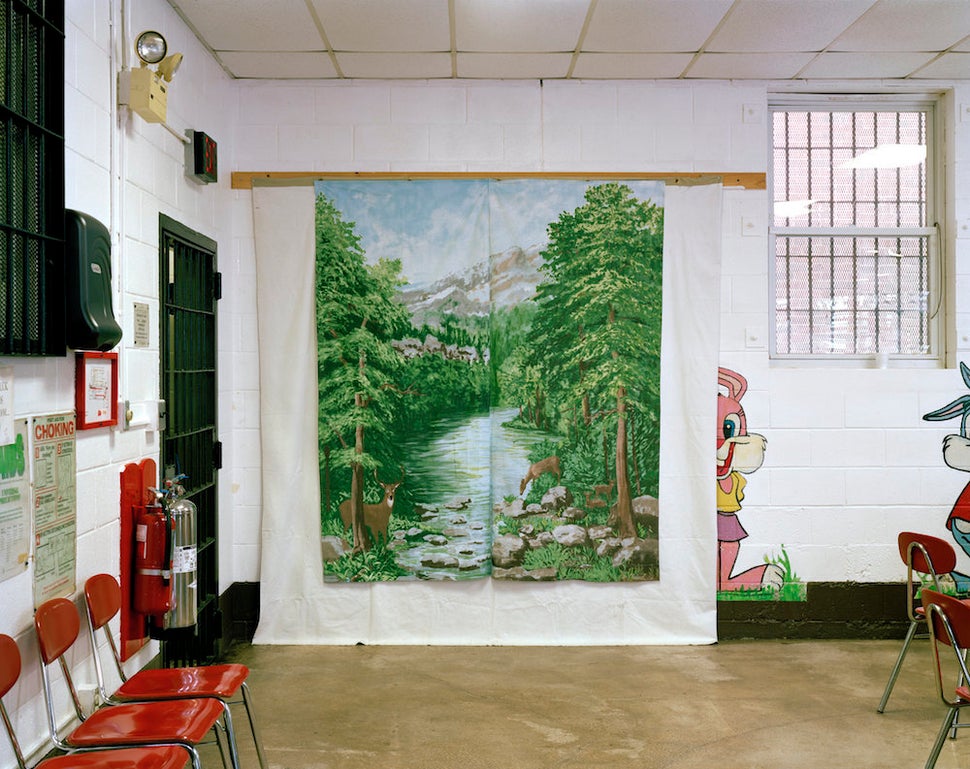 Through the selected photographs, Brook hopes to collage a complex portrait of the prison industrial complex today, taking into account the overwhelming inequality, dread, suffering and occasional moments of hope. His exhibition does not have one single message to convey. The photographs are not all hopeful, nor grim. Some depict dark realities, others fantastical means of escape. Many simply capture and convey the landscape and architecture. 
Overall, Brook hopes to communicate, through the power of the image, that prisons are not just representative of the outskirts of America, rather they are emblematic of American society as a whole. "The prison crisis is symptomatic of a society that isn't helping out its most marginalized, economically disadvantaged communities," Brook explained. "Prisons are the result of fear, vengeance and division, they are not of common-understanding, community or unity. I want audiences to understand that prisons are the result of decisions, policies and laws. It is a system that has been man-made. It can be unmade by us. If so, we'll all be better off."
If there's one overarching idea Brook hopes to communicate to viewers, it's "the brutal size of the prison industrial complex," he concluded. "I hope the show gives people the opportunity to hear just a few concentrated stories of the millions shuttered in lock-ups. I hope the different types of images shift perceptions of who prisoners are ... Let's get informed and discuss the issues at the dinner table. Think about this stuff at the ballot box."
PHOTO GALLERY
No Seconds: The Last Meals Of Death Row Prisoners
Calling all HuffPost superfans!
Sign up for membership to become a founding member and help shape HuffPost's next chapter