Brad Everett Young is a mixture of excited, tired, and a little overwhelmed. The Los Angeles based photographer has been awake for over 24 hours. Why you ask? Young was invited to photograph the after-party of the musical "Cruel Intentions." The original stars Selma Blair, Reese Witherspoon, and Sarah Michelle Geller reunited in support of the production. Fans of the films and 90s-nostalgia were excited to see the trio reunite. Then this moment occurred, capturing by the lens of Mr. Young: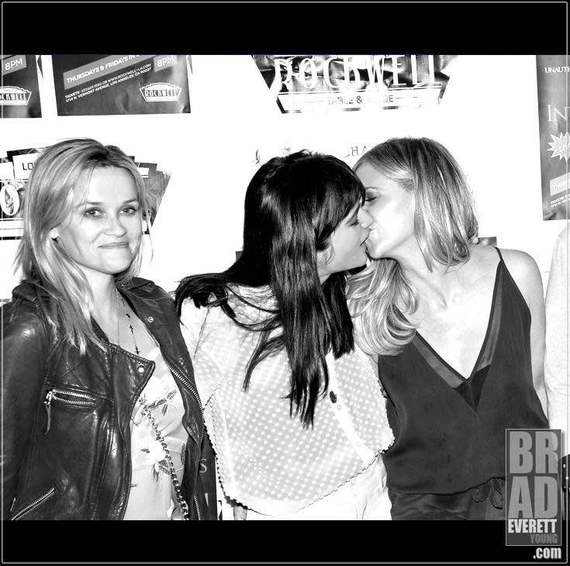 Young sent me a DM on Twitter about the photo and a few hours later it quickly went viral. However, his success is way more than this photo. "Photography has been an obsession of mine since I was very young. I'd run around my parents' house & neighborhood taking pics of everything." He states. In high school he frequently took photos for either the school's magazine or newspaper or of his friends. "Even then when I pulled friends in to take pics they'd say 'Dude, you're crazy' because of my off the wall concept ideas, and then the pics would get so much attention that I would keep coming up with concepts to try and top the previous shoots." He says with a laugh.
Arts and Music education was pivotal in Young's life. "I grew up with Art & Music programs in school. They are what shaped me to be the person I am today. To be honest I don't know if I'd have turned out the way I have if I didn't have the benefit of art classes. They challenged me creatively, emotionally in work and in my art. It helped me think outside the box and realize the world is yours if you want it, and the options are endless." He states. However, he (like many) knows that in some areas, these foundations of student life are being cut. This became the beginning of the Dream Loud Campaign.
"There were so many schools that had lost the programs or were on the verge of losing them that I really had to brainstorm how I could use manpower to make a difference." He states. "I decided to use the power of photography to help raise awareness to help encourage parents to step in and help save them." He states. According to Young, he believes that by not developing a person's creative side, this results in them not wanting to explore and live out their dreams. "The Dream Loud organization is to encourage those kids and anyone who never received the encouragement to dream loud and pursue their dreams." He says.
With the campaign, Young first enlisted Actor Ryan Carnes "I had been talking to him about what we could do to make a difference." Young says. "I was always doing over the top test shoots for acting parts I was reading for or working on, and I decided to see if shooting other people in the same way could get attention as an advertising gimmick would work." Young knew that Carnes, who was (and still is) on General Hospital, was watched by a lot of mothers and parents of children. He initially hoped that he could capture their attention by taking photos of the actor.
Well, it worked. In-time (and the help of social media and word-of-mouth), Young began to photograph many other stars of daytime TV and has also branched out into prime time and film actors. His work is a mixture of black-and-white and color and also ranges from the simple to the complex. many also have the word "Dream Loud!" written on their hands (the hashtag #DreamLoudOfficial is used frequently on social media). Regardless of the concept, it catches the viewer's eye, which is the main reason. Also, I have found that many of the actors (specifically in daytime) that he had worked with have very loyal fan bases. These fans are excited to see the actor or actress in these photos or gain any recognition and also help to spread the cause.
I have watched and been a fan of Brad Everett Young's work and the Dream Loud Campaign for a few years now. He frequently photographs and works with some actors that I am a fan of. So, the current viral success that he is experiencing is well deserved. For those who have worked and spoken with him beyond the Cruel Intentions photo, it is clear that he has the passion, drive, and determination to succeed. He is also nice and a genuine guy who is trying to spark change and is using his talents to do so. We have chatted through e-mails and Twitter DMs for some time now. However it was something that he said to me just recently, that stuck out. "I just wanna save the World one paintbrush at a time." While he was sort of joking (there was a LOL attached to the end), part of me felt he really wasn't. Art and Music in schools is so important, but sadly has been on the chopping block in some areas. Brad Everett Young's mission to help save Art and Music education in schools with the "Dream Loud" campaign may not save the World completely, but it is sure helping to improve it one photo at a time.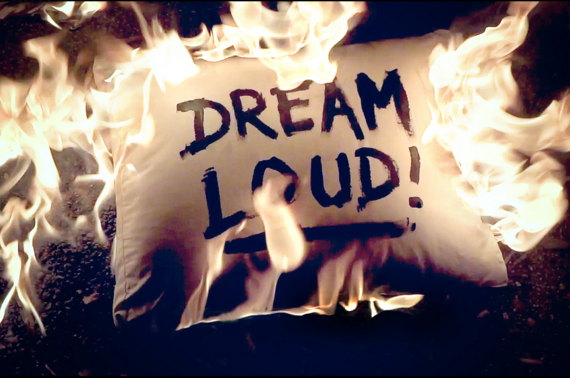 Popular in the Community