After an emotional and heartbreaking journey to get pregnant, Hope and Hunter Madden finally welcomed their rainbow baby, Evelyn, on March 11. On that monumental day, the parents had a photographer capture their reactions to meeting their baby girl.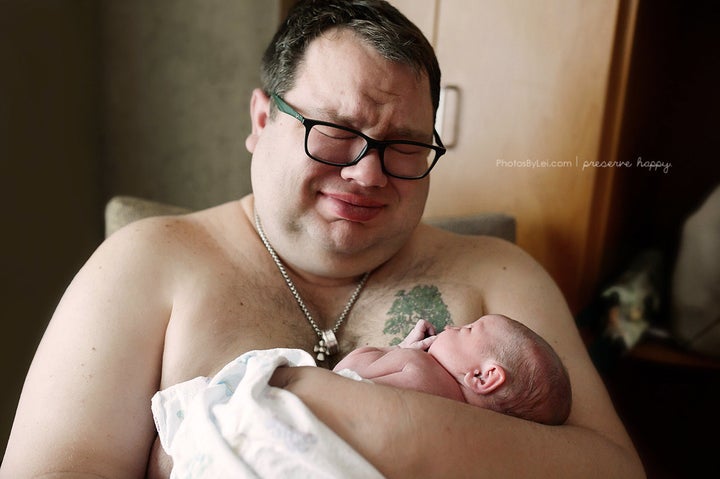 When Hope became pregnant with Evelyn, she and Hunter were hesitant to believe it would be a viable pregnancy. She had previously undergone about nine fertility treatment cycles. After almost a year of these cycles, Hope became pregnant with a boy, whom she and Hunter decided to name Owen. Sadly, at their first sonogram appointment, there was no heartbeat.
"This was our third loss, as I had two chemical pregnancies previously," she told The Huffington Post.
After their next treatment cycle, Hope learned she was pregnant with Evelyn, and the couple prepared for the worst based on their previous experiences. They told their family Hope was pregnant, but that she was likely to miscarry.
"We kept just waiting for the floor to fall out from underneath us every second," she said.
Before Evelyn finally arrived, Hope labored for about 31 hours and later had to get an epidural after the baby's heart rate began to drop. She slept for several hours and about an hour after she woke up, it was time to push.
Hope said her birth experience was "perfection," as the song "Take Me There" by Anna Golden played and her husband helped with the delivery of their daughter.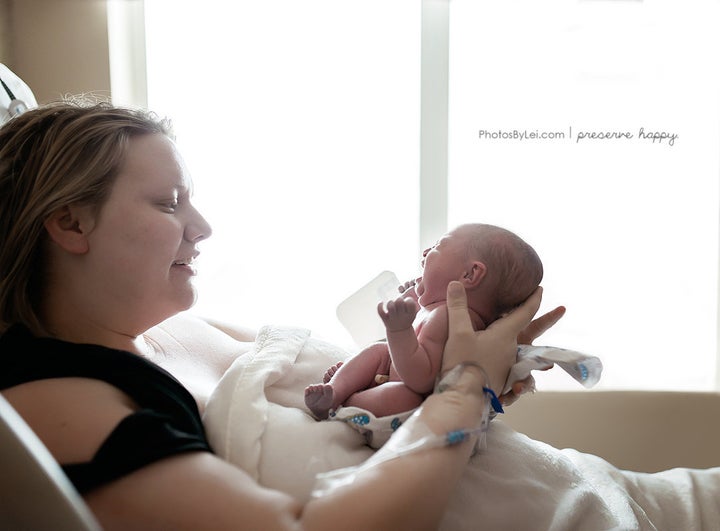 "That was the song that helped me work through our loss with Owen, so it was a very sweet moment," she told HuffPost. "I pushed for about 15 minutes, and she was here. I could not believe it!"
Hunter became emotional the first time he saw Evelyn and said the day Hope gave birth was "the most amazing thing" he'd ever experienced.
"She was so tiny and beautiful and amazing, I just couldn't believe she was ours," he said. "It didn't seem real that we could take her home with us."
Photographer Leilani Rogers of Austin, Texas, captured the stunning images of Evelyn's birth. She told HuffPost she loved getting to know Hope and Hunter and witnessing the "tender moments" of their big day.
"All the birth stories I capture are precious to me, but it makes it that much more special to tell a story of triumph like this one," she said.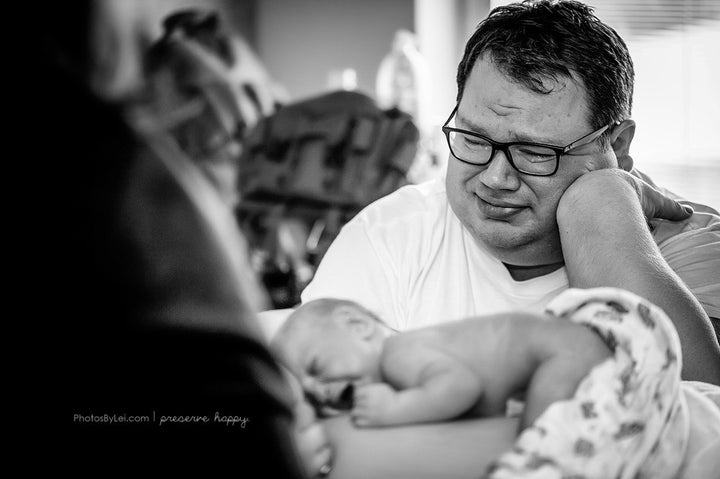 After the Facebook page Love What Matters shared the photos on April 7, they have received more than 32,000 reactions and more than 1,000 shares.
Though Hunter was at first apprehensive about having a birth photographer, he's glad Rogers was there to document the experience.
"These photos are amazing works of art and I will treasure them the rest of my life," he said.
See more of Rogers' photos of Hope, Hunter and Evelyn below and check out more of her work on her site, Facebook and Twitter.