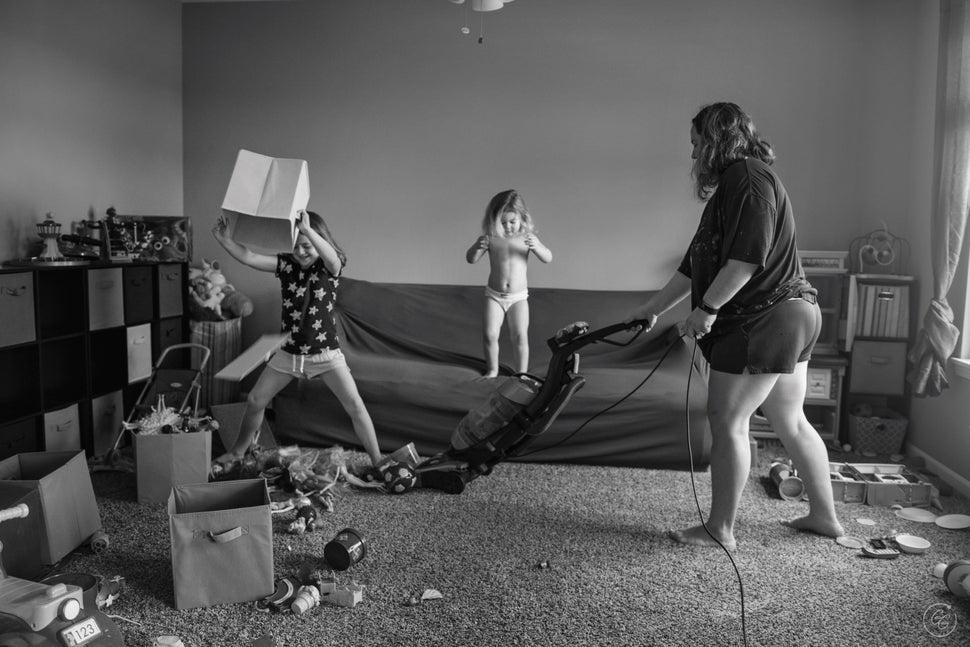 And Giedre Gomes, a 35-year-old photographer who lives in Cedar Lake, Indiana, didn't sugarcoat anything when she decided to take a series of photographs illustrating what being a mom really looks like for "Mother's Day."
Six weeks ago, Gomes — who has two sons, Mario, 5, and Rocco, 3 — had a "crazy idea" that she couldn't get out of her head. As a photographer, she typically takes photos of clients and their children that look pristine.
"They're pretty, dreamy moms in a flower fields kissing babies," she told HuffPost. "And that's beautiful, but after the photo shoots I come home to reality — to my own family and two boys — and there's no rainbows, unicorns or butterflies."
Gomes wanted to reveal the "reality and routine" part of motherhood that a lot of women could relate to. So she got a few of her mom friends together — with their kids — and snapped photos of what it's really like to be called "Mommy."
"It's not easy being a mom; there are days that I wait for my husband to get home so I can get out for a half-an-hour," Gomes said.
And although all the photos in the series reflect "everything I went through or still going through," she said she's recently experienced a tad more privacy in her life.
"I can finally take a shower alone," she said. "But most of the time my 3-year-old still sits on the toilet and waits for me to be done."
Hey, it's the small victories, we suppose.
Check out some photos from Gomes' series below.
Popular in the Community