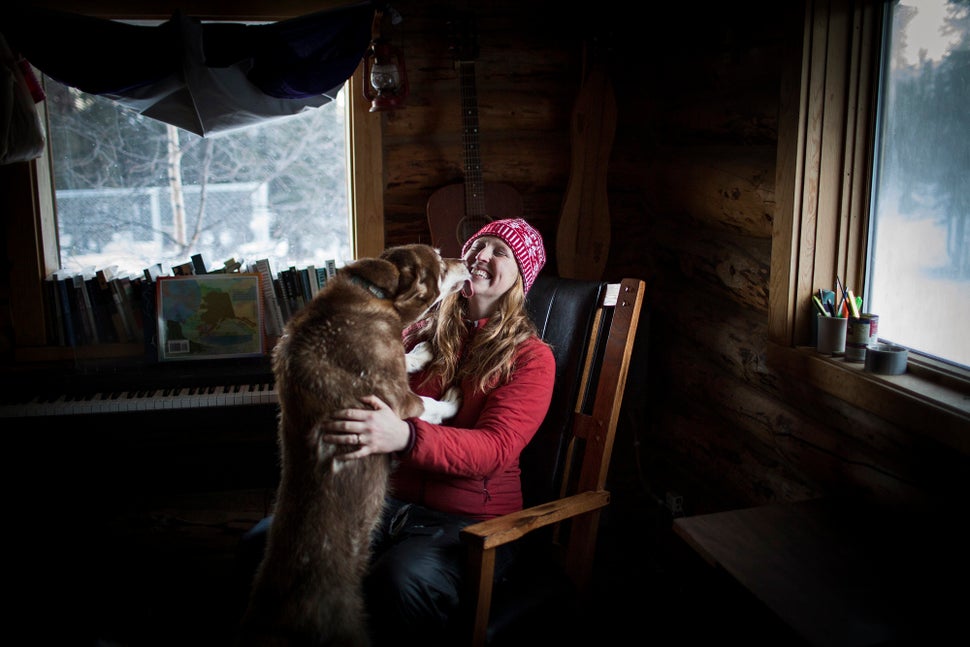 The first time Katie Orlinsky set off for Alaska, the forecast predicted temperatures of negative 30 degrees. She had packed her camera, lenses and the warmest clothing she could find. But when she finally stepped off the plane, she found the airline had lost her baggage. Surrounded by subzero temperatures -- and an assignment weighing overhead to document the Yukon Quest, the dog-sled race that wound 1,000 miles through wild Alaskan and Canadian terrain -- Orlinsky was in a bit of a tight spot. And a cold one, too. But, apparently, there's a truth to the old adage about hands and hearts.
"They all lent me their clothing," she said of the airline employees, "and then the next day the bag arrived out where I needed to be. People are really kind out there. Nobody wants to watch anybody freeze," Orlinsky told The Huffington Post.
The 32-year-old photographer and native New Yorker has been flying out to Alaska since 2014 to document competitive mushers -- people who steer dog sleds -- and their animals. She's debuted several collections of images capturing the dogs, their human friends, and the bond between them that makes all the difference out on the trail of the Yukon Quest or the Iditarod -- another, and perhaps the better known, race across 1,000 miles of mountains, forests, tundra and frozen rivers. 
And -- surprising to some, obvious to others -- she's found a lot of women on the trails.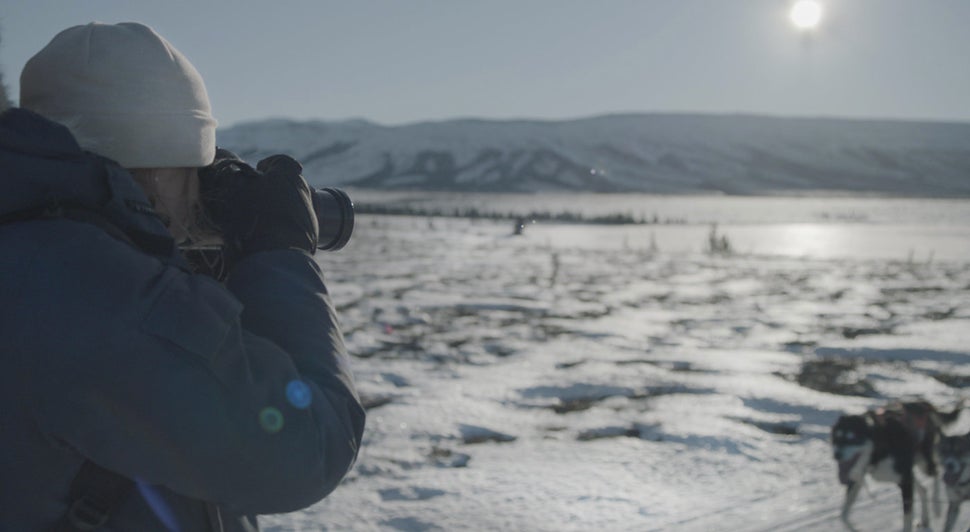 Orlinsky admittedly hadn't heard of the sport before she accepted her first far-North assignment, but said she was pleasantly surprised to meet so many female participants -- at least a third of competitors in the major races are usually women, according to the photographer. Since shooting her first race, she's gone back every year to document sledding culture.
"Women in Alaska are just badass. They're just tough," Orlinsky said. "They're kind and they're confident."
Mary Shields and Lolly Medley became the first women to participate in the Iditarod when they signed up in 1974. In 1985, Libby Riddles made history as the first woman to win the race -- even after a blizzard hit the trail. The following year, Susan Butcher finished first, and would go on to win three more times. Interestingly, a Los Angeles Times piece on the race published the year Butcher scored her first win suggested the sport wasn't always so egalitarian, describing the prevailing attitude of mostly male mushers as "women can enter, but please, don't get in the way." Women kept entering, of course, and winning various accolades. Aliy Zirkle has competed for over 15 years, becoming the Yukon Quest's first female champion in 2000. She finished third in this year's Iditarod.
"Women in [blank]" has become a rallying cry across such a range of professions: Women in film! Women in tech! Women in business! When it comes to dog sledding, a space that doesn't particularly need to celebrate its female participants because it doesn't treat them differently to begin with, the cry is oddly refreshing. Orlinsky photographs man, woman and beast alike, but chooses to focus on women at times because the gender equality is so striking.
"It's normal out there," she explained, adding that some Alaskans didn't understand why she found their female mushers so impressive. Indeed, all of the skills required of humans in the race -- survival skills, planning and navigating -- depend less on their physicality.
"The dogs are the athletes," Orlinsky said simply.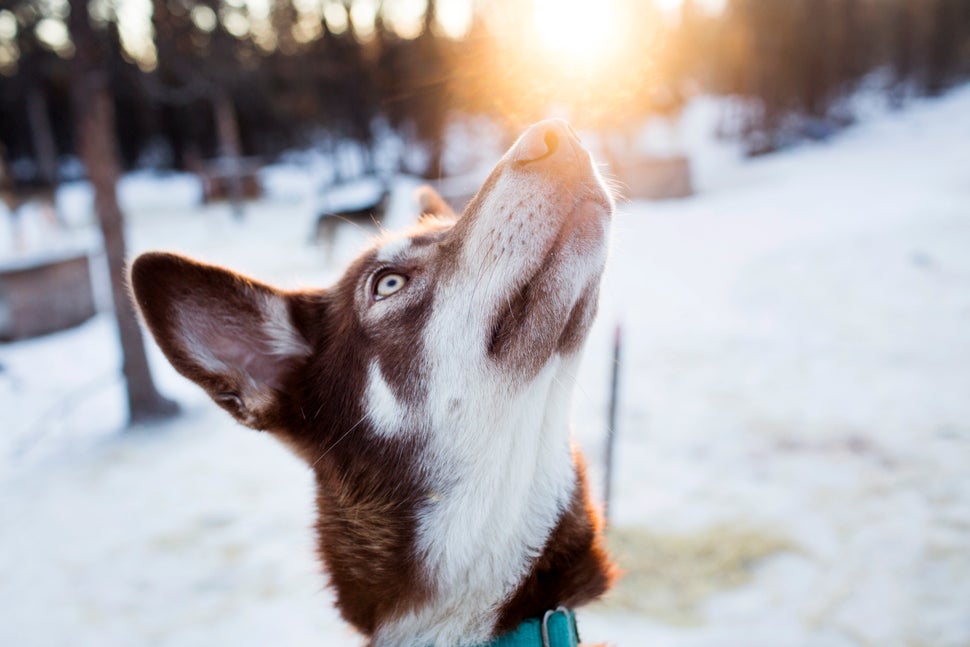 In a short film titled "Women in the Wild," premiering at the Tribeca Film Festival and on the ActuallySheCan site April 22 and featuring Orlinsky, director Erin Sanger documents the documentarian, an experience she called "surreal." And not without its logistical difficulties.
"We were just trying not to mess up her shots," Sanger told HuffPost.
The film, part of the Allergan-sponsored female empowerment campaign partnered with Tribeca Digital Studios, follows Orlinsky from New York to Healy, Alaska -- a town of 1,000 people four-plus hours north of Anchorage -- where the photographer records daily life at Hey Moose! Kennel, run by Kristin Knight Pace and her husband Andy. Andy raced in this year's Yukon Quest, held each February, while Kristin took on the Iditarod, held in early March. Together, they train their dogs on 10 acres of woodland next to Denali National Park.
Mushers spend years training their dogs, creating between them a bond that can overcome enough rough windswept Arctic terrain to win some races. Although the winners' purse isn't a primary motivator for racing -- clearly there are warmer and less perilous ways to earn money -- Iditarod competitors split nearly $800,000 this year, with winner Dallas Seavey receiving $75,000 and a new Dodge truck. The top 10 Yukon Quest finishers split $115,000 between them; first-place, Hugh Neff, took home $35,000. 
The winningest teams are often the ones with the strongest relationship between human and canine. (Indeed, mushers are so close with their dogs that a note at the bottom of an Iditarod page on racing terminology reads, "Don't be surprised if you hear a musher have an in-depth conversation with his lead dog.") Orlinsky visited a number of kennels to observe daily life outside of the races, to help her make sense of what happens on the trail. 
"She'll capture these really intimate moments," Sanger said of her subject. "That comes out of her ability to connect with other people." On her own ability to make subjects feel comfortable in front of her camera, Orlinsky called herself a "goofball," noting that Sanger's cameras allowed her to finally see the experience from her subjects' perspective. ("Poor things!" she joked.)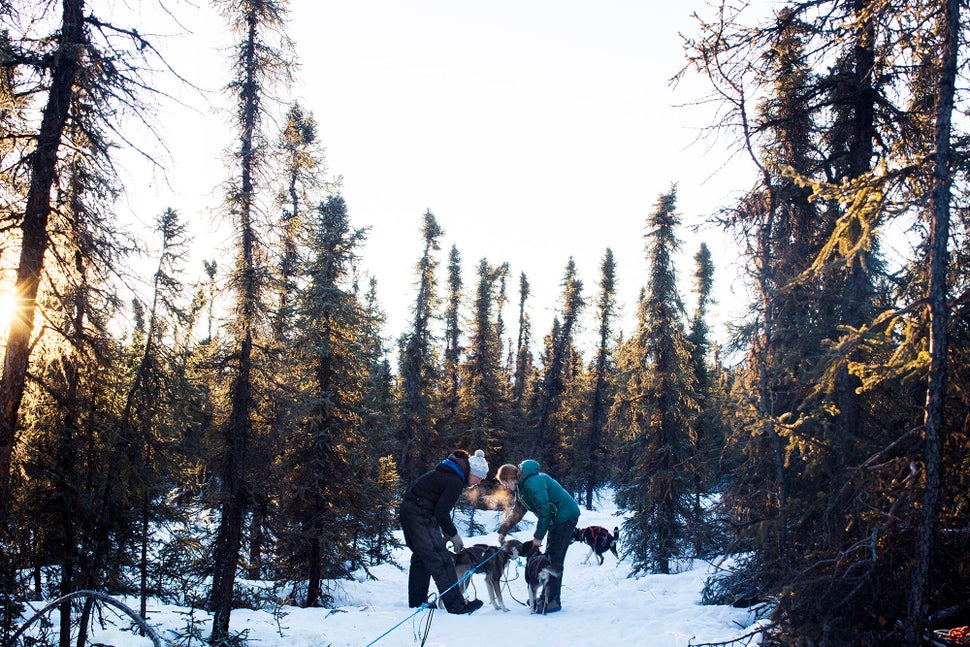 With temperatures during both races dipping far below zero, simply doing their jobs presented unusual challenges for both Orlinsky and Sanger. Their experience taught them to MacGyver solutions, like holding extra batteries close to the body. They found chemical hand-warmers an effective weapon against the cold -- Orlinsky noted that her camera wouldn't function below negative 50, Sanger said her team strapped the warmers to their camera batteries "and hoped for the best."
On observing Orlinsky in such dramatic conditions, Sanger called her "battle-hardened," a term perhaps more fitting than intended. Orlinsky began her career as a war photographer, capturing scenes out of conflict zones in Mexico, Mali and Nepal. While she told HuffPost that she finds herself drawn to observing human nature in extreme conditions, she hesitated to remark on parallels between those war-torn places, where extremity is "thrust upon" her subjects, and the freezing tundra, where people choose to race for a number of reasons.
Of course, what compels a person to travel 1,000 miles with sparse comforts may be hard to fathom, and those reasons are often as diverse as the participants themselves. But whether they're from a "third-generation Alaskan mushing family" or just happened to adopt a dog "and then two, and then the rest is history," Orlinsky says, all mushers are united by their love for their animals.
"They almost have the choice to compete made for them by their dogs, who are made for the sport, and love it," Orlinsky wrote in an email. "Many mushers race for a very personal reason, to celebrate life in a way." 
For her part, Kristin Knight Pace traces her urge to race through the wilderness back to memories of her early childhood, when her father died. "That created a kind of morbid fearlessness in me," Pace wrote in an email. "A thousand-mile race is everything a lifetime can throw at you -- heartbreak, defeat, exhaustion, injury, failure; but it's also renewal, disbelief, beauty beyond imagining ... condensed into 11 days," she explained.
"It comes at the end of years of back-breaking effort and thousands of miles of training and hundreds of sleepless nights and walking the thin line of poverty," she added. "'Dog-poor' is what they call it around here. But I'll be damned if it doesn't make you the richest person alive in every other way." 
Calling all HuffPost superfans!
Sign up for membership to become a founding member and help shape HuffPost's next chapter
BEFORE YOU GO