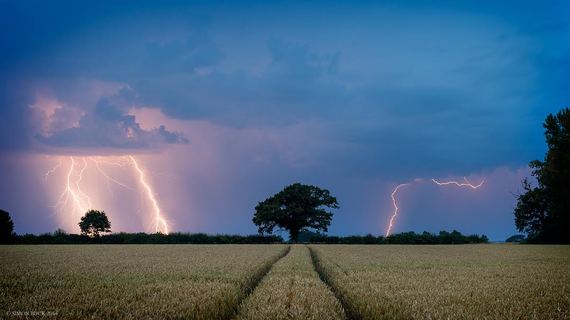 Yesterday morning at 4 a.m., the quiet of Waveney Valley, on the Norfolk/Suffolk border in East Anglia, was broken by an early-morning summer storm. Fortunately, local photographer Simon Buck was up at that ungodly hour to capture the extraordinary beauty of the moment lightning struck the valley fields.
The storm made Buck realize "how extraordinarily lucky we are to live in such a beautiful, peaceful part of the world." I couldn't agree more.
If you find yourself hopping across the pond, East Anglia is a must-visit for its sleepy hamlets, market towns and beautiful beaches. In particular, Bungay, Halesworth, Southwold and Norwich. Venture out to Bungay for a pint (or 5) at the The Green Dragon, quite possibly the best pub in the known-world. If you need a place to rest your head, there's Belle Grove, or The Angel Inn. Then nurse your inevitable hangover from a great night of boozing at The Buttercross Tea Rooms for a truly divine fry-up. Of course you should plan to spend some time camping at Wardley Hill Campsite, a new ecological campsite in Waveney Valley, where you can possibly catch an early-morning lightning storm yourself.
Popular in the Community