Felber provides a behind-the-scenes glimpse of Zaragoza Boxing Gym, a family-owned Bushwick establishment where locals go to sweat. The artifice and glamour of televised fights are replaced with emotive snapshots of victory, defeat and doubt. The photographer's meditation on the importance of a fading ritual, drenched in warm retro hues and glistening bodies, brings a refreshing earnestness to the rugged pastime.
In anticipation of his upcoming book launch, we asked Felber some questions about boxing, masculinity and the characters who impacted him during his shoots. Scroll down for a slideshow from "Boxeo Clasico."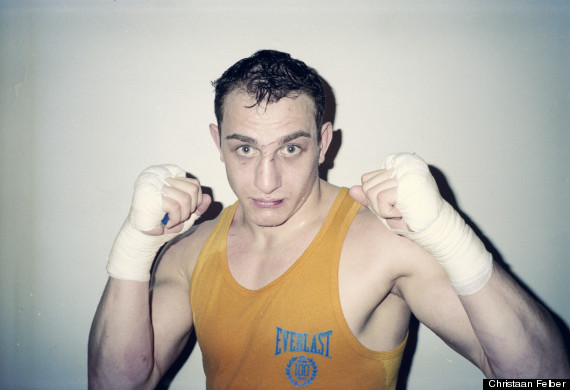 HP: What do your photographs say about masculinity?
CF: I remember when I was growing up my father used to organize boxing matches in the basement of our home during my birthday parties. After the cake and presents we'd all go into the basement, lace-up and fight. We had so much fun! Now, I have a feeling that something like this would exist for about two seconds before we would begin getting letters from attorneys. I think that the "old-school" definition of masculinity is becoming increasingly rare -- the Ernest Hemingway, Jack Dempsey types. I also think we've moved further away from rituals in general as a culture, so what I'm trying to do through these photographs is to embrace and document the rituals of a sport that celebrates the values of an older era.
HP: What inspired you to photograph boxers, in particular?
CF: At the time I was commuting on the JMZ train line from Bushwick; that particular subway line is elevated so you get an interesting perspective of Brooklyn. Each morning as my train passed by the top floors of the buildings, I noticed that the windows of one of the buildings were covered by old fight posters. One afternoon I got off at the next stop, climbed the stairs of the building and discovered this beautiful, sparse family-owned boxing gym. I had grown up around boxing as a kid, and it has had an important place in my life, so I thought it would be an interesting project to pursue. Luckily for me, the owner and trainer of the gym, Javi Wilson, gave me total access and was very accommodating. Scroll down for the rest of the article.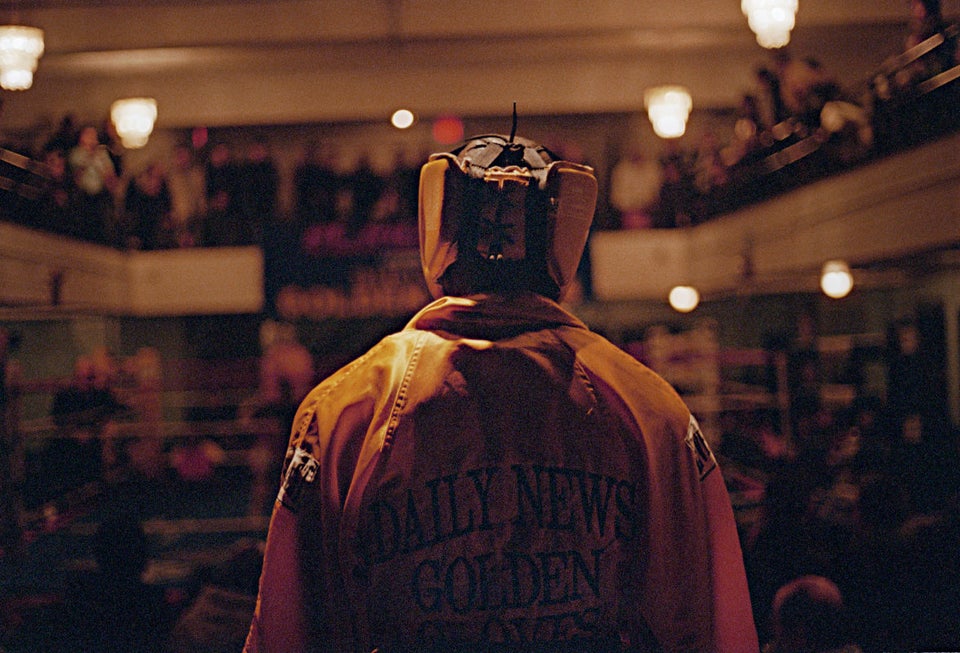 Christaan Felber
HP: Was there a subject that stood out to you over this two-year project?
CF: More than any of the boxers, Javi Wilson really stood out. He was such an interesting character and we actually became close friends. During the end of the project, when the gym was being shut down and the old gym equipment was being packed up -- the space was bought out and is now in the process of being converted into residential housing -- he took his "Zaragoza Boxing Gym" hooded sweatshirt off and draped it over my back like a boxing robe. It was a really beautiful gesture.
HP: What was a deep revelation you had about boxing after finishing this series?
CF: I realized from hanging out with the boxers during their training and before their fights that a huge part of the sport is mental, and that there is a necessary mental calmness and focus to fighting that seems almost contradictory to the violence exhibited inside the ring. There is a great quote from the documentary movie "Tyson," where he explains the mental and spiritual aspect of the fight:
"Cus D'Amato (Tyson's trainer)...didn't let me box, he would just talk to me for two or three weeks about fighting and then the psychology of fighting, and what fighting was truly about. Fighting was nothing physical, it was all spiritual and he would say if you don't have the spiritual, the spiritual warrior in you then you'll never be a good fighter, I don't care how big and strong you are."
HuffPost Arts&Culture is a media sponsor for Felber's "Boxeo Classico" launch event on Wednesday, January 30 from 7-10 pm at Public Assembly in Brooklyn. Celebrate the launch with us and rock out to DJ sets by The Vaccines and The Denzels!
Popular in the Community