Krista Campbell is a Northwest Arkansas based photographer and Click Photo School instructor who is always searching for new ways to create extraordinary images in ordinary locations. Being able to transform a mundane setting into an incredible scene gives her the ability to make swoon-worth images anywhere.
How does Krista do it? She uses light, lenses, movement, and simple items to transform her images from mundane to magical. Krista shares all of her secrets in her popular class, Click Photo School,
Ordinary Locations, Extraordinary Images in which she teaches photographers how to create magic in any area of their home, yard, or community.
Here, Krista shares her top 5 techniques to create magical images.
1. Backlight and Pockets of Light: Look for buttery backlight and place your subject in a pocket of light. In the image below, this gorgeous mama-to-be and Krista were next to a popular walking trail. Krista looked for a pocket of light, where the sunlight was streaming through the trees and onto the grass and purple clover on the ground. She then placed her subject in the center of the pocket of light and had the subjecgt look lovingly at her growing baby. The result was a magical moment, created in a very ordinary location.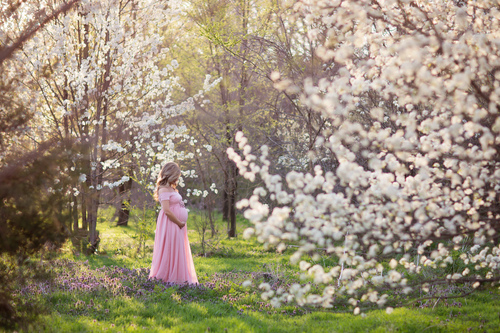 2. Get a (cheap) Creative Lens: Invest in an inexpensive Helios lens. Helios lenses (typically under $70) can be found on Amazon and eBay. They are Russian made, manual focus lenses that produce amazing sunflare in both indoors and outdoors. They are so much fun to use. Just place your subject with his/her back to the sun at Golden Hour and experiment with the different types of lens flare that you can achieve.
3. Use a Baggie: Find a small ziplock bag in your pantry. Cut a small hole at the bottom of the baggie and place the baggie over your lens. By shooting through the small hole at the bottom of the baggie, you can create soft, dreamy imagery.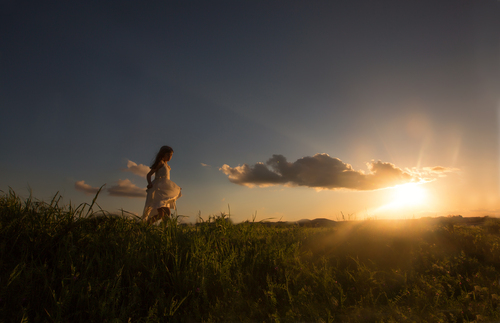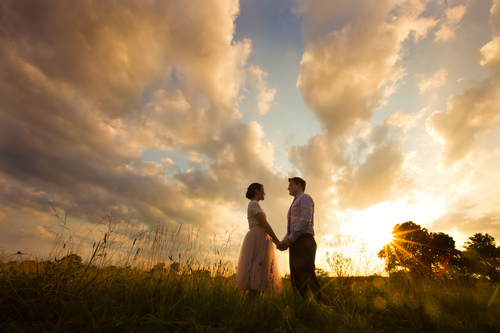 4. Go Low: Get down low. One of the easiest ways to transform an image is to capture your subjects from a low vantage point. In both of the photographs above, Krista got down low to the ground and used a wide-angle lens to capture both my subjects and the beautiful sky. Krista exposes her images for the sky (so her subject may be a little underexposed) so that she is able to capture all of the detail in the clouds.
5. Sparkle with Crystals: Use an Amlong Crystal. Krista purchased an inexpensive 6 inch Amlong crystal on Amazon and loves to experiment with it. When you place the crystal up to your lens as you shoot, and turn it, the light reflects back and creates interesting flare and even a reflection. Crystals are a simple tool to use to transform your images by adding light and visual interest.
Using these techniques can take a little practice, but are also a lot of fun and can open up new ways to stretch your creativity. When getting started with these techniques, don't be afraid to take a few extra minutes to experiment once you have the "safe" shot. You may be surprised to find that a snack bag gives you the images you love the most!
All Images Krista Campbell Photography and used with permission.
Calling all HuffPost superfans!
Sign up for membership to become a founding member and help shape HuffPost's next chapter