No photographer ever really wants to think about someone in one of their projects passing away.
For the last 13 years, I have been photographing LGBT high school and college athletes who have "come out" to their teammates despite the high prevalence of LGBT-bias found in sports. These individuals are sound in mind and spirit, young, healthy and are expected to live for many more decades.
It is because of this that, about two years ago, I was in complete shock when I heard that Alyssa Sialaris, a four-time all-American collegiate athlete and someone I had photographed just a few months earlier, had suddenly and unexpectedly passed away.
On April 3, 2013, campus security found Alyssa unconscious in her dorm room at Whittier College. It was just a few weeks before her college graduation.
I first heard the news from one of Alyssa's teammates, Jordan Vega, whom I had also photographed for the Fearless Project. He was completely distraught, and it hurt me terribly to see how much pain he was feeling for someone so important to him.
Personally, I was dealing with a kind of grief that was hard to fully understand, as it was a situation I had never confronted. What do you do with someone's photograph after she tragically passes at such a young age?
Alyssa's photograph is stunning. Out of the 200 or so athletes I have photographed for the series, she stood out for her remarkable poise and confidence. I remember seeing her through my viewfinder, completely awestruck at the power and radiance of her "look." If anyone embodied the word fearless, it was she.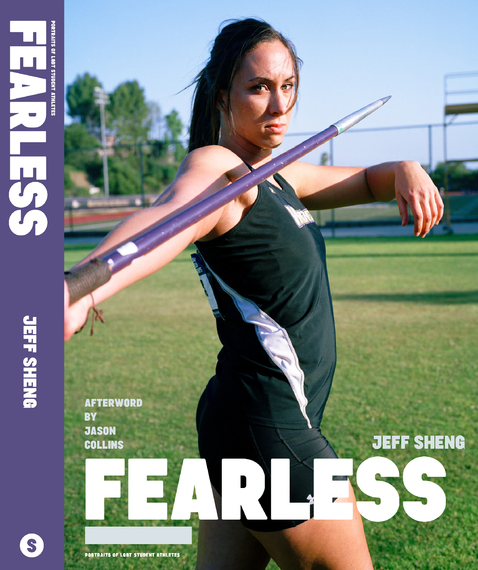 But after news of her passing, it became impossible for me to look at her image. It reminded me too much of the pain that others felt about the situation. At one point, I considered pulling it from the Fearless Project entirely.
Another source of my anxiety was her parents and family. We had never made contact with each other. And in all honesty, at the time, I did not know if Alyssa had told them about being in the Fearless Project, or if she was even fully "out" to them. I wasn't sure how they were going to react to the news. I imagined the worst-case scenario: that they were disapproving of Alyssa's LGBT identity and would immediately request that I take her image out.
In 2014, as I began to work on a photography book based on the series, I decided that I would publish her image in the book. To avoid any confrontation with her family, I would do my best not to draw any attention to Alyssa's image being used in the publication, hoping they wouldn't notice it.
Hence, it was not at all planned that her photograph would become one of the covers. To showcase the diversity of the LGBT community, the FEARLESS Book has not just one cover, but eight different ones. Each book is the same inside, but the outsides highlight a different athlete, each cover with a spine color matching the stripes from the original 1978 8-stripe LGBT Pride flag designed by Gilbert Baker.
Two months ago, my design team finalized the selection for the eight covers, and I noticed that Alyssa was one of them. Immediately, I knew that it would be impossible for her family not to know, given the attention that the covers would get.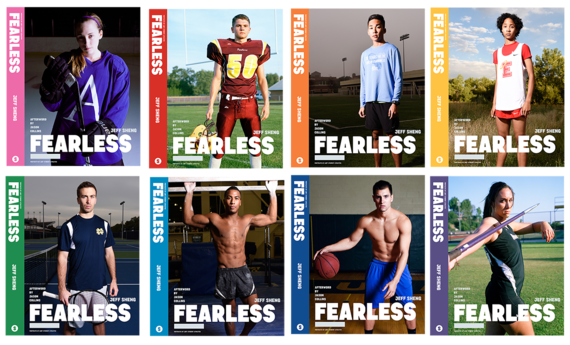 The following week, I sent a message to Alyssa's parents, telling them about the project, book and her cover. A few weeks passed, and I didn't hear anything. By then, the book covers were already being printed, and it was too late to change them. My worry grew, thinking that they were upset. Or worse, I was concerned that they were planning a lawsuit.
Then, three weeks ago, I saw this message posted on my Facebook wall:
Hello Jeff, We wanted to tell you that our family is deeply touched and honored by your book's dedication and cover, as well as your heartfelt tribute to her memory. Thank you. Alyssa was very proud of the role she played in raising awareness and speaking out for the LGBT community. Your project was very dear to her heart, and she was proud to be a role model along with Jordan, for your project and at Whittier... Thank you for your part in helping her fulfill that path in her destiny and for honoring her in that role.
It was from Alyssa's mother. I was beyond relieved.
A week ago Sunday, Alyssa's mother and I spoke for the first time, over the phone. The call lasted for almost two hours. We both cried. A lot. She shared with me everything the family has gone thorough since Alyssa's passing two years ago.
I also apologized for not contacting them sooner. She said that they were more than honored to share Alyssa and her life with so many people.
I then asked if she could write a mother-daughter letter to Alyssa to help launch my book and to pay tribute to the amazing scholar-athlete that the book commemorates (her letter to her daughter Alyssa was posted earlier at Outsports.com).
While I know that today, I should be celebrating my book launch, which marks a milestone in an epic 13-year project resulting in a 316-page hardcover photography book highlighting the progress made by the LGBT rights movement, the book, and today, are really about the athletes. They are about recognizing the 202 LGBT student athletes who were able to come out at such a young age and be incredible role models for us all. It's why I want to make today about them, and not about me.
In my two-hour conversation with Alyssa's mom, she told me that the one thing she wanted to do in memory for her daughter was establish a scholar-athlete memorial fund in Alyssa's name at Whittier College. To do this, the college requires that any scholarship endowment have an initial $50,000 base contribution. For the past two years, the Sialaris family has reached out to everyone they know to try and raise this money, but have only managed to come up with a few thousand dollars.
I gave Alyssa's mom my word that I'd do my best to help publicize their efforts. I said over the phone, "The LGBT community takes care of our own." So while I wanted to highlight my book launch today, it's more important for me that we try and do something for an amazing family and the two people that raised Alyssa with the care and compassion any LGBT individual would want from their parents. You can learn more about the memorial fund here. I hope that we can show Alyssa's family the love that they have shown me this past month. They deserve it.
FEARLESS: Portraits of LGBT Student Athletes was released today and can be previewed and purchased at fearlessbookstore.com. It is both artist Jeff Sheng's personal memoir and a photography book, featuring the portraits of over 200 LGBT student athletes taken by the author between 2003 and 2015. It also contains intimate writings from some of the student athletes about their coming out experiences and concludes with an afterword by retired NBA basketball player Jason Collins.
Popular in the Community