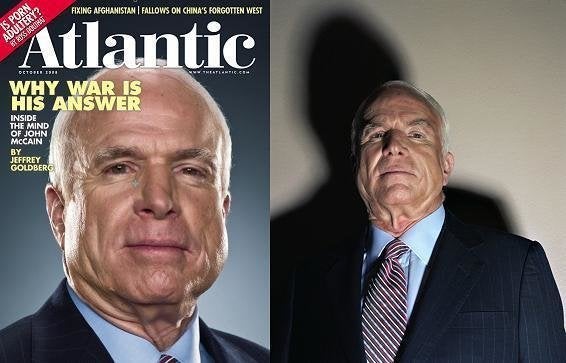 A photographer who bragged about capturing John McCain in an unflattering light, and who duped the presidential candidate into posing for an even less flattering picture will not be paid for her photo, and may find herself the subject of a lawsuit, according to reports.
Greenberg, known for her heavily retouched pics of apes and babies, boasted to Photo District News that she submitted photos of the Arizona senator to the mag while barely airbrushing them.

"I left his eyes red and his skin looking bad," she boasted.

Greenberg also crowed that she had tricked McCain into standing over a strobe light placed on the floor -- turning the septuagenarian's face into a horror show of shadows.

Asking McCain to "please come over here" for a final shot, Greenberg pretended to be using a standard modeling light.

The resulting photos depict McCain as devilish, with bulging brows and washed-out skin.

"He had no idea he was being lit from below," Greenberg said, adding that none of his entourage picked up on the light switch either. "I guess they're not very sophisticated," she said.
According to the Post, Atlantic editor James Bennet was "appalled" at Greenberg's antics, saying, "Her behavior is outrageous. Incredibly unprofessional."
And, indeed, it is! But Goldberg himself says it best, "Suffice it to say that her 'art' is juvenile, and on occasion repulsive. This is not the issue, of course; the issue is that she betrayed this magazine, and disgraced her profession."
Bennet, who told Fox News that Greenberg "violated the terms of our agreement with her," is drafting a letter of apology to McCain.
NOTE: As has been pointed out to me, drilling down into Greeberg's site will unearth several photo renderings of John McCain that at least one Obama supporter, in an email to me, describes as "childish." It's only too true that the existence of these images is a testament to the photographer's juvenile sensibilities, but they seem to be a matter distinct from the concerns that led the Atlantic to take the actions they have taken.
Popular in the Community