"For a year I've been listening to elders talk," Sheila Pree Bright said one recent Saturday morning at Dancing Goats coffee bar in Atlanta. I was meeting the nationally exhibited photographer to learn more about her public street art series 1960 Who, which launched last month. Moving her work out of museums and galleries to Atlanta's inner city streets, Bright plastered walls with monumental portraits of civil rights activists who are now in their 70s and 80s. The murals celebrate the grassroots heroes who made the civil right movement happen.
Bright's series of 14 large-scale monochromatic portraits is the ambitious foundation of a larger endeavor called Project 1960. "Art in public places provides an open platform for discussion. I want generations of people to engage and learn from each other," she said. In particular, the Atlanta-based artist hopes to inspire Generation Y to move from "slacktivism" to meaningful action.
Dr. Roslyn Pope and Lonnie King
345 Auburn Avenue
The murals are pasted in the urban environs where much of the civil rights activities occurred. In a tour of the locations, Bright drove me down Auburn Avenue, a two-mile strip that includes Martin Luther King Jr.'s childhood home and the historic center of Atlanta's African-American business community. She paused beside Wheat Street Baptist Church, where two enormous portraits of Roslyn Pope and Lonnie C. King preside over a parking lot. Their faces are enlarged to rock-star status. In the words of the late civil rights advocate William Holmes Borders, longtime pastor of that church, the portraits declare, "I am somebody."
Roslyn Pope was largely responsible for authoring "An Appeal for Human Rights," a list of grievances and principles which rattled the cage of Atlanta leaders when it was published in The Atlanta Constitution in 1960. "We do not intend to wait placidly for those rights which are legally and morally ours to be meted out to us one at a time," stated the manifesto. It was signed by student leaders of the institutions forming the Atlanta University Center (Clark College, Morehouse College, Spelman College, Morris Brown College, and the Interdenominational Theological Center.)
Lonnie King (no relation to Martin Luther King) was founding chairman of the Atlanta Student Movement, which included the historically black schools. Inspired by the lunch counter demonstrations in Greensboro, NC, King said, "Let's make that happen here." On the Project 1960 website, he sums up the students' pivotal role as follows: "The South created a two-tiered society with whites on top and African Americans on the bottom. This system could not have been dismantled without determined young African-American college students in the Atlanta University System who joined with fearless older adults and created a juggernaut which brought down segregation in less than 18 months."
Herman Russell, 140 Mitchell Street
140 Mitchell Street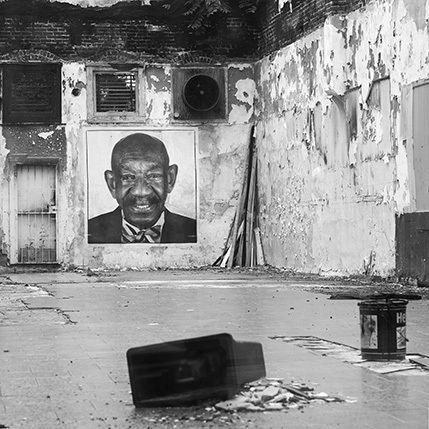 On Mitchell Street a portrait of Herman S. Russell is subtly placed in a burned-out soul food restaurant. I was so interested in reading a green-lettered advertisement for "world famous smoked wings" that I nearly missed the smiling, grandfatherly figure on the distant rear wall. While many of the portraits are tightly cropped, Russell is shown from the mid-chest up, highlighting his businessman's suit and dapper bow tie. He founded H.J. Russell & Co., one of the largest minority-owned real estate firms in the nation. During the sixties, Russell worked closely with Martin Luther King and used his real estate holdings to bond activists out of jail, according to an interview in the Atlanta Business Chronicle.
"This is one of my favorite pieces, curatorially speaking," said Keif Schleifer, who curated the project and helped install the works. "Places like restaurants, barber shops, and churches are where people would meet and talk about what they could do in the movement. It was an intricate network, and everyone did what they could in some small way."
Charles Person
156 Forsyth Street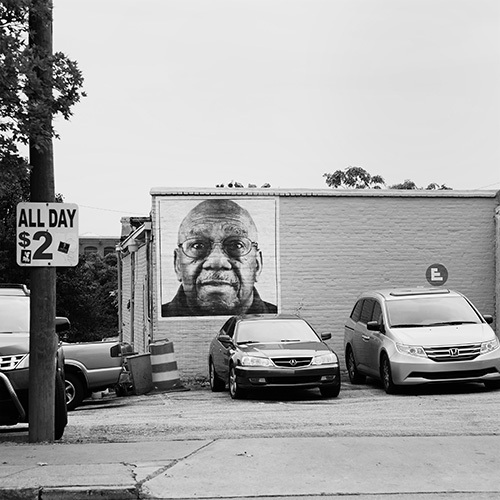 Charles Person was the youngest of the 13 original Freedom Riders who boarded buses in Washington D.C. to travel into the Deep South. The 18-year-old was brutally beaten by Klansmen in Anniston, AL, because he refused to move to the back of the bus. But Person maintains that his psychic and physical injuries were "worth it." Contacted by phone, he explained, "That was my life. If the students were marching or picketing or sitting in, I was there. Frank Holloway and Leon Greene and I were called the 'guerilla troops.' We could go out and shut down any lunch counter. That's what we did." The great-grandson of slaves, Person aspired to become a nuclear physicist and was accepted to Massachusetts Institute of Technology. He enrolled at Morehouse after being denied admission to Georgia Institute of Technology.
Claire O'Connor
236 Trinity Avenue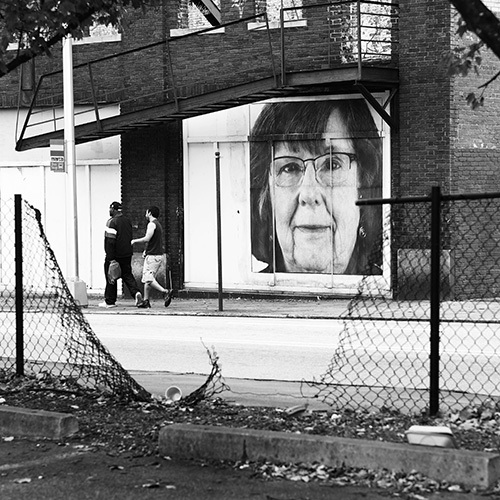 The 14 pioneers in Bright's billboard-sized street art look directly at the camera, drawing us in with their penetrating eyes and dignified demeanor. Their inscrutable gaze can be interpreted as expressing determination, defiance, amusement, fortitude, or encouragement. What are we encountering?
Popular in the Community