When a burn ban in Texas prohibited Britni and Jacob Lamance from pursuing their initial idea for their "rainbow baby" photo shoot, a kind photographer was able to get their ideal pic with some editing skills.
After having her left fallopian tube removed during emergency surgery because of an ectopic pregnancy, Britni wondered whether she'd be able to have kids. She told The Huffington Post, though, that three days after doctors removed the tube, she became pregnant with her son Jameson, her first rainbow baby. (A rainbow baby is a baby born after a miscarriage, stillbirth, infant loss or neonatal death.)
When Jameson was about 1, she became pregnant with her daughter, Wrightly, named because Britni only had her right fallopian tube.
"She is my 'right' baby," Britni told HuffPost.
While awaiting Wrightly's arrival, Britni and Jacob wanted to celebrate Britni's pregnancy. In June 2016, they teamed up with photographer Brittney Studer of Brit Nicole Photography, who has known the couple since 2014, for a photo shoot at Palo Duro Canyon in Texas.
Britni and Jacob wanted to include a rainbow smoke bomb as a nod to their kids after Britni's ectopic pregnancy, but a burn ban in Texas kept them from carrying out their plan ― until Studer decided to get creative.
"I knew I wanted to do something magical for her," she said.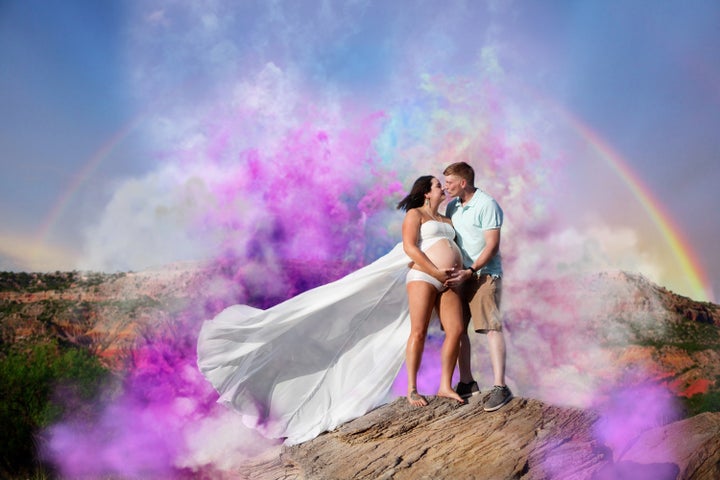 After the couple posed for photos in the canyon, Studer decided to surprise Britni and Jacob by editing their pic in post-production to make it look like a rainbow smoke bomb had actually been part of the shoot. There was also a faint rainbow in the background that day that the photographer enhanced to make it look like it reached all the way across the sky.
Britni told HuffPost that when she saw the edited photo she was "just blown away."
"The skills that Brit possesses are beyond incredible," she told HuffPost. "It was beautiful and just brought to the surface all the feelings I had for my two beautiful blessings. Just love and joy and tears!"
Studer, who also took Britni and Jacob's engagement and wedding photos, said she loves what the photo "stands for" and how it reflects the couple's journey.
"They mean so much to me," she said.
When asked if she had advice for other moms who had experienced loss, Britni said there are no words to make the situation easier, but that "there is always hope."
"Whether it is babies from your own belly or through adoption, remember hope is not lost!" she said.