In his dramatic, large-scale photographs contemporary Chinese photographer Wang Wusheng captures a black-and-white wonderland caught between land and sky in China's Mt. Huangshan mountain range.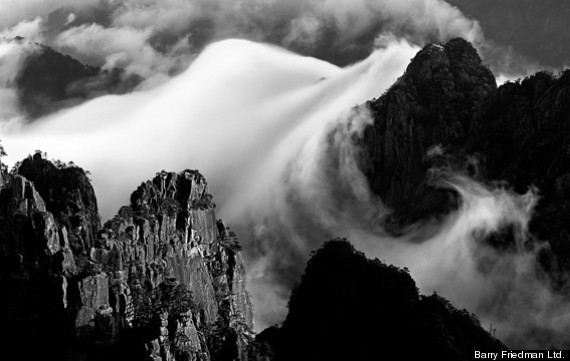 The range, also known as the Yellow Mountains, have captivated Chinese artists for hundreds of years; Wusheng's photographs house echoes of traditional Chinese ink drawings within them. Wusheng, who grew up among the fog-shrouded mountaintops, presents the natural forms as a site of temporary infinity with his deep devotion to his subject and craft.
Art history professor Wu Teng described the mystery of the range's silhouette in a gallery essay: "The image is a symphony of dark and light and of substance and emptiness. The strange, vertical peak emerges from a gossamer mist that veils a deep abyss. Its impressive height is suggested by the silhouette of tall trees in the foreground, yet is dwarfed by the huge precipices looming above it."
Wang Wusheng's "Celestial Realm" will show at Barry Friedman Ltd. from March 7 until April 27, 2013.
See a preview of the exhibition below and let us know your thoughts in the comments.