Few people in their right minds would have stayed outside the night the verdicts came down.
On April 29, 1992, a Los Angeles court found four police officers not guilty in the brutal beating of black motorist Rodney King. Within hours, the city was on fire, and it burned for days, becoming a defining moment for black resistance and the long, dark history of race in America.
Los Angeles was primed to erupt. The video of King's beating compounded months of tension between the police and Angelenos — and it sparked a nationwide uproar about racial bias and police brutality that made the story of the riots much more complex than black versus white, looters versus shop owners, or police versus the people.
The Los Angeles Times won a Pulitzer for its coverage of the riots, and for good reason: The reporters and photographers it sent to cover them literally dodged bullets to offer a small window into the chaos.
Twenty-five years later, those journalists have plenty more to tell.
We interviewed three former and current LA Times photographers who braved those violent nights to bring back some of the images that defined a broken city.
"Jesus, what did I just live through?"
Kirk McKoy
The first few hours after the verdicts, Kirk McKoy almost died a few times.
McKoy, who is black, was standing near the intersection of Florence and Normandie ― which the LA Times dubbed "ground zero of the unrest" ― and he didn't feel safe. While the rest of the world was watching white truck driver Reginald Denny get beaten by black men on TV, he was witnessing a free-for-all.
In fact, McKoy has a hard time labeling what he saw as a race riot, or civil disobedience, or an uprising. Within the first two hours, he says, he saw all three. It was "mayhem," he said, and nobody was spared.
He saw a fellow photographer ― a white woman in "a very rough African-American" neighborhood, McKoy said ― lying bloodied on the ground after taking a rock to the head. He traded swings in a fistfight with two guys who were trying to steal his camera.
Then he gave up his first canister of film because a man holding a gun to his head didn't like that he was taking photos of the looting.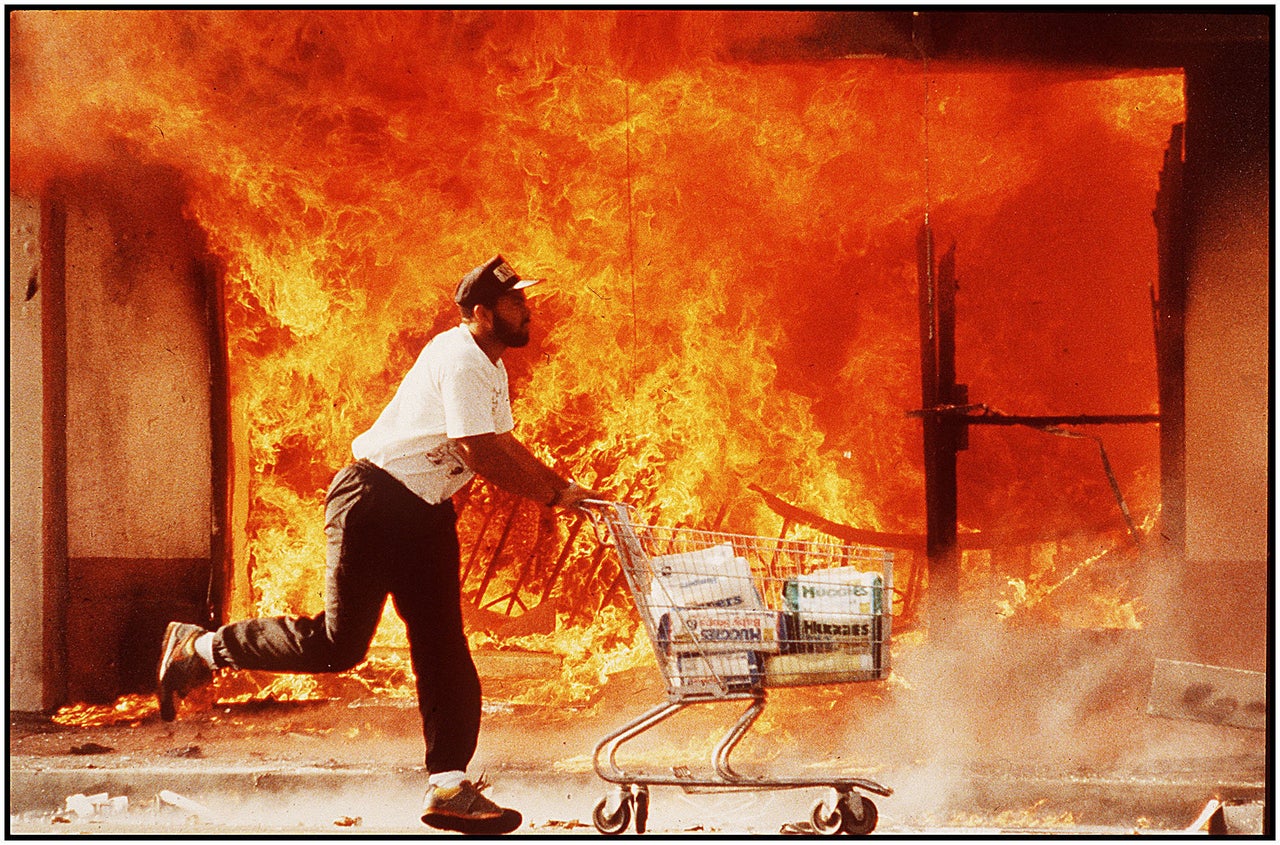 McKoy described the experience to HuffPost:
A guy pulls out a .45 and puts it to my temple and says, "If you take my picture, I'll blow your head off."

He's got the gun, he's shaking it at me, and I'm saying, "I didn't take your picture!" And he says, "Yeah you did, I oughta waste you right now!"

And at that point, I just opened up the back of the camera and gave him the film and said, "Here, whatever I just shot, take it."

It wasn't worth it. Wasn't worth arguing with this guy over it. He pulled the film all the way out and went on about his business. At that point, I'm scared out of my mind, hands trembling. I'm trying to figure what I'm going to do.
When he was finally able to get his bearings, McKoy got ahold of his editors back at the office to tell them it wasn't safe to send other photographers out there.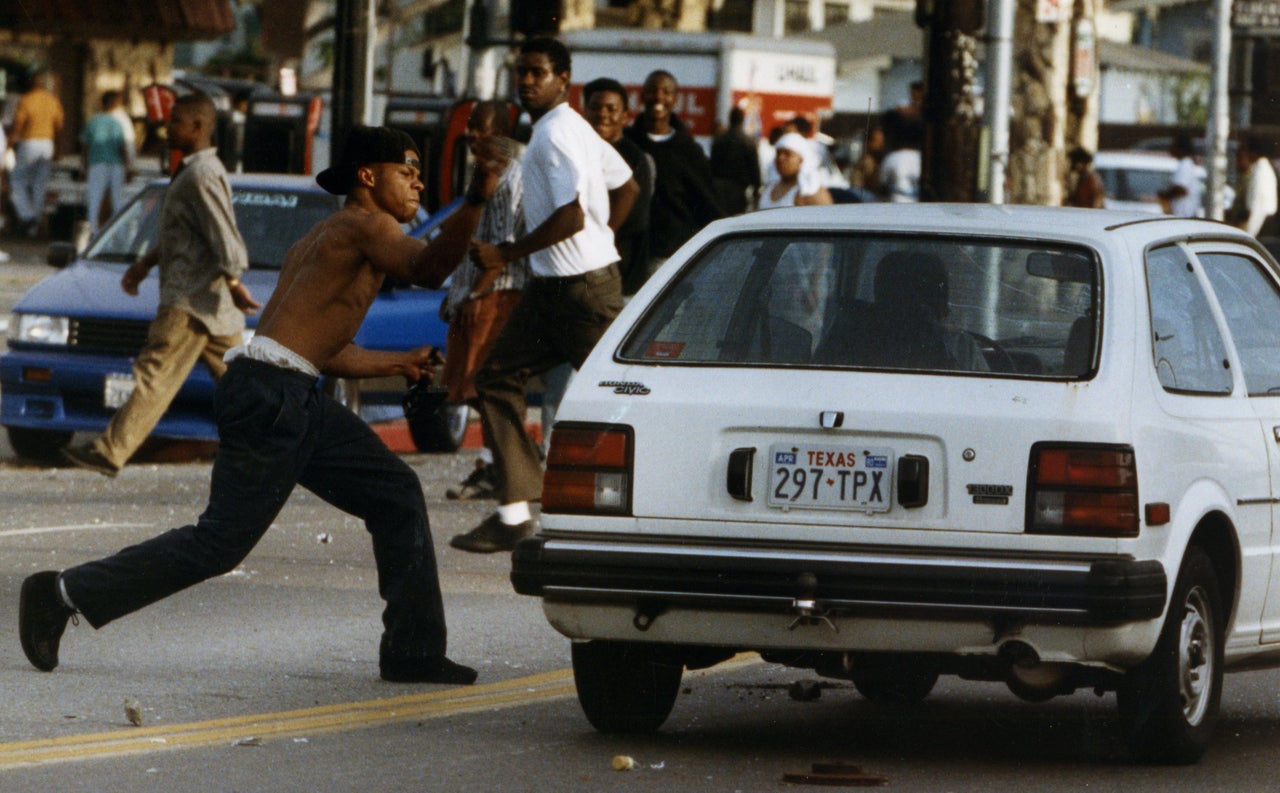 It's hard to imagine keeping your wits about you when the city around you is on fire.
McKoy kept his cool and captured moments that helped define the lawlessness that overtook Los Angeles over the course of several days. But he admits that he made plenty of mistakes ― several on that first day:
At some point, around 11 o'clock at night, [Times photographer Mike Meadows and I] were both exhausted, figuring out what's next ... we're back on Florence and we're sitting in the car, buildings are burning on both sides of us, and we stop for a traffic light.

We're sitting there obeying traffic signals ― and buildings are burning on both sides of us, people are running around ― and we're sitting there calmly trying to figure out where to go. And then some guy runs up and sticks a gun in the car [and tells] us, "You're both about to die."

We both duck, and Mike hits the accelerator with his hand and just shot through the intersection and hoped no one was in front of us. We were not about to wait to find out if that guy was serious.
Later, McKoy recalled standing in front of a crowd photographing some looters outside a store when someone pointed a gun at him and started firing in his direction. He hopped back in Meadows' car and they got out of there.
"So that was my first day," he said.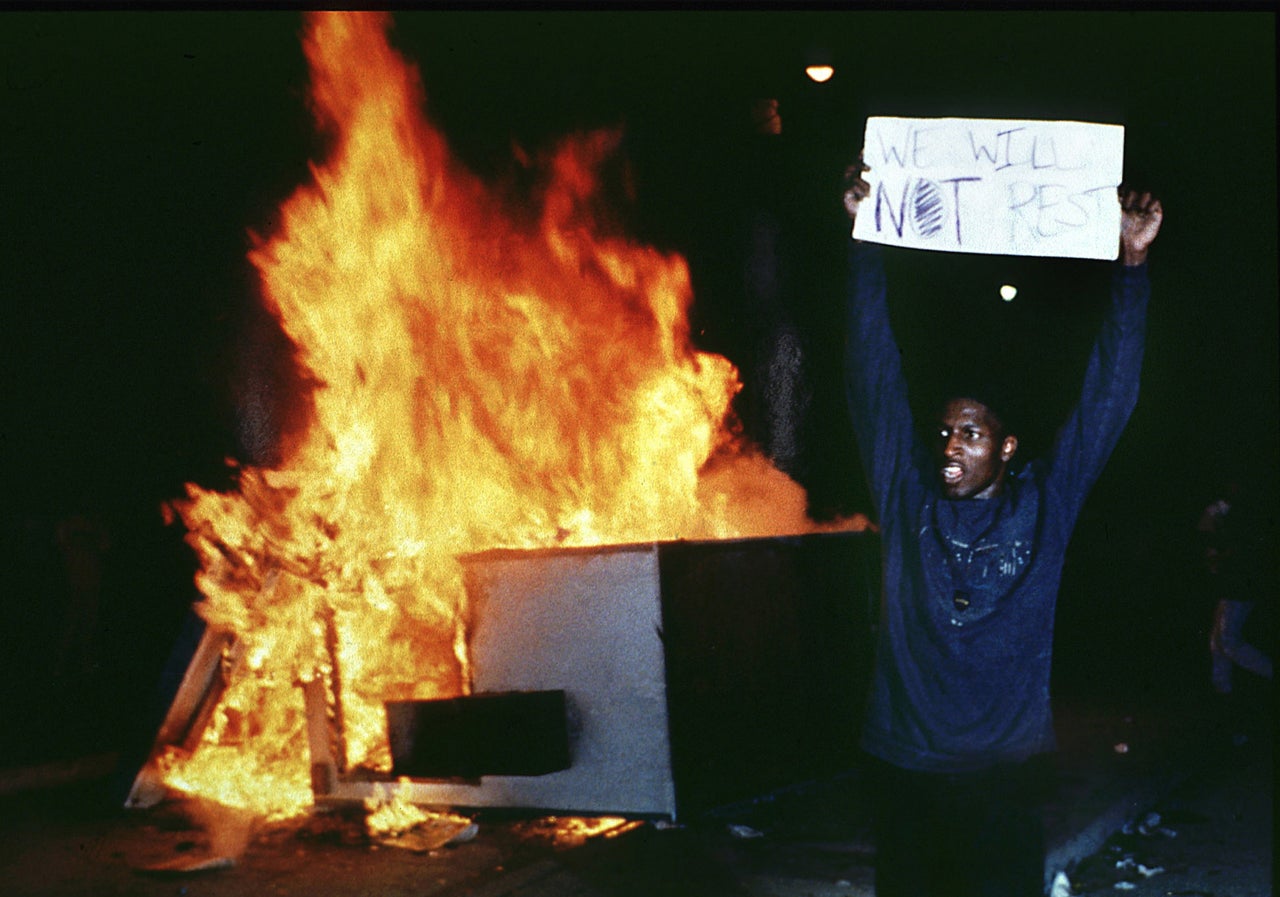 Hyungwon Kang
From the start, Hyungwon Kang was looking to capture context. He saw an inner-city Korean-American community that society had abandoned long before the riots started. And over those few days, he saw it standing on its last legs, getting the rug pulled out from under it.
"In real time, [Korean-Americans] had to decide whether to take this lying down or whether they were gonna stand up for their basic rights," he said. "Not everybody survived that process."
Koreatown was an epicenter of looting and violence during the riots, and Korean-Americans owned many of the businesses in South Central Los Angeles. Some in L.A.'s black and Korean communities point to the case of Soon Ja Du, a Korean-American grocer who was sentenced to probation and community service for killing black teen Latasha Harlins in 1991, as a factor in the riots and a big reason Korean shops were targeted. Korean-owned businesses suffered half of the $1 billion total in damage across the city, and the people there had to fend for themselves when the looting began, Kang said.
"They were standing up for their own survival. They were merely trying to protect what was rightfully their own," he said. "For most immigrant businesses, all of your savings and assets are in the inventory of the stores, and most of those stores don't have insurance. When their stores went up in flames, they lost life savings; they lost everything."
Kang, who is Korean-American, captured that fear and upheaval in two sobering photos. The first, a photo of two men carrying pistols and defending shops, reveals how people were left to defend their livelihoods with no expectation that the cops or anyone else would come to help them.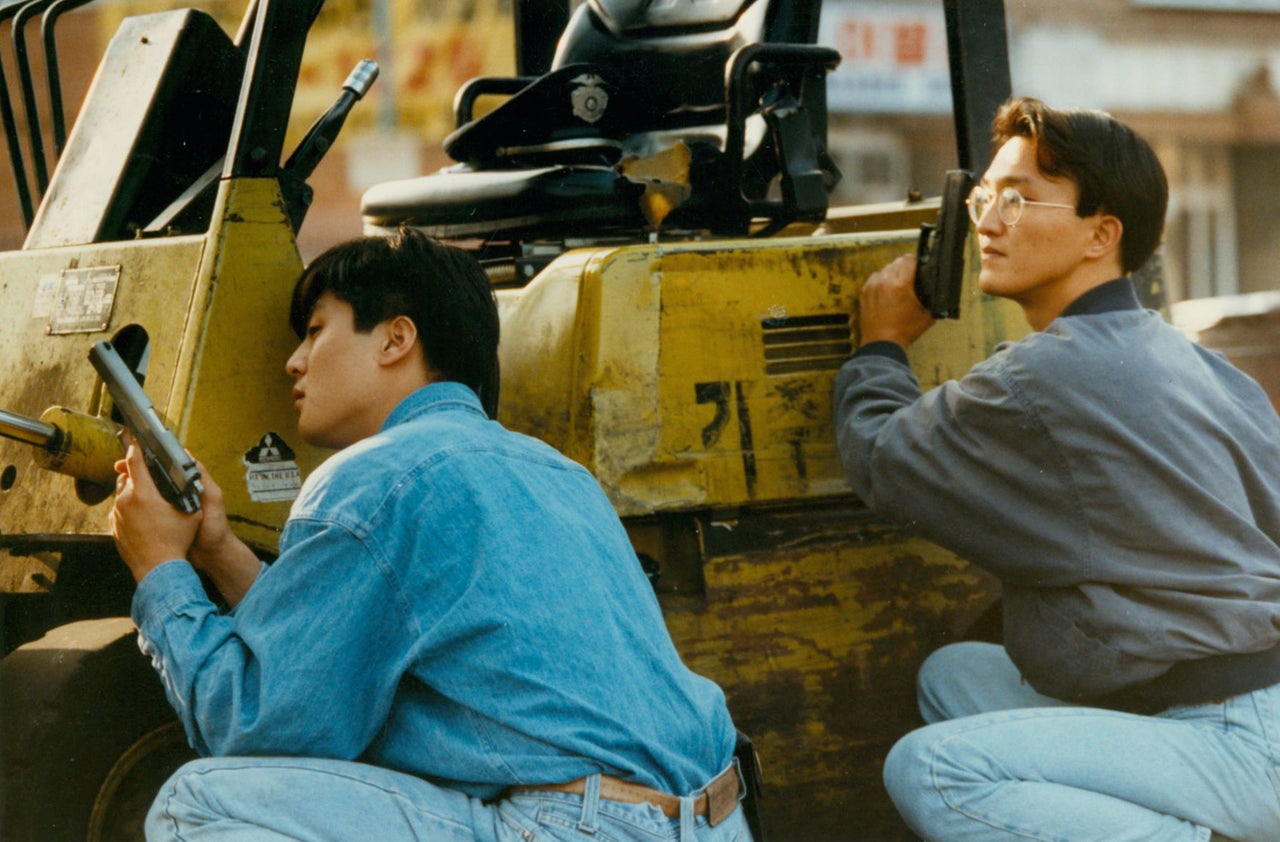 In another photo, Kang captured the killing of 18-year-old Edward Song Lee. Lee was responding to calls over the radio asking for help protecting Koreatown businesses, Kang says, when the car he was riding in came under fire.
"In the absence of police protection, people were calling into Radio Korea asking, 'Can someone come and help guard our store? We're being broken into,'" he said. "Koreatown volunteers ― these college students, most without any guns ― went to provide protection to the shops. This group of four kids in one car was one of them. It was unfortunate that they got shot at on the way over there."
Kang said he arrived to see Lee being pulled out of the car.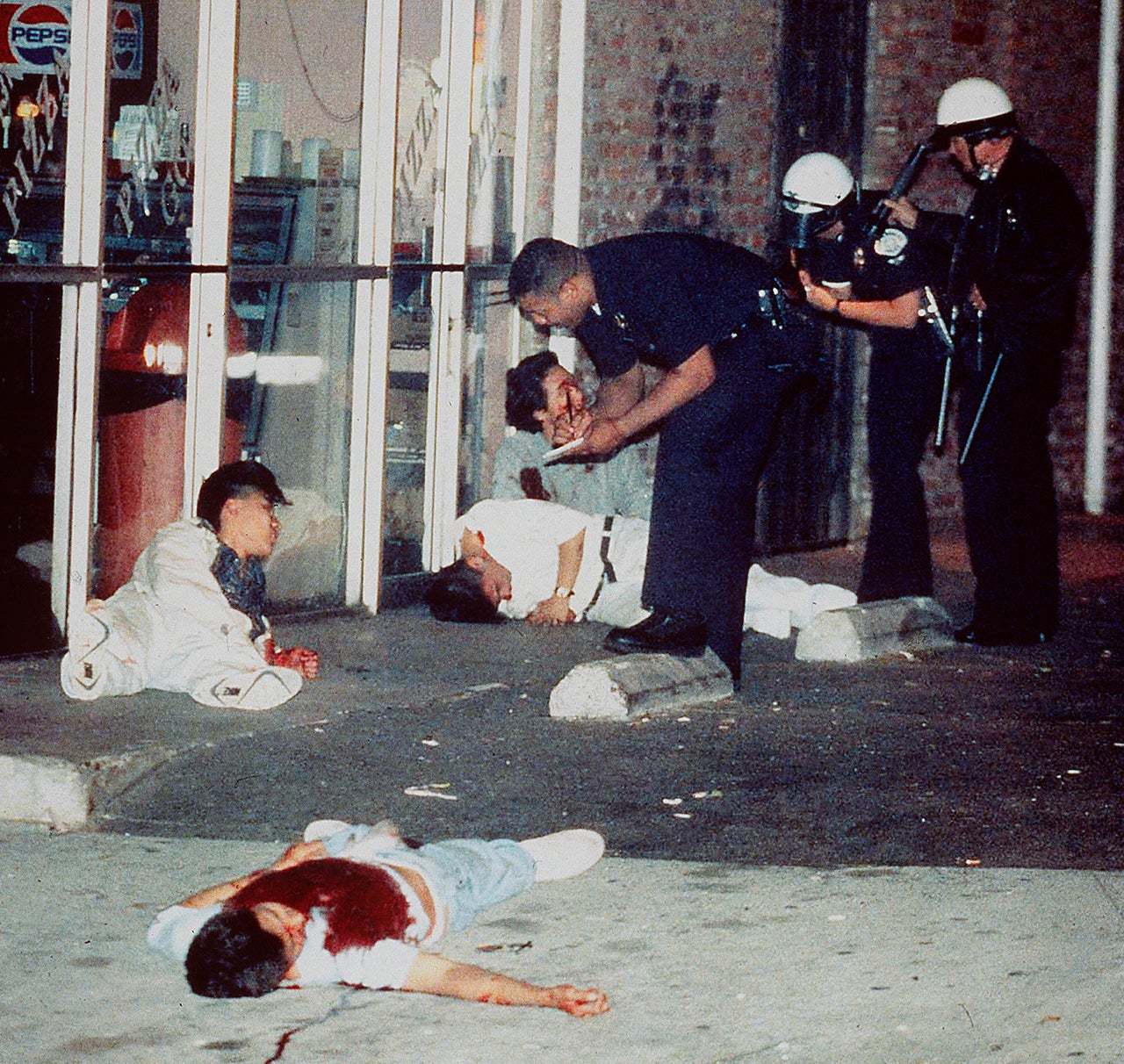 Twenty-five years later, Kang says the Korean-American community in Los Angeles is still struggling. Many immigrant families couldn't get banks to bail them out after the riots; businesses and families were torn apart.
Kang said he hopes his photos tell the story of the "silent victims" of the riots and shed more light on racial conflict and violence that he says is often mischaracterized:
These immigrant families made great sacrifices to build what they have; to be able to educate their children in America, and they were victimized at the expense of the mainstream community turning this into a black vs. Asian fight. It was not. This was a mainstream issue that has been in American history for many generations.

The generations now are expressing that through Black Lives Matter and other movements ― and I hope they'll study the LA riots and learn from them and the greater society's mistakes, so we don't repeat them.
Steve Dykes
The gravity of the story you're working on doesn't always hit you right away. All three of the photographers we spoke to noted that their training taught them to be cautious, but also obligated them to keep shooting.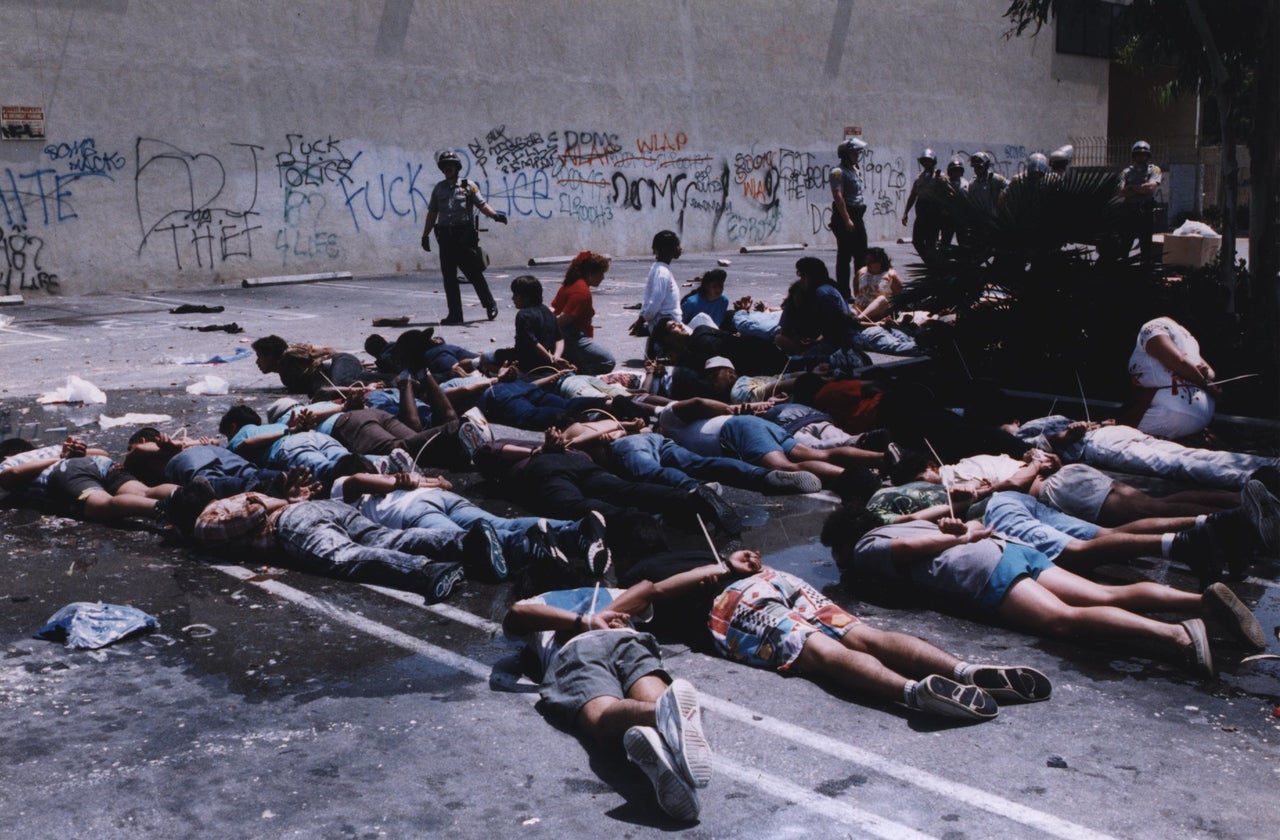 Steve Dykes was driving alongside a fellow journalist with the Oregonian to shoot the Lakers/Trail Blazers playoff game, when the pair got their first taste of what was to come.
"I looked in the rearview mirror and I could see two African-American men pointing to where my car was at a stop light," Dykes said. "I went up over the grass near a library, between a telephone pole and a guideline, and got away. I never heard the gunshots but I found a bullet hole in the tailgate of my company car."
He remembers looking up at the Lakers game and watching video of Reginald Denny getting beaten half to death. He remembers radioing his desk at the LA Times for assignments, and then realizing that the Times building itself was under siege. In particular, he remembers one of his best shots from the riots, because it was the one that humbled him.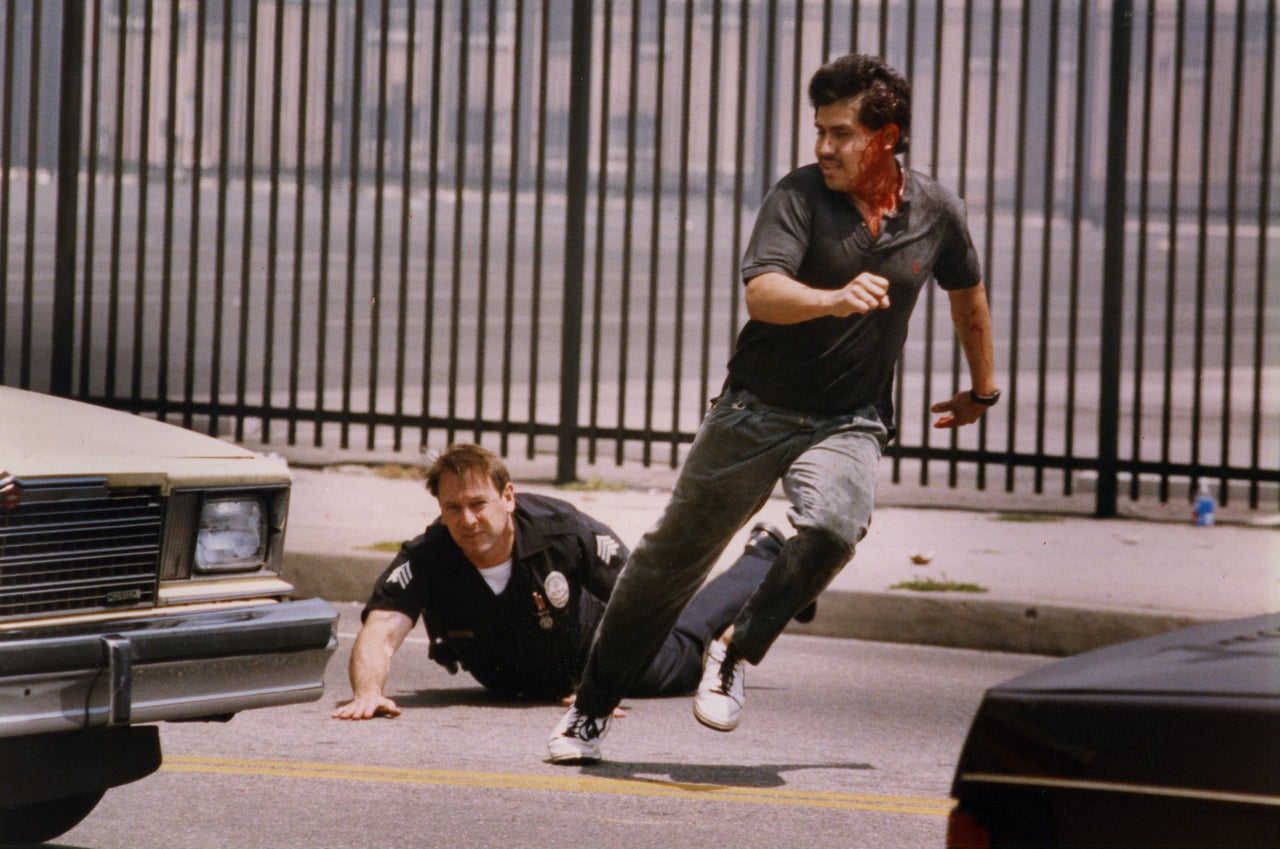 When Dykes captured a photo of an officer collapsing as he chased a bloodied looter, he said he wasn't thinking about the riots or the implications or the danger popping off all around him. He was in full photographer mode; he was thinking of his shot.
"While you're in it, you never really think about it," he said. "I was thinking, 'That picture, if it was on any other corner, the background would have been a burning building.' It was a park fence. But I remember thinking, 'If it was on any other corner, it would have been a more impactful photo.'"
But whatever switch kept his emotions at bay on the job eventually got flipped:
I remember driving home the second day and driving over the Hollywood freeway, and down past the Capitol Records Building, and the radio was playing a blurb of a Martin Luther King speech, and then right after, they played "Under The Bridge" by the Red Hot Chili Peppers.

When I hear that song, it still gives me chills, because I was looking south and just remember seeing 20 fires at least, scattered everywhere … and then it was just like, "Jesus, what did I just live through?"
That moment still makes the hairs on his neck stand on end.
"I was going home to see my family, I mean, I was alive," he said. "I remember thinking, 'Well, shit, this will go down in history.'"
This article has been updated with information about the killing of Latasha Harlins.
Support HuffPost
Every Voice Matters
Before You Go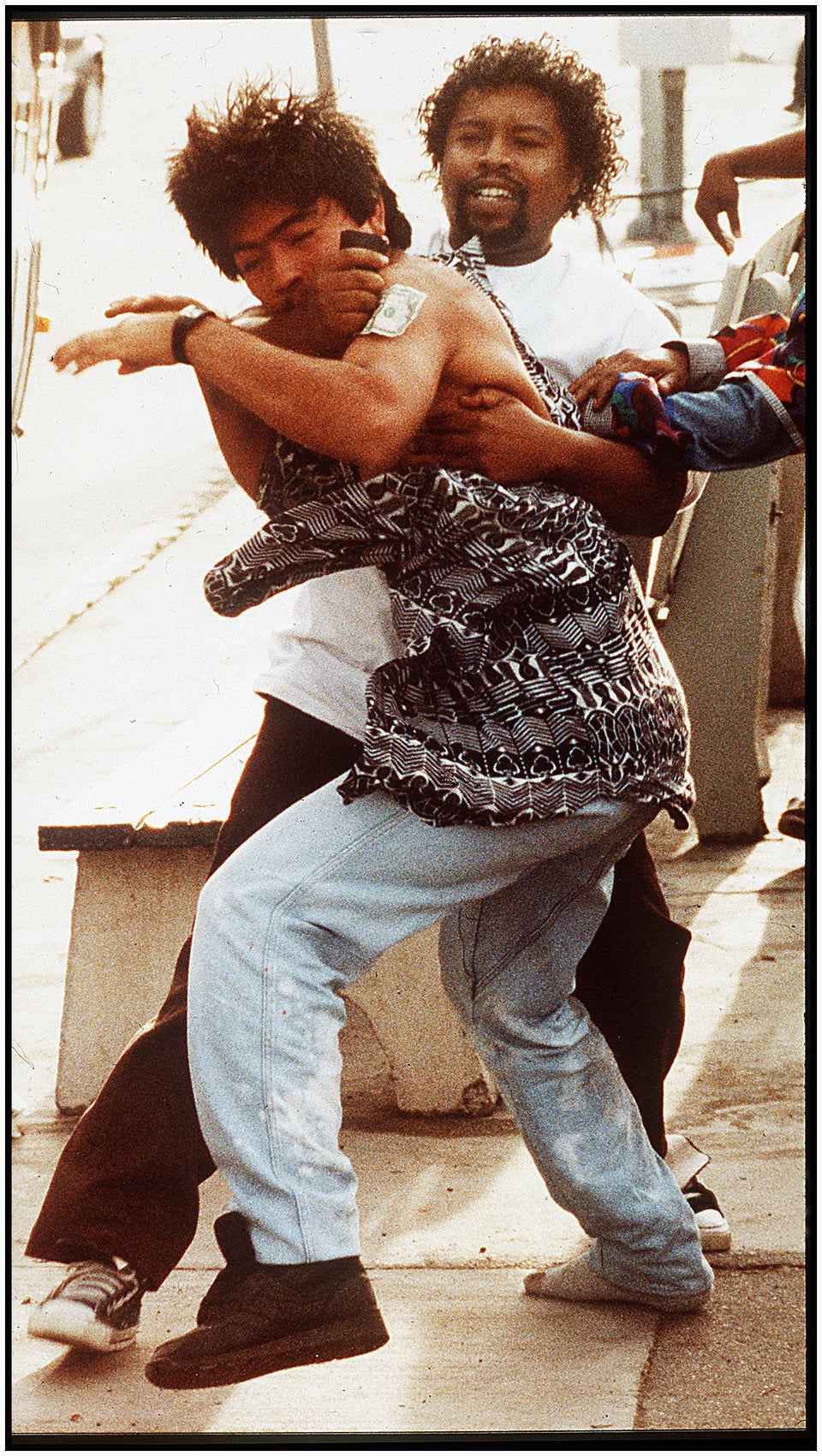 L.A. Riots
Popular in the Community