Nickolas Chelyapov remembers the exact moment he knew he was hooked on photography. He was in a darkroom for the first time at Moscow State University. Chelyapov was working with a black and white film and enlarger and developer and photosensitive paper.
"The magic of transformation of a shiny white piece of paper into something that reveals an image as if it was hidden inside that piece of paper sitting in a developing tray was utterly mind-blowing experience for me." said Chelyapov.
He went on to say if overdeveloped, the image would disappear into blackness...very much like life fades into black oblivion. He continued,
"But, if you stop the process on time, you freeze the image and that moment of physical existence that was captured. Fluidity of the process (pun intended) capturing unique and passing moments of the least tangible entity - time. These were the attributes of photography and its underlying physical processes, such as capability to manipulate and interfere with time, that attracted me to the craft and art of photography."
Richard S. Chow will be exhibiting selected work from his Distant Memories series as part of the group exhibition. Originally from Hong Kong, Chow got his first camera at age thirteen. After moving to Los Angeles at sixteen and experiencing a difficult transition, Chow found comfort in LA's beaches. This is what inspired his current series.
"Like finding shells on the seashore, I am collecting visual memories," said Chow.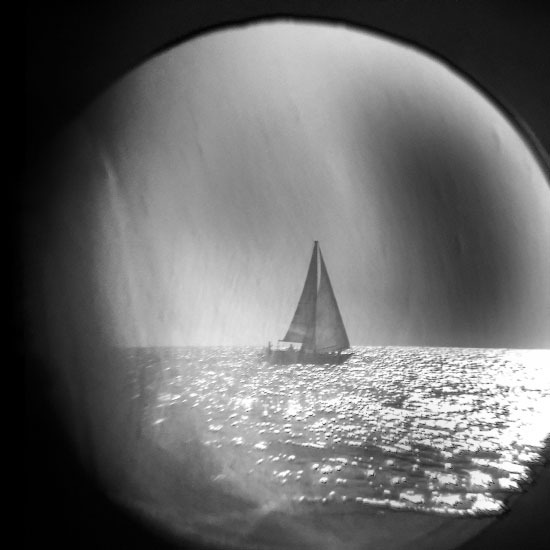 Photo by Richard S. Chow, Distant Memories - sailboat, 11x11 framed inside flexiglass. Printed on Archival cotton matte paper. 2015/2016
Frank Griffin has been taking photos since the 1970's.
"Over the years I have photographed rock'n' roll, celebrities and most recently landscape and architecture," said Griffin
He is currently using a Canon 5d Mk111 with a variety of lenses. Like many photographers, his shots vary, depending on the day...He said he enjoys photographing anything unique to LA.
Dan Lopez will be exhibiting four of his photographs in "Photographic Language." I'm inspired by my surroundings," said Lopez, who usually heads to a specific location and stops when he is drawn to something. Lopez said he has always loved taking photos, specifically...
"Capturing ephemeral moments, finding symbolism and latent humor in everyday objects, and blurring the line between the ordinary and the surreal."
This will be the first exhibition at Lark Gallery that Jermaine Saunders will participate in. He originally met the curator, Chelyapov while working with his son at his first job. His double exposure work will be featured in the exhibition. "The inspiration for this photo was to create a classic look with 3 images together," said Saunders. I love the early 1900s, with the architecture and the model styled it made for a perfect vintage look."
Saunders said his favorite subjects to shoot are landscapes, architecture and portraits, then he often combines them. "When scouting (for a shot), I like to look for unique one of a kind places with good lighting," said Saunders, who has been taking photos for nearly ten years now. He is currently using a Canon 6D and 7D.
"I love photography because it gives me immediate realization of my artistic impulses, said Irina Chelyapov (wife of Nickolas), who has been taking photos for the past 27 years. "As an artist, I always try to create not only likeness of reality but persuasive synthesized image of certain places, emotions and events."
The artist reception features additional artists such as Alice Esposito, Dima Malanitchev, Krisjan Klenow, Mark Anthony Stewart, Dmitry Matusov, Donna Bell, Fabricio Espasande-Bouza, Gail Oliver, Gregory Thompson, Jean Brantley, Richard Bilow, Jim McKinnis, Kirill Chelyapov, Michael Bezman, Narine Isajanyan, Nickolas Peter Chelyapov, Olga Fotinich, Peter Shpayer, and Sasha Tivetsky.
The artist reception for "Photographic Language" and "Retrospective" will take place on October 1st, 5:00 pm to 9:00 pm at Lark Gallery Hawthorne (12609 Hawthorne Blvd. Hawthorne, CA 90250). Both exhibitions will run through October 22nd. Enjoy refreshments and live music by Leo Chelyapov. For additional information, see http://www.larkgallery.com
Popular in the Community