I recently spoke with photographer David Plowden from his home outside of Chicago. He was generous enough to spend a good portion of an afternoon talking about his life and his art. The full transcript of the interview, along with more examples of his wonderful work, can be found at the American Elegy website.
On the cusp of his 79th birthday, David Plowden is still staying busy capturing America. Plowden is not only a master photographer but an effective documentarian, who has, frame by frame, shown us the story of an integral part of 20th-century American cultural history. By packing up his trusty Hasselblad camera and following the railroad tracks and back roads of this country, he has laid out this story, one image at a time. And by showing us what America used to be, he has also showed us what it has become.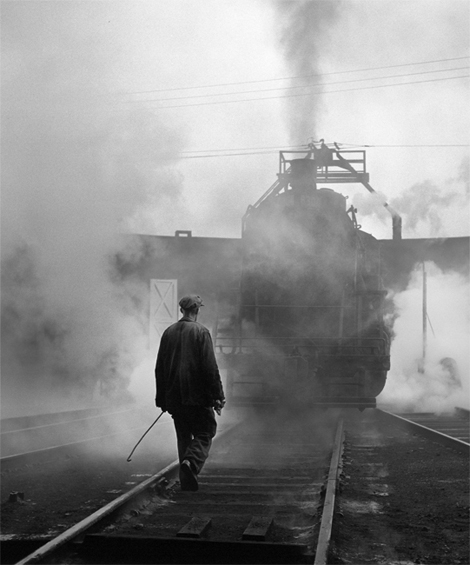 Hostler and CNR Locomotive Number 8403 on Turntable, Hamilton, ON 1959
Plowden photographed his first steam engine at the age of 11. The experience ignited a passion for the steam-powered trains that has stayed with him to this day. Plowden's 2010 book, Requiem for Steam: The Railroad Photographs of David Plowden, is filled with photographs that depict his artistry and passion for the subject.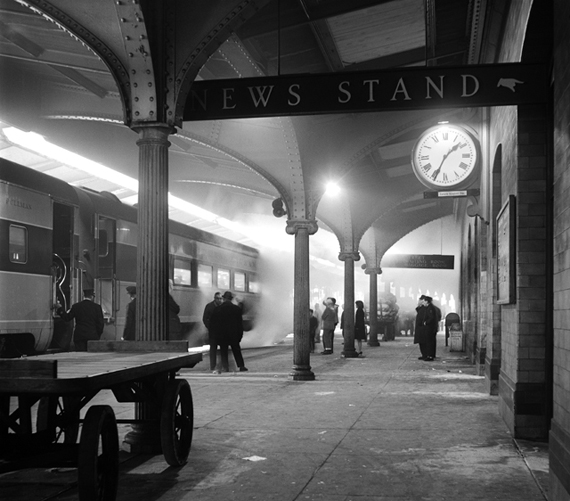 Westbound Phoebe Snow, Scranton, PA 1964
Those early photographs of steam engines sent him off on a journey that would go on to tell an important part of the tale of America's development. I asked him what compelled him to start focusing on the changing American landscape.
"The small town I lived in had a general store and everybody knew the people who ran the gas station. That was something that I realized, very soon, was disappearing. I did a book called Small Town America, because I saw all of these places that I remember so well as being such a part of the fabric of the country and of rural America. You know, today I go back to these places that I photographed five or ten years ago, and there's nothing there."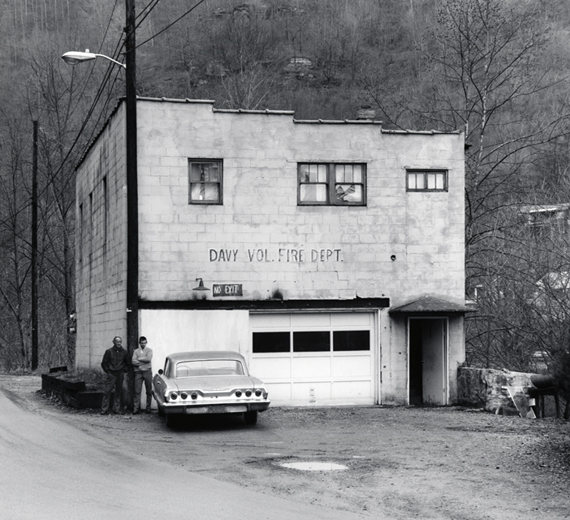 "In the evening, we would stand there and here were these huge, massive glass and brick buildings, which were part of midtown New York; he would look at these things and I would realize that he was looking at the shadows. One of the things I remember best about Walker, was his use of light. He would open up the windows of the Time-Life Building -- Fortune [Magazine, where Evans worked as an editor] was on the 18th floor -- and he would look out into the midst of the city; he was looking at the highlights. What he was doing was looking at the architecture of light. I will never forget those evenings with him, because it taught me how to understand that other dimension, the architecture of light, which is so terribly important."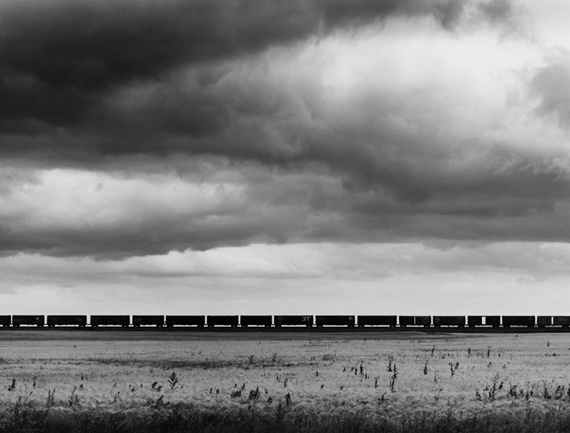 Great Northern RLY. Freight Train, West of Havre, MT 1968
David Plowden has been so involved with capturing an aspect of the soul of our country. I was curious to hear his thoughts on how our changing cultural landscape had affected us as a society.
"I think we've become very, very inhuman. We've lost the art of communication and neighborliness.
"Someone was telling me how nice it was that I photographed the age of mechanics and the age of hands-on work and, you know, it's true. I love photographing shovels; I love photographing gears; I love photographing machinery that took people to run. There's nothing more beautiful than a shovel. Did you ever watch anybody shovel coal in a locomotive, or shoveling wheat? It seems almost like a ballet, it's so beautiful. You look at the handles of the shovels and they're all worn. Those things, to me, are very indicative of an important part of something that's gone.
"Everybody says, why do you photograph these things? I say, because I miss them; because they were important and, not only that, they were interesting and they were very human. There's nothing interesting to me about a bunch of gas stations and fast food places at the interchange."
I asked him about a photo of his that I had seen, a beautifully photographed but desolate-looking modern grocery structure.
"That was an abandoned A&P in Wassau, Wisconsin. I was doing a whole series of places like that and, to me, they sort of belong in the section of what I call 'Wasteland.' I was doing it to show how empty and how antiseptic everything looked. Whether it was abandoned or not didn't matter to me, as much as the fact that there was this huge, enormous parking lot and this little old A&P sort of crawling in the background. I did a whole series of photographs of shopping centers to show how really God-awful they are. At the same time, they had to be photographs. They had to be very carefully composed. That was from 1980 to '81 and all the way through '83. I did an enormous number of those places."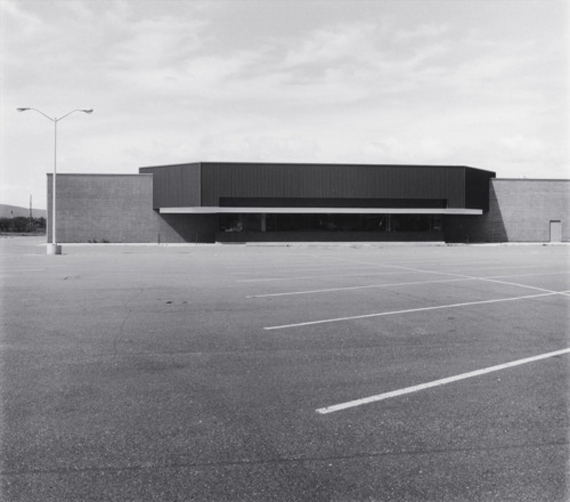 Age and arthritis have slowed David Plowden down, but only a bit. Though he now says that his darkroom days are finally behind him, he has a few of his old students helping him learn Photoshop. Using digital technology, he is restoring some of the many old negatives he has filed away. But most importantly, he is still actively photographing our ever-changing landscape, and he is still telling the story.
The full interview I conducted with David Plowden, which touches in depth these and many other aspects of his work can be found at the American Elegy site.
Related