WASHINGTON ― Recently released photographs from Aleppo cast fresh doubt on President-elect Donald Trump's apparent plan to align with Russian President Vladimir Putin, Syrian President Bashar Assad and Ayatollah Ali Khamenei of Iran, the leaders of the alliance that has killed thousands of civilians in the shattered Syrian city.
The pictures show Iranian commander Qassem Suleimani visiting Aleppo after pro-Assad forces' brutal conquest of the city this month. Suleimani has been blamed for the deaths of hundreds of Americans in Iraq through funneling Iranian support to trusted militias and aiding Al Qaeda when useful.
Since 2014, Suleimani has used increasingly frequent appearances at Middle East battlegrounds to boost the idea that Iran — not the U.S. or its traditional partners, such as Jordan, Turkey and Saudi Arabia — is the most important power in the region. His name has come to represent Iran's ambitions even in U.S. congressional debates, in which lawmakers have railed against benefits he could receive from President Barack Obama's nuclear diplomacy with Tehran. So analysts and social media accounts rushed to highlight the photographs over the weekend as a signal of Iran's policies and assertiveness at a moment of triumph for Assad. The State Department confirmed Monday that the images are real.
Trump has indicated that he wants to work with the pro-Assad alliance — and, by extension, the Iranians. But his party's top foreign policy figures have spent years condemning Iran, particularly Suleimani's wing of the hard-line Iranian military. And retired Lt. Gen. Michael Flynn, the president-elect's choice for national security adviser, has a long history with the Iranian general.
Flynn spent years in Iraq, serving under Gen. Stanley McChrystal as the top intelligence officer at the Joint Special Operations Command. He was there as Suleimani trained and armed Iraqi Shiite militias, then began to funnel roadside bombs across the Iran-Iraq border. Once inside the U.S.-occupied country, those weapons killed hundreds of American soldiers.
McChrystal held Iran responsible for the American deaths, he told The New Yorker. In the fall of 2006, Flynn's boss established a task force to lead U.S. operations against the Iranian proxies and Suleimani's division of the Iranian Revolutionary Guards Corps, the Quds Force. After the U.S. team targeted Suleimani in a January 2007 raid and captured a group of Quds Force agents, the "Erbil Five," one of Suleimani's militias promptly killed five Americans. In the years that followed, the top U.S. general in Iraq, David Petraeus, developed a deep understanding of Suleimani's effect on his forces and on Iraqi politics. He called the Iranian "truly evil."
Flynn has cited his experiences in Iraq, with obvious references to Suleimani, in criticizing the rise of Iranian power under Obama's watch. In a 2015 interview with Fox News a few months after the release of a string of photographs of Suleimani on Iraqi battlefields, he said Iranian "leadership are actually acting as sort of field commanders in some of these battles inside of Iraq." Flynn went on to say he would be more worried about Iran controlling Iraq than he would be about the vicious Islamic State group running Baghdad. In congressional testimony on June 10, 2015, he bashed the nuclear deal with Iran by saying, "Evil doesn't recognize diplomacy."
Now Flynn is working for a man who appears to be willing to cut a deal with any foreign power so long as it might bring some benefit to the U.S.
The president-elect has consistently presented himself as tough on Iran. He has said he would tear up the nuclear deal, an outcome even opponents of Iran, such as Israel and Saudi Arabia, now oppose.
But Trump may have gone so far in his pledge simply because he knew he needed to sound aggressive — the way he tried to court the right by going far beyond GOP talking points on reproductive rights and immigration, suggesting he would punish women who had abortions and ban Muslims from entering the U.S. He eventually softened both statements.
There is no guarantee Trump's statement indicates a real fear of Iran's potential danger to the U.S. or a true desire to rein it in. In fact, Trump attacked Obama's deal in a way few others have: He said it does not provide enough money-making opportunities for U.S. companies. That suggests a more lucrative agreement might assuage his concerns.
Moreover, Trump has already shown a tolerance of unsavory regimes — including the one in Tehran. Trump did business with an Iranian bank for five years, from 1998 to 2003, despite a U.S. Treasury guidance that the entity was controlled by the government he now calls a "big enemy," the International Consortium of Investigative Journalists revealed in October.
Trump has also long admired strongmen such as Iran's allies Assad and Putin. Over the past quarter-century, the president-elect has praised Iraqi leader Saddam Hussein (angering the Kurds that Hussein massacred and that Trump now says he wants to befriend), China's Communist rulers, North Korean leader Kim Jong Un and, of course, Iran's partners in Syria, noted Tom Wright, a scholar at the nonpartisan Brookings Institution, in an interview with The Atlantic. Although Assad has destroyed his country by pummeling his own population and encouraging the rise of the Islamic State, Trump has said the Syrian leader is "much tougher and much smarter" than Obama.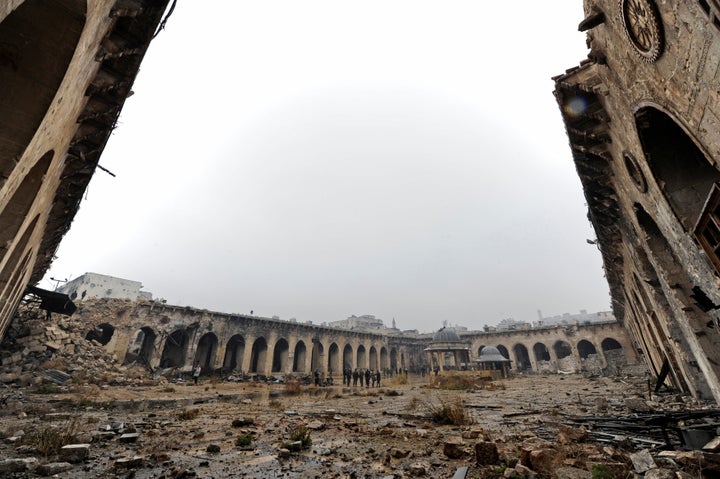 So many in the Middle East doubt that Suleimani's history will prevent the Trump administration from helping Iran and Assad. Last month, an influential Iranian general publicly described Trump's rise as an opportunity for Tehran in Syria.
Damascus sees Flynn, a skeptic of the opposition in Syria, and potential secretary of State Rex Tillerson, a critic of the kind of sanctions Iran is currently under, as figures who could guide an Assad-friendly policy, Kamal Alam, a scholar at the Royal United Services Institute in London and Levant consultant for the security firm Hoplite Group, told The Huffington Post. The Syrian leader appears keen to engage with Trump.
There is "cautious optimism" in Iran because of Trump's deal-making inclinations and his relationship with Putin, according to Matthew McInnis at the conservative American Enterprise Institute.
It's unclear whether Flynn, Iran skeptics tapped to lead the Pentagon and CIA or Republicans on Capitol Hill can force a different path.
Some action against Iran is inevitable in the post-Obama era, argued Brian Katulis, a scholar at the liberal-leaning Center for American Progress. Congress pushing through new sanctions on Iran's missile programs, U.S. officials demanding tighter enforcement of the nuclear deal after repeated Iranian violations in its first year, the Treasury Department forming interpretations that make trade with Tehran even more difficult, and U.S. military routines becoming more robust in the Persian Gulf are all possibilities, AEI's McInnis said.
But Trump will ultimately prioritize counterterrorism and combating the Islamic State above pushing back Iran, McInnis predicted, and that necessitates some degree of coordination. That could mean Suleimani's triumphant travels around the region — a bugaboo for Republican senators such as Arkansas' Tom Cotton, South Carolina's Lindsey Graham and Texas' Ted Cruz — are far from over.
Still, U.S. officials considering closer cooperation with the Iranian general should be cautious, McInnis warned.
"He's not crazy. He's not a wild-eyed mullah. He's not that type of person," he said. "There may be certain tactical points, like when it comes to ISIS, when our goals can align. But not long term…. I could never really see some type of strategic alliance."
Trump's transition team did not respond to a request for comment. Neither did Flynn.
Calling all HuffPost superfans!
Sign up for membership to become a founding member and help shape HuffPost's next chapter
BEFORE YOU GO
PHOTO GALLERY
People Around The World Protest Russia's Role In Aleppo Killings