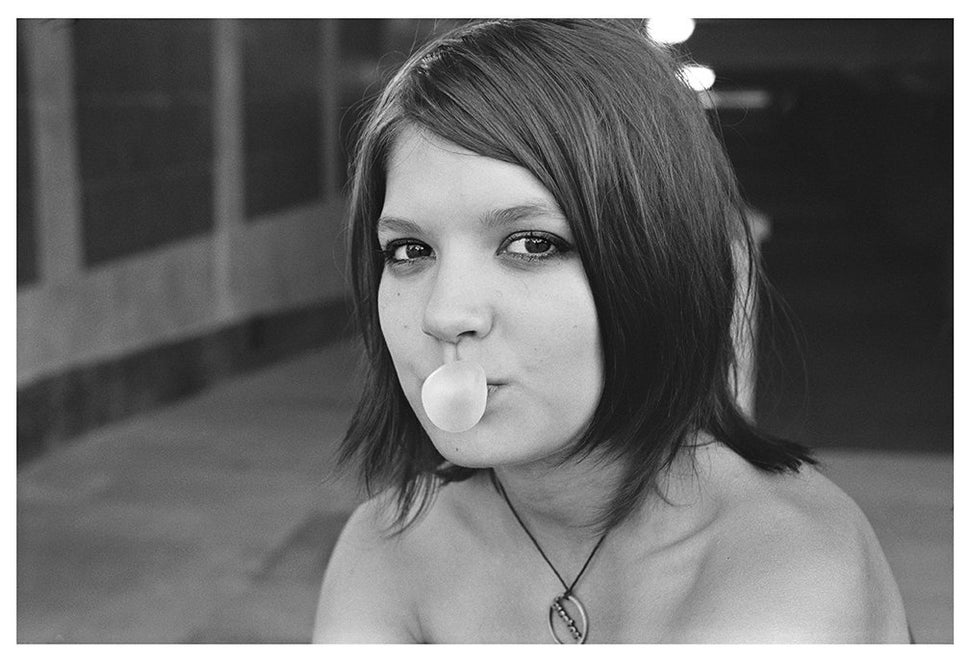 "Well hear [sic] I lay listening to pink floyd, with M.A.S.H. on the tele, with a splitting headache, eyes hurting, with dried up tears. My whole self is tiring me out, I sort of want to give up, I don't know if I want to live anymore, I'm tired of look'n like this. I'm tired of all this bullshit, but no one seems to understand. I'm tired of being ugly and overweight. Plus I'm tired of these headaches. I'm so tired."
This is a passage, typos and all, from photographer Deanna Templeton's diary, written when she was a teenager in the 1980s. Her words, burning yet banal, are characteristic of a very specific time in one's life. The ardent self-loathing, the isolation, the frustrating dissonance between who you are and who you want to be -- feelings all intensely personal yet nearly ubiquitous for girls transitioning into womanhood, however strenuously. 
In an upcoming exhibition at Little Big Man Gallery, Templeton is showcasing her original diary entries alongside photos of teen girls around the world, captured over the last 15 years of her photography career. The show, titled "What she said," will explore the universal aspects of growing up as a woman, the overarching themes and feelings that unify evolving girls regardless of specifics.
Whether growing up in the '80s in suburban Orange County or in Australia as a millennial, girlhood is a battle.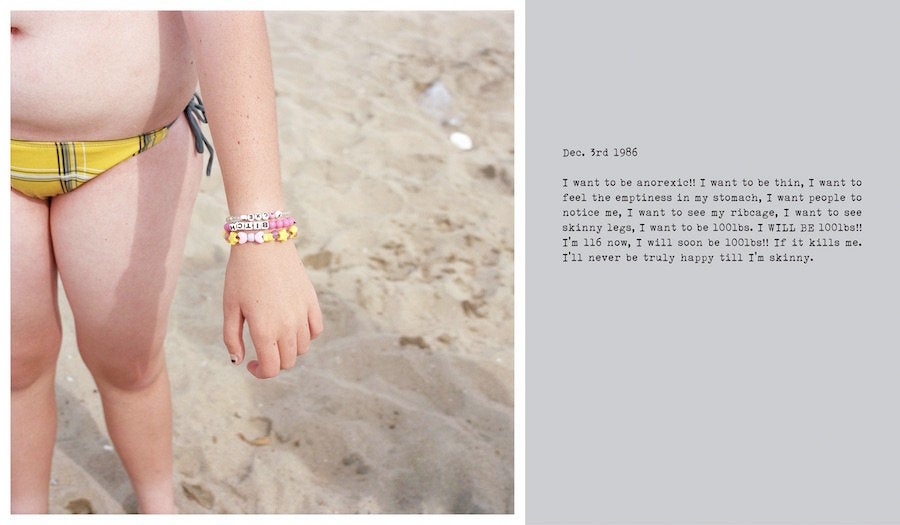 The idea to couple text and images came to Templeton by accident. "I saved all my diaries and journals in the first place in case I decided to have children," Templeton explained to The Huffington Post. "I wanted to be able to share with them if they were going through some difficult times and show that I could understand where they were coming from, that I have been there too. And then after we decided not to have kids, I just kind of forgot about the diaries until one day a few years ago I was looking at my photos."
Specifically, Templeton was looking at a digital folder of her work titled "Females," when she noticed she had a tendency to photograph a specific type of woman: one who reminded her of herself. 
A goth girl in Italy, decked out in heavy black eyeliner, silver chains and a corset top. A punk girl from France, with fishnets and band patches and bleached hair. A beachy girl in Southern California, a belly button ring reading "Love" dangling down her torso. Despite the differences in culture, style and origin, an unmistakeable feeling ties the images together: a jumble of individuality and insecurity, rebelliousness and vulnerability, beauty, pain and strength.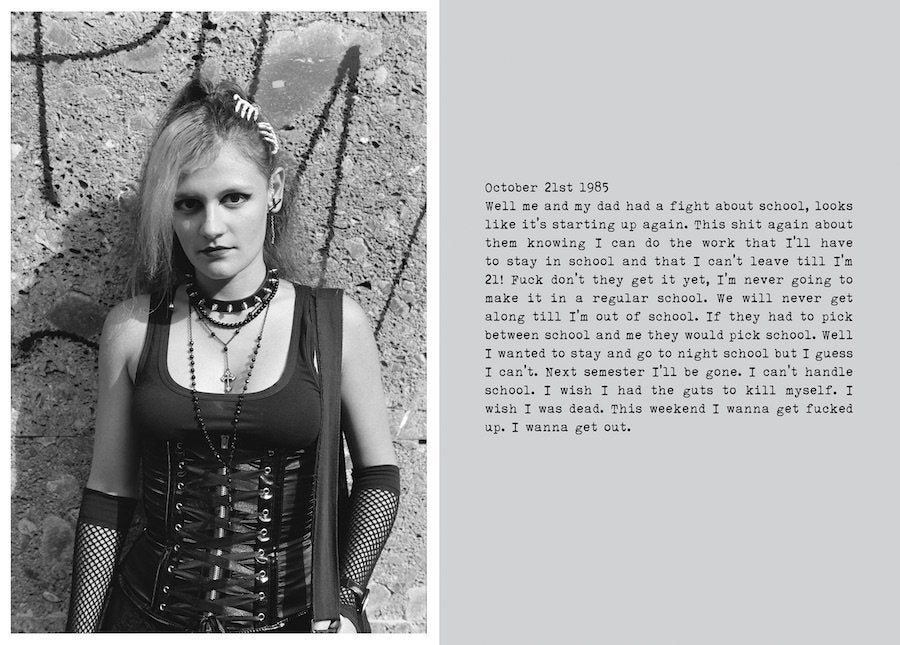 Aside from a few changes in style, Templeton doesn't notice too many differences between women of her generation and today's generations. "For a while I did think, 'Wow, I'm so glad I'm not a teenage girl in these times,' with cell phones and social media, it seems like it can make your teenage years that much more intense. And I'm sure in someways it does. But a few months ago I showed a little preview of this body of work at a college gallery... The feedback across the board was, 'This was my experience too. This is how I felt. Nothing has changed.'"
Regardless of what they're wearing, what bands they're listening to, who they're idolizing, teenage girls are no different now than they ever were. "We, especially as teenagers, are looking for acceptance and validation," Templeton put it. And surely, in this respect, many adults feel like teenagers at heart.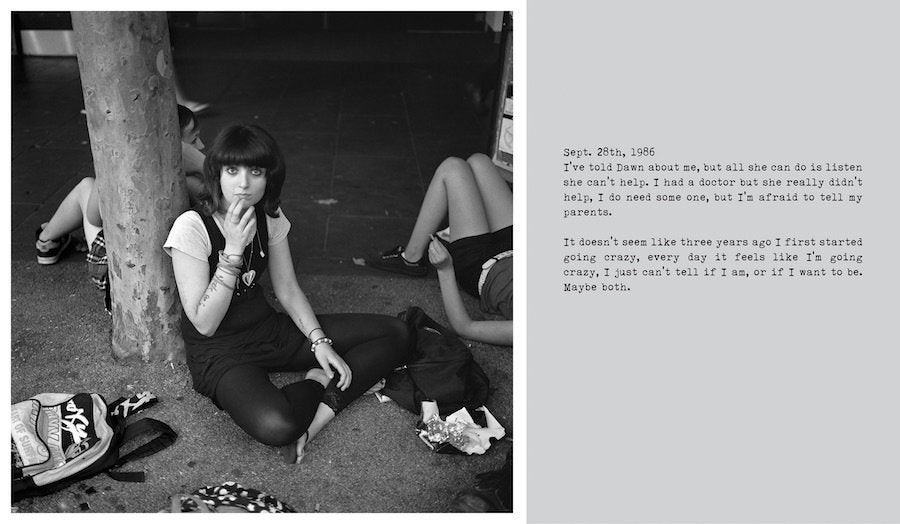 "What she said" is a tribute to the many silent young women doodling in their diaries, bustling unseen through their school hallways, experimenting with adulthood in ways both good and bad, crushing hard, falling in love, feeling alone, fighting to be taken seriously, struggling to find their way. And oftentimes doing so with too much eyeliner and an arm full of bracelets. 
Templeton hopes her images and words will help teen girls present and future fight through all the bullshit and know without a doubt that even in the bad times, they are worth it. "I hope, for the young people who might see this show, that if they are going through a hard time and they think the world is too much to handle and that there's no hope, just to hang on, don't give up life will get better, but most of all just give yourself a break. And if your older and have made it through your teenage years then I hope you'll have a good laugh, at me or yourself."
"What she said" runs from June 25 to July 31, 2016 at Little Big Man Gallery in Los Angeles.  
CORRECTION: This article previously misstated that Little Big Man Gallery is in New York. It is located in Los Angeles.
Calling all HuffPost superfans!
Sign up for membership to become a founding member and help shape HuffPost's next chapter
BEFORE YOU GO
PHOTO GALLERY
6 Teens From Time's Most Influential List Who Inspire Us