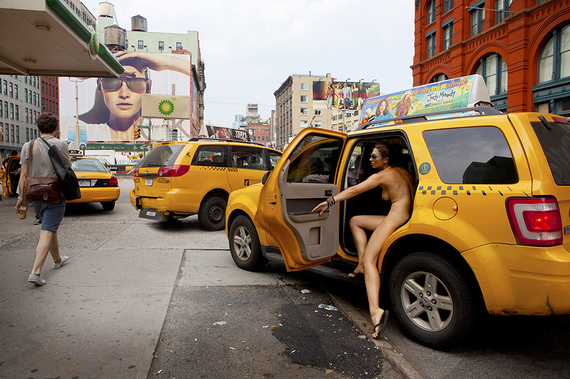 I've never liked to follow rules nor cared much about wearing clothes. This became clear in my work as a photographer as I set out to photograph myself nude in public in the late Summer of 2009, when first having drummed up the idea for my series Nue York: Self-Portraits of a Bare Urban Citizen. The very first photograph I captured was one of myself window shopping in front of the Ralph Lauren store on Bleecker Street, in Manhattan's West Village.
The idea sprouted from an initial questioning about our use of fashion in modern society and the observation of how much it acts as a silent language. By the way we dress, we communicate what type of person we are or want to be, how much money we make, if we take care of ourselves or not, what kind of mood we're in, where we might be headed, or if we want to draw attention to ourselves. One's style quickly tells us who is or isn't like us and more often than not, judgments are made that affect our decision about if and how we want to interact with them.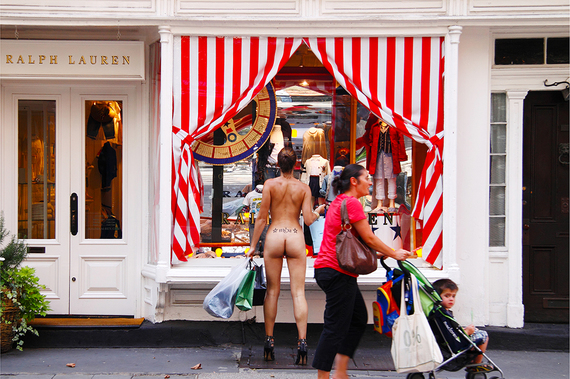 So, what would happen if we didn't have clothing as a way of interacting with each other? Could we have an organized society without the use of fashion? Would we be able to live happily in our own skin? Does nudity automatically equate with sex? How have we evolved so far away from our utmost primary state of being that it is actually against the law to be nude in public?
I don't claim to have the answers to these questions, but they did make me want to take off my clothes to figure some of them out. The point of my project is not to be nude for shock value, but to poke at some interesting thoughts and mostly to embrace the human body as it represents our purest form of existence.
Along the Nue York journey, there have been some very interesting moments in my birthday suit. I rode a crowded subway, went trick or treating, played ping pong with Susan Sarandon, and rode my bike over the Brooklyn Bridge. I've dodged cops, been laughed at, applauded, hit on and even had to run away from a few gangsters. I've gotten "tattooed" by Ami James, had my hair cut by a crazy barber, gotten into a fight with a cab driver, shoveled snow, the list goes on...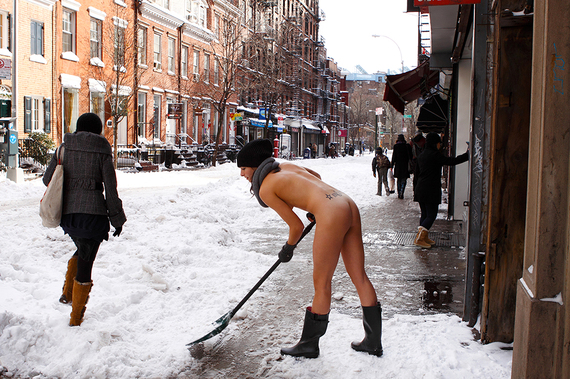 Now, more than five years later, I've compiled an adrenaline-filled collection of images that are soon to be published into a fine art photography book, which launched on the pre-publication platform Pubslush on March 13th.
In keeping with my tradition of being untraditional, I wanted to provide readers with more than just the book. In exchange for supporting the campaign, I'm offering some pretty daring rewards: namely you can get your very own chance to be photographed naked in public or to be an extra in one of my photo shoots!
If you would like to see more of the images, you're just going to have to buy the book...
You have personally been invited to join the movement! Follow @ericasimone and #thepowerofnaked on Twitter and Instagram for more updates...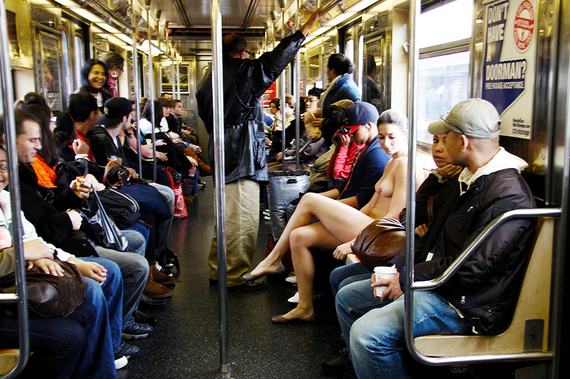 Related
Popular in the Community