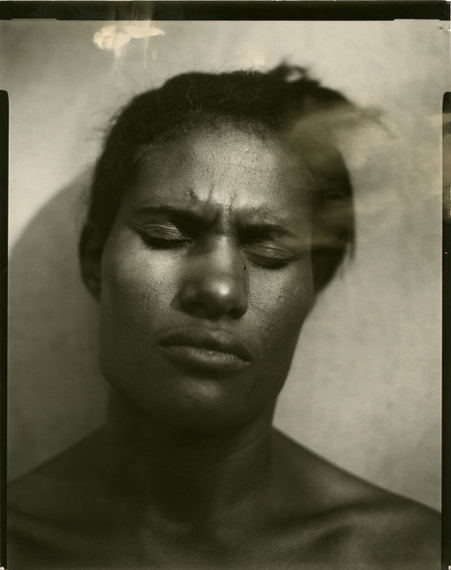 On September 11, 2014, 13 years since the world's eyes opened upon one of the most tragic and painful events on American soil, in modern history, The Forward Thinking Museum published on their website a heartfelt project of mine: Slow Photography, a series of portraits of people with closed eyes I did in the Dominican Republic.
While this body of work has been positively received by a small, carefully chosen number of photo editors and galleries I showed it to, I was left with the feeling that the most challenging and perhaps historically innovative characteristic of this series went barely noticed.
Most viewers focused their attention and praises upon the rather unorthodox manner I photographed these portraits in the field: I used a large format camera loaded with 3 ASA direct positive sheets of paper, which I developed at night, during interminable Dominican electricity blackouts, that turned a small village near the Haitian border into an "environmental darkroom."
There, with three small trays, a red-gelled flashlight, lukewarm river water and a concoction of coffee, salt and vitamin C, I processed my images.
But the important thing, what truly motivated me in producing this work, after endless research and a good deal of sleepless nights, is the fact that all my subjects were to keep their eyes closed for those very long six seconds that picture-taking required, due to the slow sensitivity silver gelatin paper I used in the camera.
In portraiture and life alike our eyes play an important role in communicating our emotions and socially engaging with others. The eyes are the strongest focal point and emotional indicators when observing a face, trying to understand or define the person behind that face.
When we close our eyes, our main portal to human connections and reality disappears, but a potential new universe might open up: the universe of the subconscious, possibly even the antechamber of an afterlife.
I believe these images break an historical rule of portraiture: there is no reciprocal eye connection between the photographed subject and the viewer of the photo, there' s no guessing the subject's emotions through their stance. No interaction but co-existence.
This body of work is very much about finding the time for introspection: there is a desire to slowly focus on something inside us, our thoughts, our feelings and even further: our personal and social "indefinable".
I feel that September 11, such a tragic and world-changing recurrence, is a good day to pause and reflect, perhaps closing our eyes for a few seconds. It was a privilege being able to present such an inward-looking labor of love of mine on this very day.
REAL LIFE. REAL NEWS. REAL VOICES.
Help us tell more of the stories that matter from voices that too often remain unheard.