 In December of 1984, American photojournalist Steve McCurry snapped a shot that would change lives. He didn't know it at the time, but when National Geographic debuted the acclaimed picture on their cover just months later, the photograph of a young Afghan girl draped in a red scarf, staring with bright green eyes into the camera, would soon change what it meant to be a photographer in the modern world.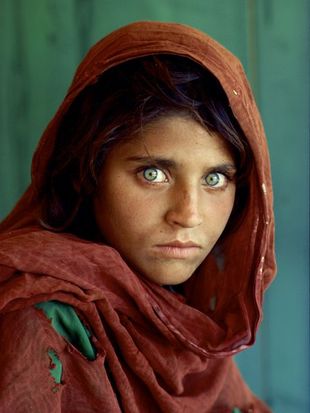 I first encountered this young girl's face about three or four years ago, before photography was as important to me as it is now. Yet in my awe of that face and those eyes, I ripped the page from the magazine, and it still lies vertical, pinned against the bulletin board on my wall. Since that day I have collected pages, clippings, posters, and covers of National Geographic. Some are pinned on my college dorm room wall, while others I keep in a paper folder which I shift through now and then -- recalling the emotions each picture provoked. It always surprises me how choked up I can get about a four-by-six image, how much raw emotion is actually exposed in a freeze frame of a person or place so far away from myself.
When it comes to the physical representation of place, of course no other medium comes as close to the most real interpretation of time and location than photography. It is a visual art form that captures events in real time and encloses history in frames that can spread across generations, forms of media, and social spheres. Magazines such as National Geographic, Smithsonian, and Time have boasted the most popular and groundbreaking photographs of the past two centuries, and with the Internet and multimedia, have moved from the page to the screen. Without them, we would literally be unable to visualize the world.
Photography meshes reality and art together to portray the surreal truths of our world. It recalls times past and harbors life-impacting moments in tangible still-life frames. Photojournalism, however, is the subcategory of the medium that challenges photographers to turn the occurrences of our world into non-objective, thought-provoking, emotional stories that change lives and move generations, all the while keeping in mind the importance of their location, time, and cultural surroundings. Both can contribute to our understanding of place by drawing a cognitive web between time, place, and cultural differences of our globalized world. In doing so, places, people, and worldly emotions becomes much more tangible, intriguing, and thought-provoking. Bruno Barbey, a Moroccan artist, states this concept in the simplest of ways: "Photography is the only language that can be understood anywhere in the world."
And when it comes to personal representation of place, different photographers and photojournalists choose to represent places and people across the globe individually through their work, allowing us to see one location through many eyes. The pictures we see shape how we see our world, how we interpret the lives of those around us, and how see ourselves, and all the while these pictures expose us to differences, undermining our innate innocence and ignorance. What we see in pictures makes us form opinions about the people and places we observe in each photograph, and based on what we perceive, we choose to form our personal understanding of our world.
Eman Mohammed and Stephanie Sinclair are women who use their photography to outline the violation of women's rights and strength of the female gender. They both focus on Arab and South Asian locations and cultures, yet their themes differ. Mohammed, an Arab who is also the only female photojournalist in the Gaza Strip, finds ways to show the hidden lives and everyday struggles of women and children in war-torn zones. Through her work we get to see lives unfold that we would otherwise have little to no understanding or concept of previously. American photojournalist Stephanie Sinclair captures the negative impacts of child weddings on young girls in her most recent project "Too Young to Wed". However, since she focuses on topics even foreign to herself, it allows the viewer to feel the fragility of the situation Sinclair has forced herself into.
As for two acclaimed National Geographic photographers, both with focus on people in relation to place, Steve McCurry and Matthieu Paley document the geopolitically sensitive and slowly globalizing world. McCurry photographs his fascination with the disappearing cultures of traditional worlds, and Paley focuses on remoteness and isolation even in the modern day and age. Steve McCurry is most famous for his 1984 portraits of those held within Afghan refugee camps, but over the years has progressed from an excellent portrait photojournalist into an excellent storyteller. His focus in places with large populations but changing cultures allows people around the world to see how global culture is slowly but surely modernizing, and that traditional practices within certain cultures are present but dwindling in a westernized society. Matthieu Paley, on the other hand, takes a different approach to his view of the world. While his scope is global, the French artist leans towards places and people who live more isolated lives, separate from the changes happening in more densely populated locations. He shows us that not everyone must live in a world so quickly changing, that while the world population continuously grows in size and innovation, some people and places are never exposed to it.
So what does this all boil down to? A single frame can show the pain of war and the destruction of whole societies and cities, but another can encompass the epitome of joy and euphoria, of growth and positive change. Photojournalists and photographers capture raw feelings lost in crowds and isolated by war, culture, gender, time, and space. And these feelings affect the world, helping to connect people who live and exist whole worlds away. Without photojournalism and its vital role in the world's global development, we would never truly know the faces and emotions of changing times on our planet.