Early last month, a deadly tornado leveled parts of Beauregard, Alabama, killing 23 people. Recently, photojournalist Seth Herald visited the town for HuffPost to photograph and interview survivors who are still picking up the pieces. 
The photos below show what's left after the media leaves. And Alabamians talk about what they lived through and the rebuilding process, hard as it is for many of them.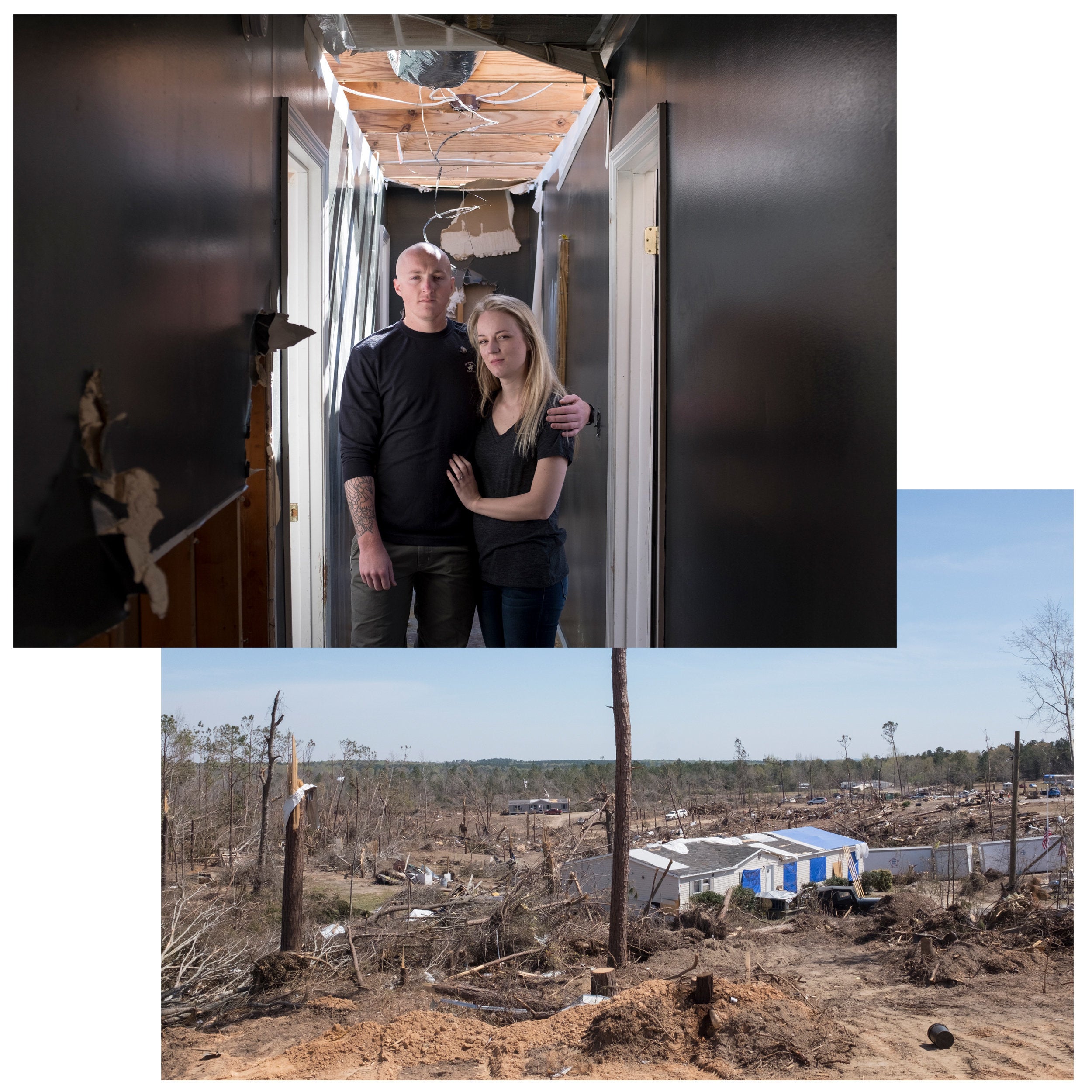 It was around 2:00 p.m. on Sunday, March 3, and Chance Norton was home alone when the tornado hit. 
"I was in bed because I work the night shift," Norton said. But the storm brewing outside startled her from her sleep. "I heard a big crack of thunder, so I got up to check on the dogs who were on the back porch," she said. After letting the dogs in, she tried to sleep again. "I laid down for about 10 minutes, and I thought, 'You know, that kind of sounds bad like it's really getting bad out there.'"
Then came winds that sounded like "a train noise," and that was all Norton needed to grab her phone and tumble out into the hallway. As she did, the storm began to rip the roof off. "I didn't really know what was going on," Norton said. She made a frantic phone call to her fiancé, Phillip Bell, who works at a firehouse in nearby Opelika.
"I was 30 minutes away so I told the guys at my firehouse, 'That tornado just touched down in Beauregard, and it's hitting my house right now, I need to leave,'" Bell told HuffPost. Rushing home, he got caught up in the storm.
"It was the tornado I was driving through so now my little Jeep Wrangler was bouncing everywhere like a skipping stone," he recounted. "I was all over the road trying to keep from flipping or running into a ditch, and stuff was flying around; I thought I was going to get hit with something."
Bell returned to his home and found that his family and Chance were unharmed, but he had friends among those neighbors who didn't survive. "I was relieved we found each other," he said. "I'm just happy she is OK. I'm very fortunate that everybody in my direct family is unaffected. I've got friends I grew up with that nine of the 23 victims are their family members, and I feel terrible about that."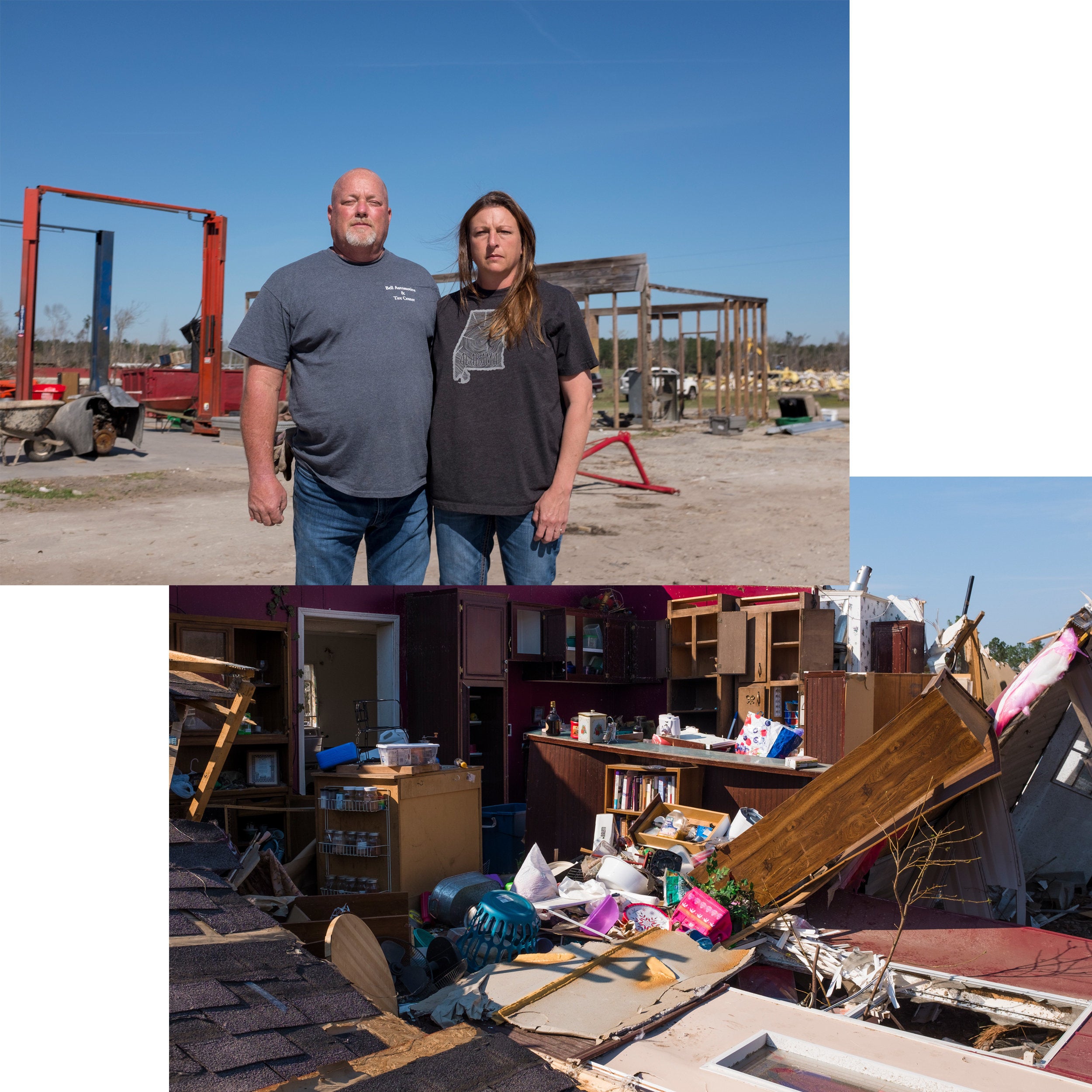 The tornado that touched down and traveled through rural Lee County, Alabama, on March 3 was the deadliest to hit the U.S. in six years, killing 23 people, including children, and injuring dozens of others. The National Weather Service (NWS) reported the tornado had winds of 170 mph.
"I just turned on the little antenna TV we got there in the kitchen right on. The local news channel, it started giving all the Lee roads, and it was right dead behind us and it said to take immediate cover now, I said 'its heading straight for us,'" said Troy Bell, Phillip Bell's father and an owner of an automotive mechanic shop.
Troy Bell and his wife, Melanie, were also at home when the storm hit. They ran outside to help their son-in-law, who lives in a trailer on their property. As they gathered their two grandsons, they spotted the tornado.
"It's like it was right there... not like you see on TV, those little old funnel spouts," Bell said.
The tornado had first touched down in Macon County, Alabama, according to the NWS, intensifying as it reached Lee County and eventually crossing over into Georgia.
"I told my wife we aren't going to make it back to the house and she said, 'Run like hell!' and we did," Bell said. He and his family were able to make it back to the house where they huddled in the bathroom. But as debris flew all around, the tornado shredded their automotive shop. The Bells' main income came from their family-owned shop, and because they couldn't afford insurance, their business is now completely lost.
Bell, like many people in the area, believes climate change is impacting the intensity of the storms.
"I don't remember stuff like this growing up as a kid," he told HuffPost, adding that the community will construct stronger shelters for future storms.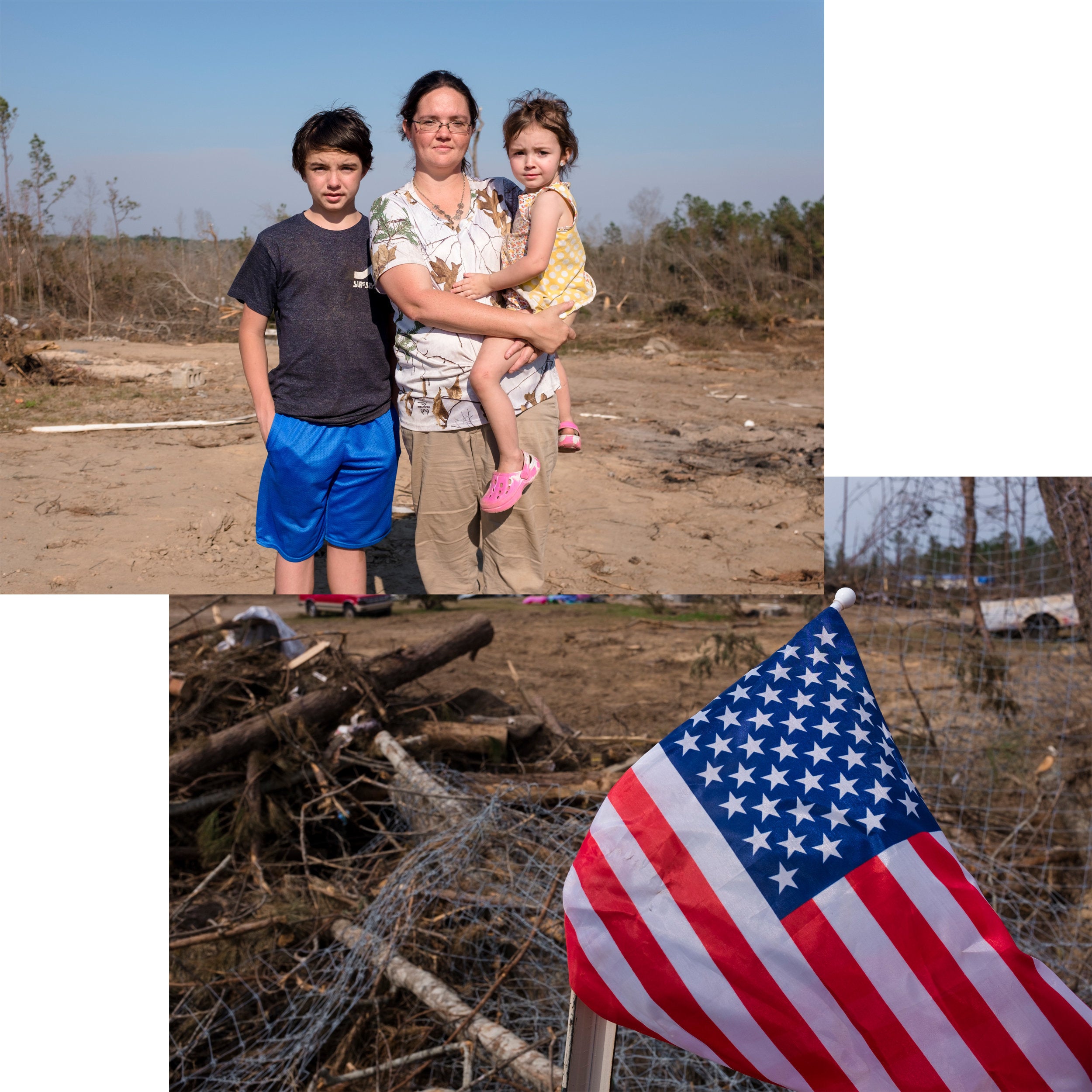 For Shannon Kelley, a mother of two, this is rock bottom. "You know the only way you can go up is from here," she said, adding that she's lost everything.
Kelley was working as the on-duty manager at the Dollar General in Phenix City, Alabama, when the storm came. She said the lights flickered as people shopped like nothing was happening; it was business as usual. Then she received a buzz on her phone with a warning.
"You only have about a 10-minute warning," Kelley said, contrasting the little amount of time given to residents ahead of a storm that lasted more than an hour.
When Kelley arrived at the place where her home once stood, everything was gone. "The silver lining to it all is me and my family are OK," Kelley said, "God's not done with us yet, our story is not over with."
With a loan from the Federal Emergency Management Agency, Kelley will be able to rebuild her home.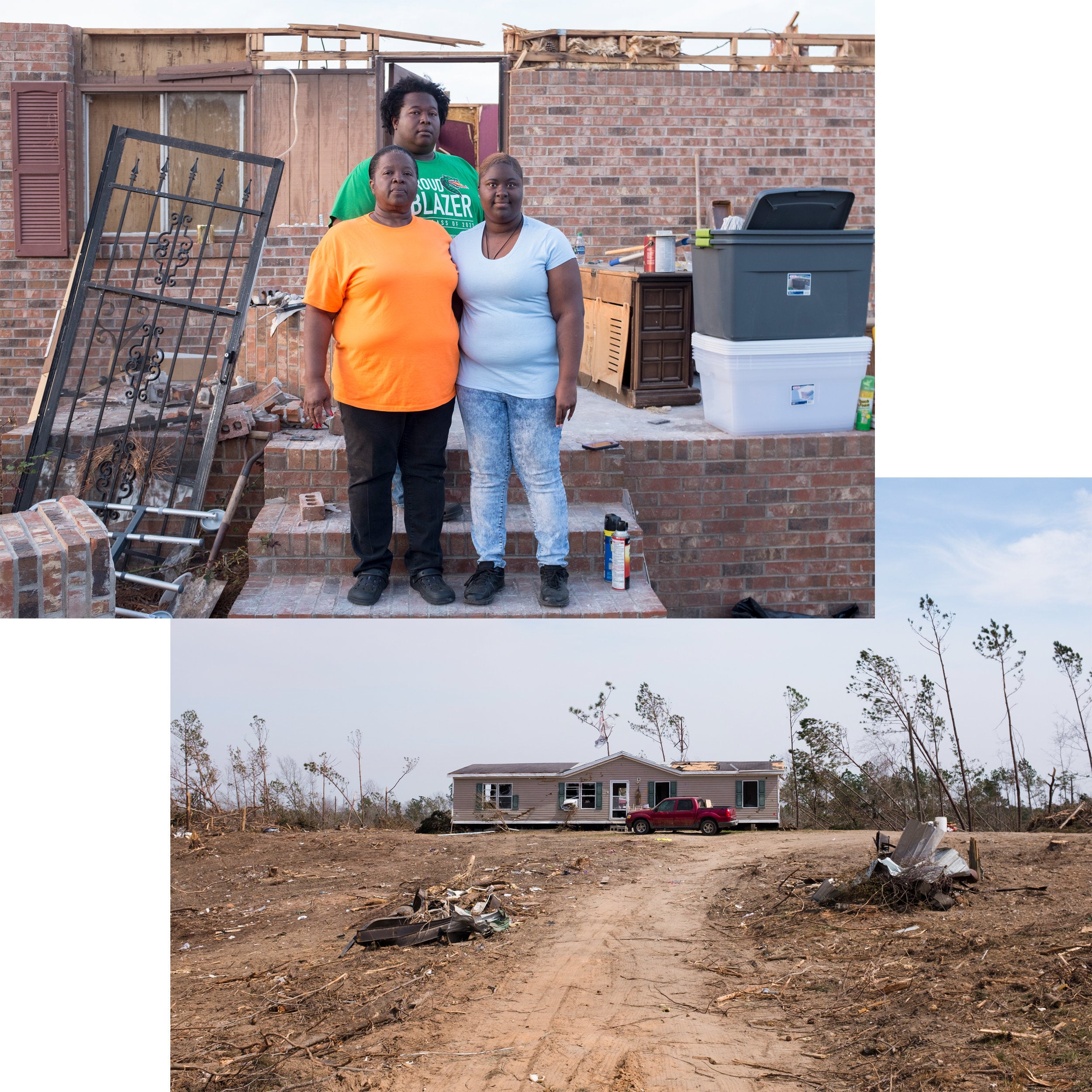 The Tates were not home when the storm came through. Rik Tate and his mother, Brenda, had stepped out for the afternoon.
Tate told HuffPost that when the tornado hit he had just left for Birmingham, Alabama, to join some old college chums for dinner and that his mother was at church.
The storm tore off the roof of the Tates' house, knocking over trees that crashed onto the house and sweeping vehicles into the yard.
"This is what she actually returned to," Tate said of his mother. She was "alerted by her [security] system that there was a forced entry on her front door," he said.
With the landscape around them now unrecognizable, the Tates are moving forward and exploring their rebuilding options, even if their choices are unclear. "It's uncertain at this point, the beauty of the land is gone; it's like a war zone out here," Tate said.
In recent years, aggressive storms have sparked more conversations on climate change, an issue Tate feels the government needs to focus on. 
"The government needs to take climate change more seriously than what they are doing in Congress. This is a direct result of climate change here. If you notice as far the tornado paths, it used to be more so the Midwest, [but] now Louisiana, Mississippi, Alabama and Georgia have been defined as the new tornado path," Tate said, adding that he believes the expansion is a direct result of climate change. 
According to research published last October by Northern Illinois University and the National Oceanic and Atmospheric Administration' national severe storms laboratory, "There are significant increasing trends of tornados in portions of Mississippi, Alabama, Arkansas, Missouri, Illinois, Indiana, Tennessee, and Kentucky" in what is known as "Dixie Alley."
"I feel as though [President Donald Trump] may need to be a little more in tune with the actual geographical areas of the impact of the tornados, but we need more scientists [in elective office] that can help advocate and push that agenda to keep this from happening," Tate said. "We need more elected officials with that scientific background."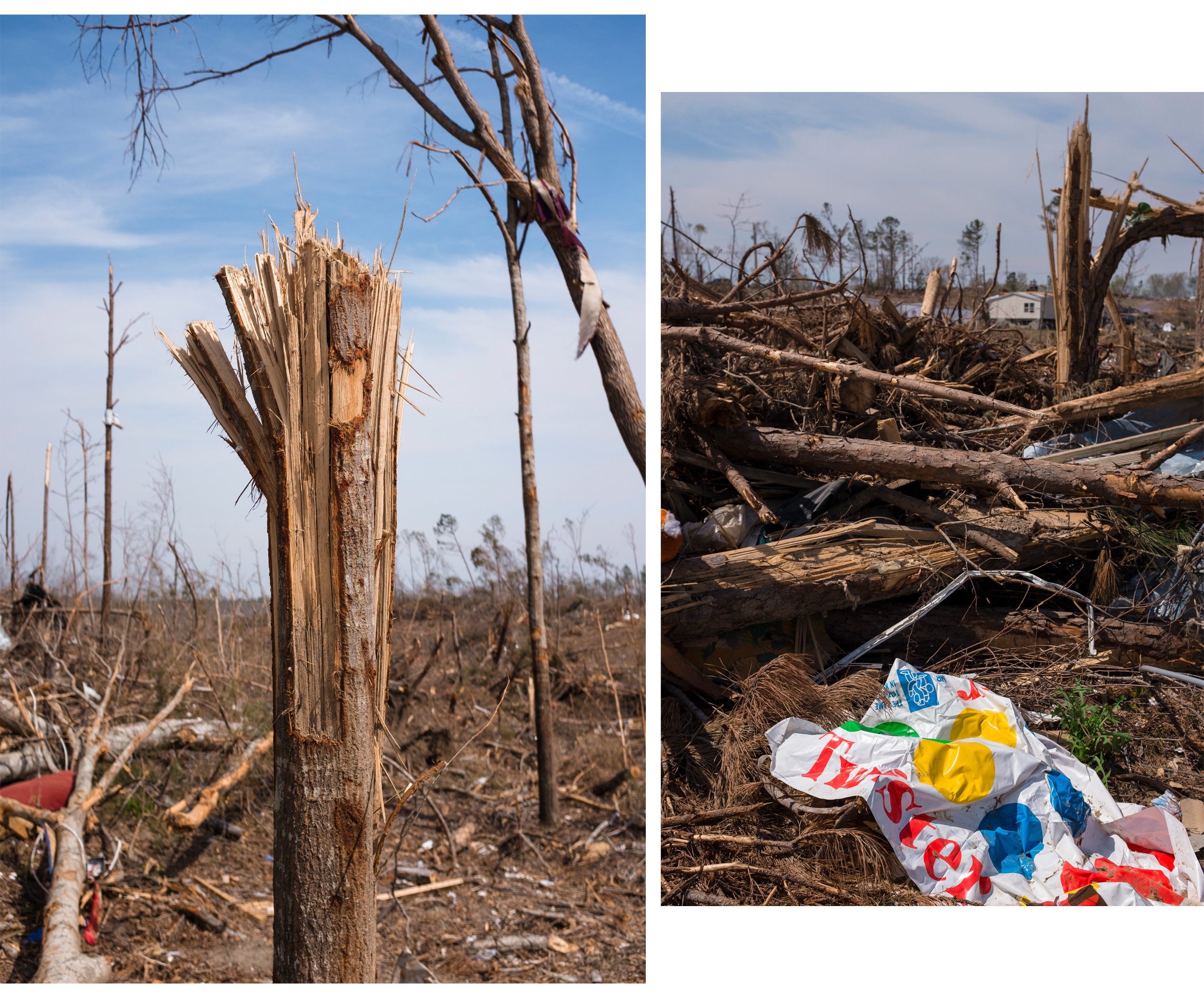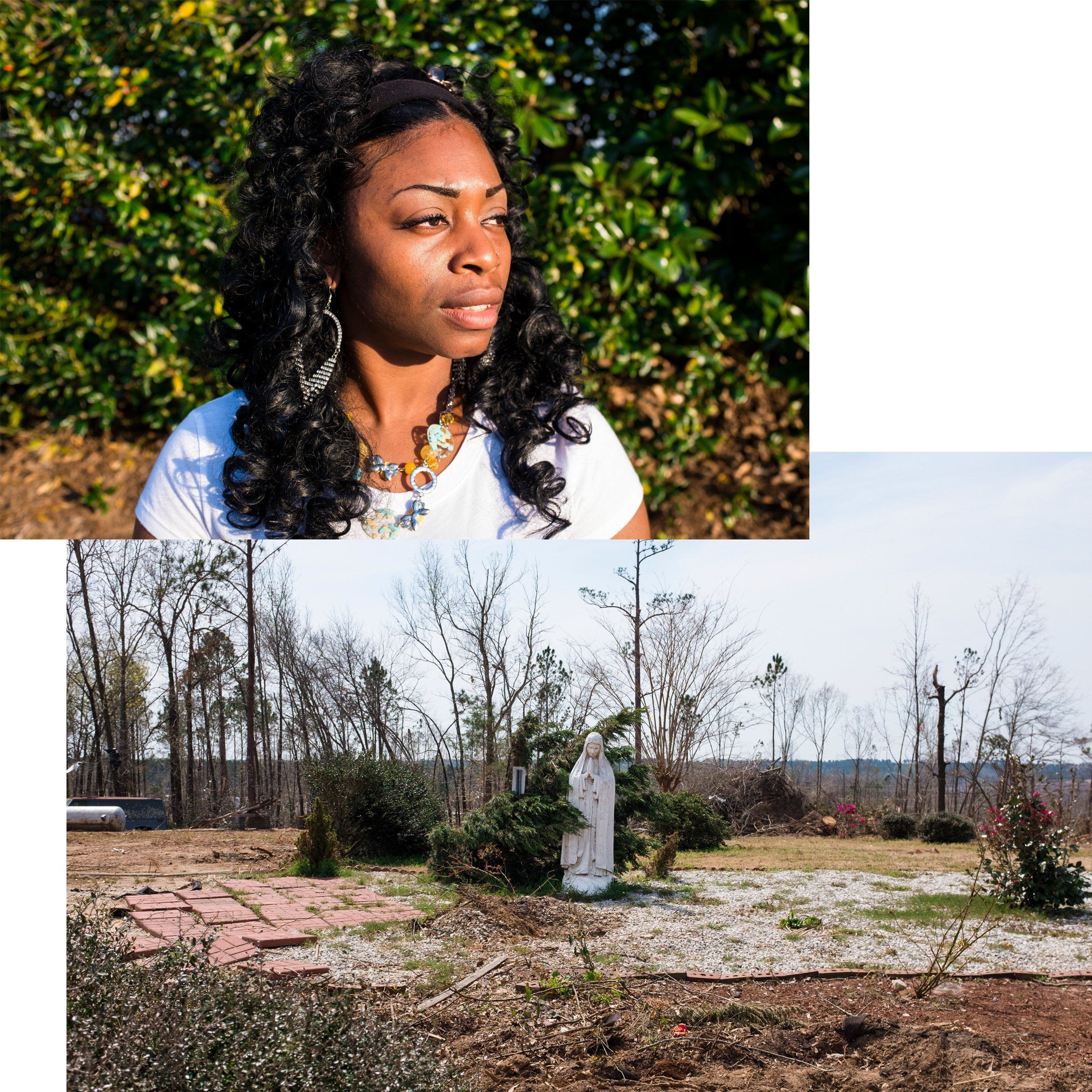 "We were in my cousin's house at the time. We were planning on spending that Sunday together," said Shamel Hart, one of the mothers of children who lost their lives that day.
She is among many in the community who say they had very little warning of the tornado. "We really didn't get any kind of warning, it just looked bad outside."
Gathering the children, Hart and her cousin, Tyesha Hart, headed to the hallway of the home.
"We got all the kids in the hallway to try and protect them," Shamel Hart said, "The tornado came, and I saw that the floor was just snatched from under me, it just tore the house completely apart, and we were just in the air spinning around with everything else."
Hart's son, 9-year-old Jonathan Bowen, was among those killed. She described him as a very smart and loving boy who enjoyed video games and who always made his school's honor roll.
When Trump and first lady Melania Trump came to the town on March 8, Hart met with them. She said Trump acted calmer off camera than on, and helped provide some comfort.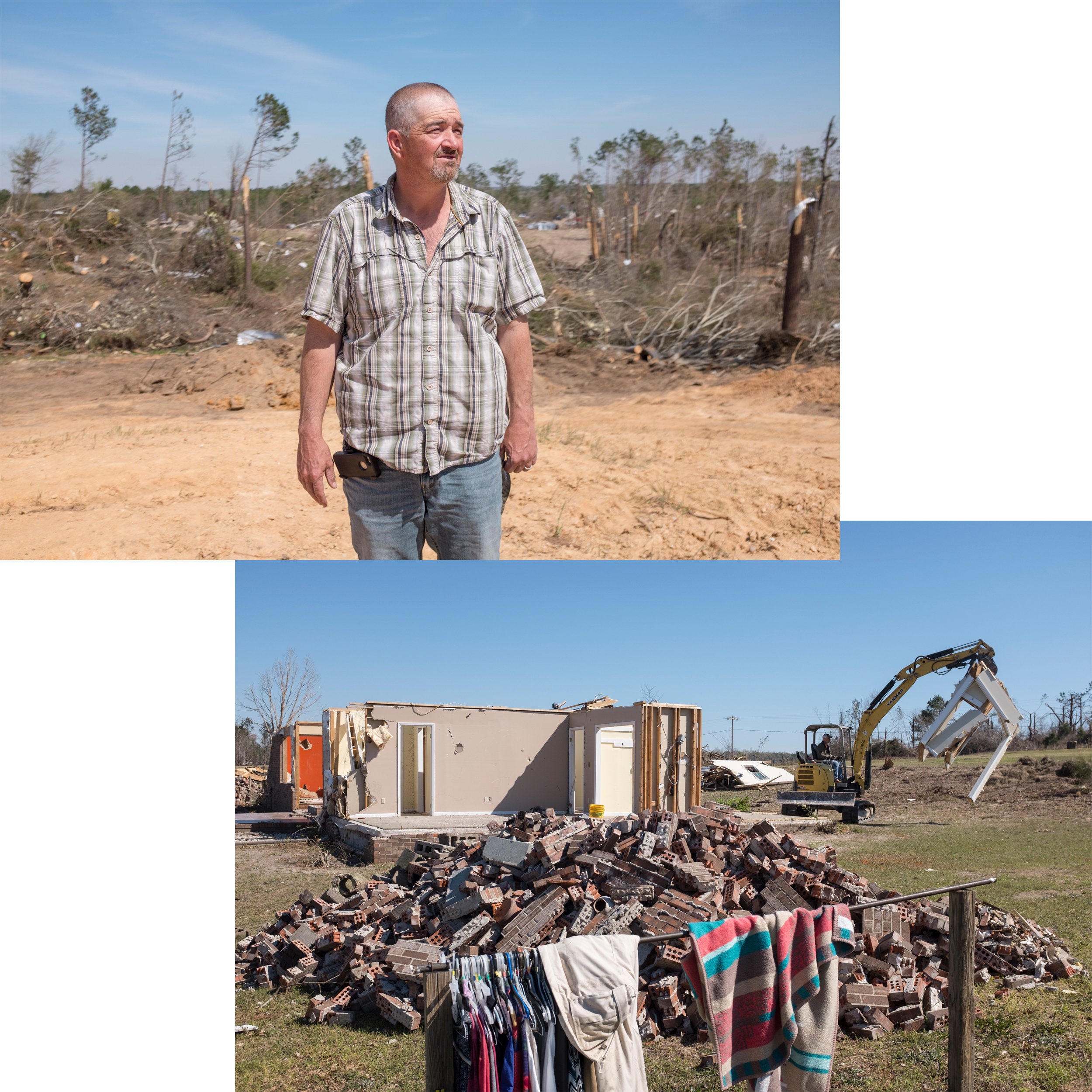 Joseph Vernon said that his daughter, 15, and one of her best friends narrowly missed getting caught up in the storm that destroyed the family's home. 
While Vernon and his wife were at work, he received a call from his mother-in-law saying she was town and wanted to meet for lunch ― an invite extended to Vernon's daughter and her friend.
After initially saying no, Vernon reconsidered, called his daughter to give her a heads up and drove to the home to pick them up.
"Good thing I did because the tornado hit 20 minutes later," Vernon said.
While they were driving back into town, Vernon got a call from his sister, Christina Thrower, telling him that the twister had hit his house. He dropped off his daughter and her friend with another family and to his home to survey the damage.
"It was chaos people everywhere, people walking around, bleeding and hurt," he said. "We had several good friends deceased. It was just devastating. It looked like someone dropped a bomb."
He added that he had never seen a storm of that size in his 50 years of living in Beauregard.
"By the time the sirens started going off, we had maybe five or six minutes and that was it; even if you had a storm shelter if you weren't already in it there was no way to get to it, that's how quick it hit," he said.
Vernon said he believes matters of climate is in the hands of God.
"They can say it's this or that, but go back and read the Bible, it's all coming true," Vernon said, "You just have to take it day by day, he never promised you tomorrow."
Now in the process of cleaning up his property, he is determined to rebuild his home. "I'm building a home with a basement with a storm shelter in it," he said. If the shelter saves one life, "it'll be worth putting it in," he added.
Vernon characterized Trump's visit to the area as a "slap in the face," complaining about a lack of interaction by the president.
"I understand he is the president and security is the main reason but you know, you have the people that were impacted by the tornado here, then he is going to just have one stop and wave out the window and go over to Providence Church where the volunteers were working?" Vernon said, reflecting on how he and others gathered around his property on Lee Road 38 to see the president's motorcade.
"He just drove by, probably doing 15-20 mph, waved, thumbs up, and
just went on," he said. "The point was he was coming to see Lee County, he was coming to see the victims, to speak to the victims. He never spoke."
REAL LIFE. REAL NEWS. REAL VOICES.
Help us tell more of the stories that matter from voices that too often remain unheard.
BEFORE YOU GO
PHOTO GALLERY
Deadly Alabama Tornadoes