Now I'm not saying Africans don't like being photographed. Lots of them do and are anyway very gracious when they don't. But here are a few experiences on a recent trans-continental trip.
On the Loose in Luanda: Angola really does take the biscuit. My first foray past a pink Portuguese colonial mansion gets me motioned to the other side of the street by a menacingly gesticulating soldier. It turns out to be the Defense Ministry. In fact there are soldiers on guard outside most buildings in the upper town where churches, mansions and large administrative buildings glow in various tones of deep salmon pink. As yours truly approaches the Presidential Palace, its Palladian façade blushing behind its iron barriers in front of an exuberant green, fountained park, the armed Presidential Guards approach. There's no doubt about their message: move the hell off and don't even think of taking a photo. In fact, photos of government buildings in the widest context are forbidden, as is snapping much else throughout the country, such is the official paranoia.
In the Miramar section overlooking the lower city, the port and the bay: I've just surreptitiously taken a photo of the US embassy, and three humongous dark-blue clad policemen are now descending on me - revolvers on hips, batons in hand. Verboten, they growl. They mutter 'prisoner, prisoner,' look at my documents, speak on their phones, make me erase the photo. Another honcho comes over and takes my camera and papers across to a kiosk outside the embassy. Another 15 minutes and a fourth cop comes over with my camera; what were you doing, he asks. Taking photos, says I. Verboten, says he. I tell him I've erased it, but he goes back with the camera, returns after another 20 minutes, says he's erased another two photos. Finally they let me on my way.
Outside the National Assembly: ceremonial guards with shining drawn sabres and what look like green ferns sprouting from their blue caps stand watch. A smiling 'can I ask you to say cheese for my dinky little camera' elicits a growled 'nein, verboten' and what looks to my fevered eye like an incipient slashing gesture. OK, they don't actually saying verboten. But German sounds so much more apt than Portuguese for dictatorial speak. Just compare 'verboten' with their lilting 'proibido.' The latter sounds more like a dance - baila, baila la bamba; baila, baila o proibido!
Atop Sao Miguel fort with a splendid 360 degrees panorama over the whole city: photos from those degrees overlooking the rear end of the presidential palace and upper city are, of course, verboten, but elsewhere are OK. I slip in a few from the forbidden degrees while a guard is looking the other way. But it's my photographic antics from the permitted degrees over the Ilha peninsula that cause a ruckus: a group of half dressed soldiers re-enact the Charge of the Light Brigade - and yours truly beats a strategic retreat along the battlements into discretion. Have I just hit upon a hidden nuclear weapons program?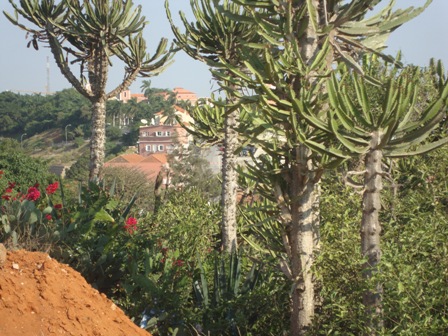 View of verboten upper city and presidential palace from Sao Miguel fort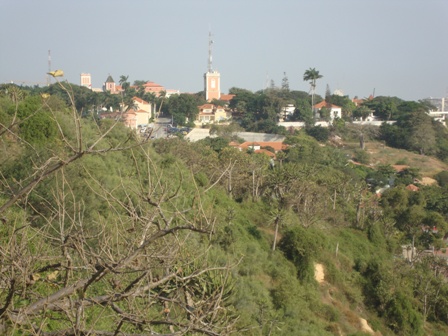 Another verboten view
In the central city of Huambo yours truly plays mouse and cat with security forces, darting out from a tree shadow to snap a quickie of the governor's palace and another of the equally photo-verboten pink national bank mansion.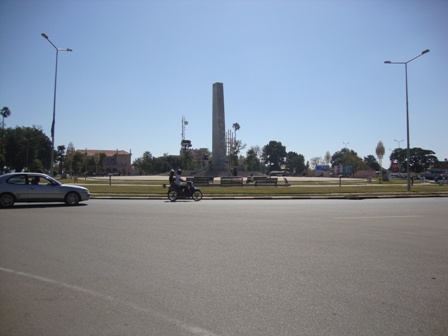 Huambo's verboten governor's palace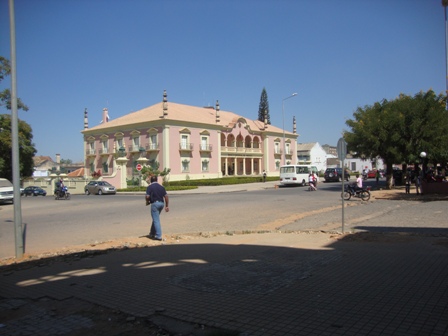 Huambo's verboten national bank
But the most ridiculous incident of all occurs in the middle of the countryside at one of the many bribe-seeking police checkpoints. I'm trying to snap baobab trees away from the post and the cop reads me the riot act: 'You must always ask administrative permission; you can't just go around like that just clicking away.' Gee, Officer Krupke, pu-lease!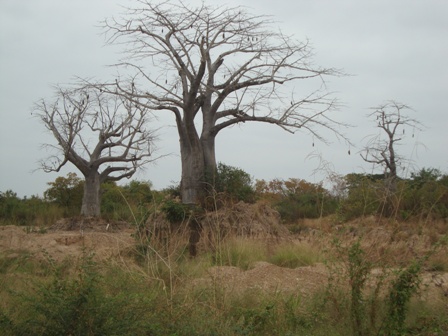 Verboten trees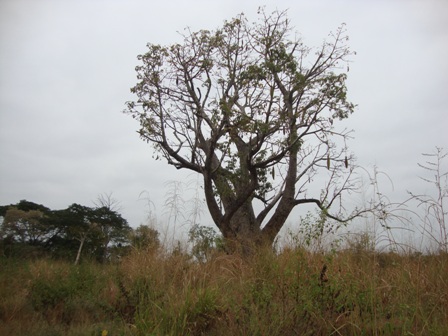 More verboten trees
Caught in the Congo: a goods train is just leaving for Brazzaville from the mountain town of Dolisie. A swarm of police and army goons drape a stone bench on the broken platform, canoodling with their collection of weapons, some double-barreled. I sneak a few photos and have just stuffed my camera back into my trousers when a super-goon approaches to enquire the nature of my business. Just strolling about, says I, tourist, trains, whooo whooo, clackety-clack, clackety-clack. He's unimpressed. You have no manners, says he; you can't just stroll along without first announcing yourself to the police. So sorry, Your Grace, says I, skedaddling off into the magnificent African sunset.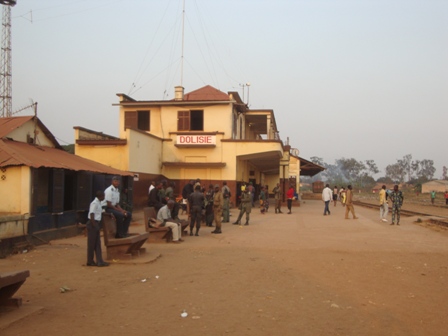 Friendly neighborhood cops and troops at Dolisie station
In Brazzaville, sneaking pictures of the presidential palace enclosure from open ground: three soldiers lolling under a tree wave their weapons and loudly shout verboten. So sorry, Your Graces, says I, noting some kids playing football but can't I snap these adorable little kids? Ah, you're snapping the adorable little kids, they smile, go ahead. Which I do, standing in exactly the same position, zooming in on the presidential enclosure.


Kids in front of verboten presidential compound
Dogged in the Democratic Republic of Congo: wandering round La Cite, the African heart of Kinshasa, snapping away; a surly gent in civvies approaches, asks to see my authorization, threatens to call the police. Others join in. I disappear down a side alley. And no photos, of course, of the massive presidential palace or nearby palatial embassies in the leafy Gombe quarter. Police and troops camped along the Congo River make the message pretty clear. And no photos from the taxi window in slums and markets if stuck in a traffic jam, according to the driver's street gospel: the locals might become aggressive, seek money, steal camera; snap only when the car's moving to make a quick getaway.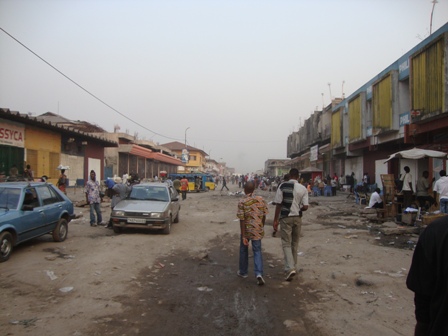 Locals turn surly at photo op
In Boma, hundreds of miles down the Congo: I start a minor riot; I raise my camera at street vendors peddling car parts and tires. They start shouting; they shake their fists; now they're taking off at us at a gallop. Thank goodness speedy-Gonzalez Didier, my driver who burned the rubber careening along the road from Matadi, still has his zip. We take off at a startling rate.
Back in Matadi: I start a real riot snapping a pavement coffin shop, lots of little gold satin-covered coffins keeping up with the infant mortality rate. And Didier, damn him, has just lost his zip. A group of husky men gathers fast. They start shouting and waving their fists. Now they charge. They grab my arms, demanding money. I dash back into the car, they pull the door open, arms flailing, screaming for moolah. And Didier, the great zip-meister? He's become catatonic. He just sits behind the wheel like a zombie despite my screams to move on. At last he engages; we pull away, barely, unscathed.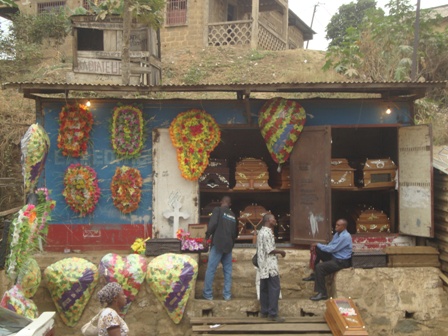 'Riot' coffins in Matadi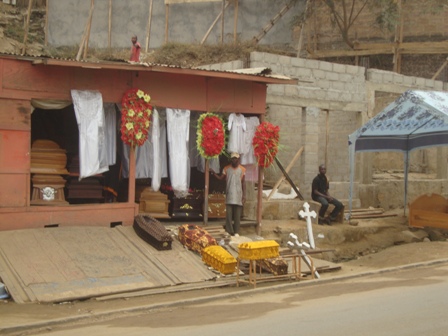 Kids' coffins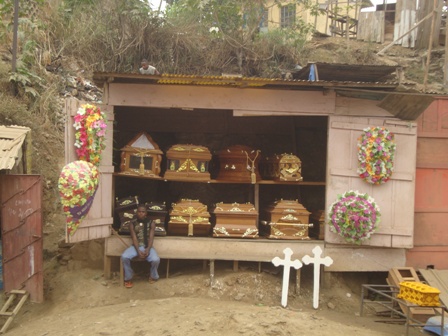 More roadside coffins
After all that, I discover on finally departing from the airport that you are indeed meant to buy authorization to take photos. Ah well.
Juggling the camera in Djibouti: near the grand presidential palace, the former French governor's residence; not only can I not take a photo, I'm not even allowed to approach, soldiers gesturing verboten in a variety of sign languages. Still, there's a good photo op way near the port when nobody's looking. Nearby two men loll on the pavement, rolling qat. A few minutes later, they no longer have qat in hand but huge bulges pumping out from their left cheeks. One shouts 'Vive la France' but turns decidedly less laid back when I propose a photo op. The main market, teams, with women draped in scarves and flowing robes and stalls selling everything from clothes and radios to fruit and qat; the excellent photo ops abound, and so do the growls and shouts from passing males.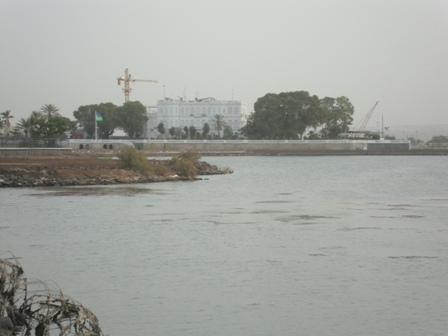 Verboten presidential palace
Towards the port on Heron islet: a bulbous green minaret soars above a small market. The usual tumult from money-seeking or otherwise outraged locals at the sight of a camera in the hands of a foreigner. Ich bin eine berliner, I bawl back, replete with JFK's grammatical error that turns me into a doughnut instead of a resident of the Prussian capital. I'm trying to cash in on Djiboutians' delight at Germany's 4-0 defeat of Argentina last night, such is their dyspepsia at Latin American teams. Do my apprentice rioters really understand? Who knows, but their shouts lose several dozen decibels and a bit of their aggressive edge; I accelerate onwards and upwards.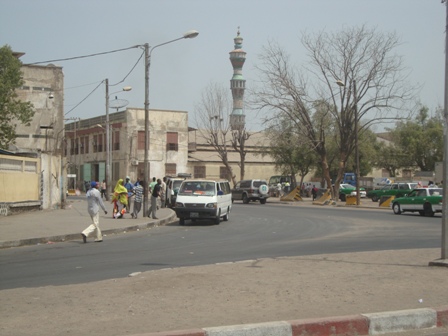 Site of the market mini-riot
Split reaction in Somaliland: the kids love it, beg me to snap them, I become a regular pied piper. But older men shout, growl, wave walking sticks at me. The money-changers lining a whole lane in Hargeisa's market don't seem to mind as I snap their tables piled high with huge bricks of bank notes in bundles a couple of feet high - the highest denomination is 500 shillings (8 cents). Some use the loot as foot rests. But outside a bank a surly individual comes over. Why are you photographing; that policeman wants to check your camera, he growls, pointing to a bank guard in a bilious green uniform as the crowd swells. Is this an attempted rip-off? At this point a well-built man comes over; ignore this bunch of idiots, he says, take whatever snaps you want.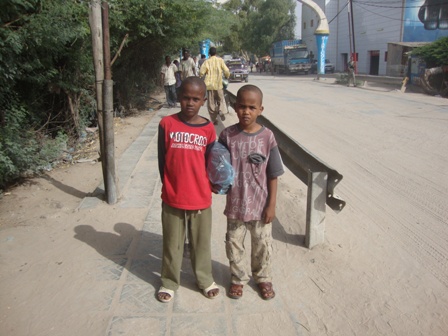 Somaliland kids love to be photographed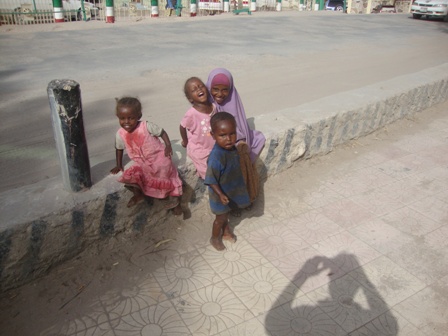 And some more
Emancipated in Ethiopia: at least I thought I was; wandering through the markets and streets of the walled old city of Harar; kids beg to be photographed, then demand to be paid. Now a demented old git is making menacing gestures with his walking stick, trying to crack me on the shins. I bark at him, literally, stopping him in his tracks.
In Dire Dawa: another photo op, this time with Emperor Haile Selassie's old palace - after all he's been dead 35 years; a couple of policemen suddenly come down with a bad attack of St. Vitus dance, raising their feet, flailing their arms, making it most manifest that my Robert Capa moment is zehr verboten. As is snapping any signs of poverty; passers-by scream at me as I raise the digital at a row of beggars (and they are legion) lying in the dust near a health centre. But I do get a shot at the palace gates from way down a side street.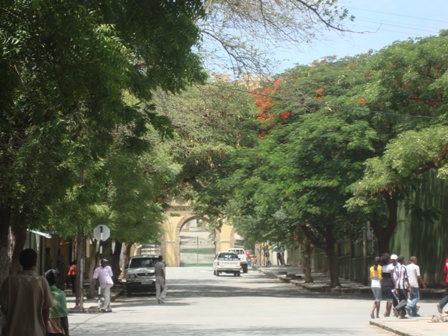 Old Haile's verboten palace gates
Related