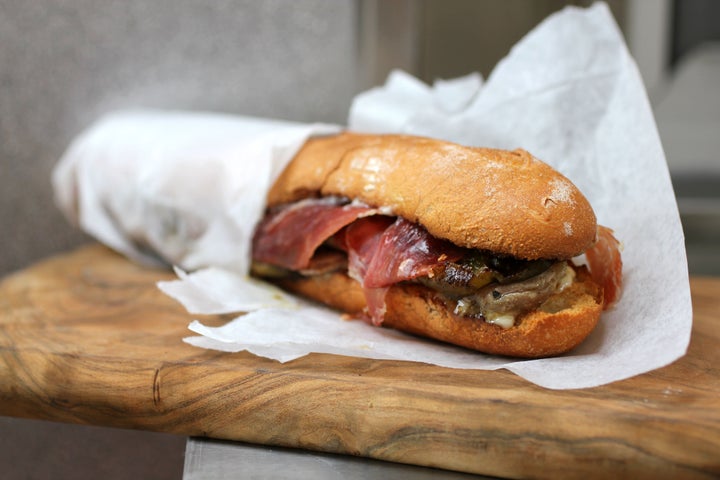 WASHINGTON -- Celebrity chef José Andrés just added a new title to his growing list of accolades: food truck owner. The James Beard Award winner will roll out his first food truck, Pepe, on the streets on D.C. at 1 p.m. Tuesday.
At a press preview Monday afternoon, Andrés called the effort a learning experience. "It's like a toy to have," he said of of the truck. "I think every chef should have a food truck. It's a good way to test the markets, to invest in meeting the future restaurant goers. So you know, this is a good thing for more business."
Does this mean Andrés will be using the truck to taste test future restaurant dishes? Not quite, he said. He hopes, however, to use the truck to research popular flavor profiles, which could translate in dishes in his eateries down the line.
He encourages other dining outfits to follow the same model. "If I were McDonalds, I would have 10 or 20 or 30 of these trucks testing new things!"
On the menu are a selection of flautas, which are long, thin baguettes filled with a range of ingredients. Among them is a $20 pepito de Iberico sandwich, possibly the most expensive item to be sold from a food truck in D.C. It's filled with upscale ingredients like seared Iberico pork and Serrano ham. By contrast, Red Hook's lobster roll is only $15.
The rest of the menu is more accessible, with sandwiches ranging in price from $8 to $14. There's also a chicken noodle soup and two non-alcoholic drinks, sangria and Pepe tonic. For dessert, there's a chocolate and hazelnut ice cream sandwich.
Of the offerings, Andrés says nearly everything is adapted from things he grew up eating. "Those are sandwiches my father, my mother would make for me growing up, or I eat in bars," he said, pointing at the menu. "I grew up with these sandwiches. The good and the bad is that this truck is me! If people don't like the foods I loved when I was growing up, we're in trouble!"
Right now, the plan is to begin operating tomorrow near the National Portrait Gallery in Penn Quarter. But keep a close eye on Pepe's Twitter account for details. Click through the below slideshow for a sneak peek at the offerings.
Related
Popular in the Community