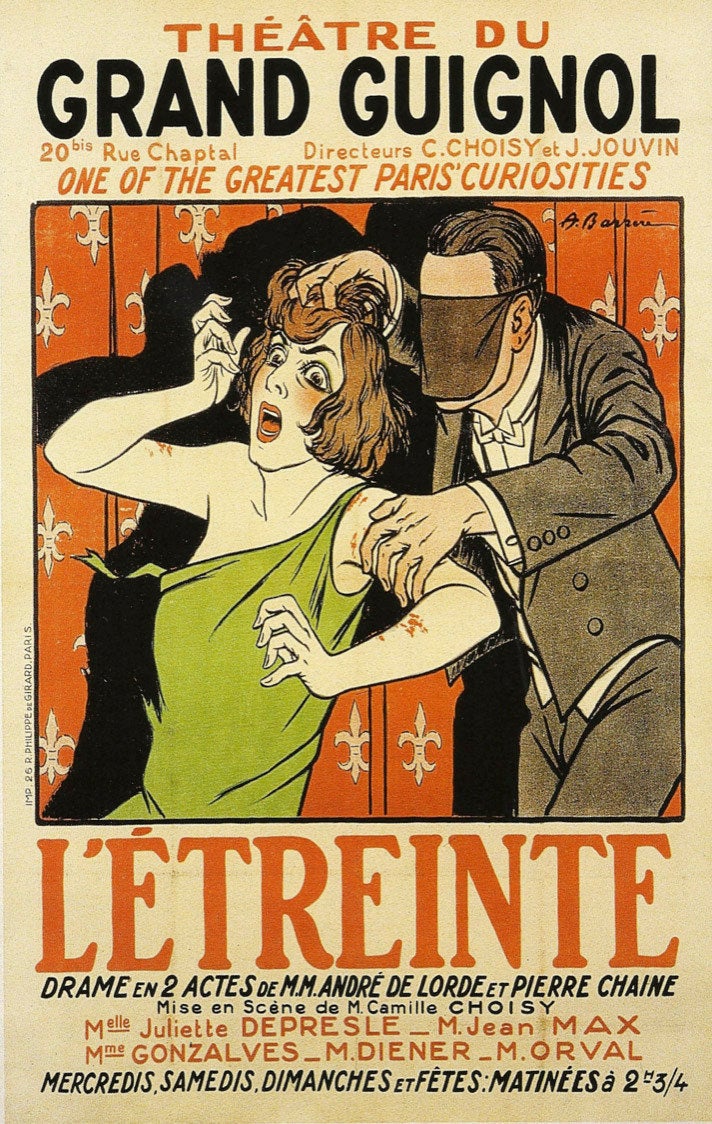 NEW YORK CITY -- When the rides stop running at Coney Island each year in October, the area takes on a desolate and decidedly creepy character. That's all fine and well with the Coney Island Museum, which on Saturday night hosted the Grand Guignol Variety Show, an homage to the eponymous Parisian production that specialized in theatrical gore, sex and violence from 1897 to 1962.
The event, co-sponsored by the Morbid Anatomy Library and Atlas Obscura, featured two original plays from the Grand Guignol's golden era. They give a sense of what the theater was like in its heyday: In one, a spurned woman mutilates her former fiance with sulphuric acid, only to meet the same fate at his hand. In another, a man's unrequited love for the wife of his closest friend drives him to cast a hypnotist's spell on her. When she's tragically killed in a train crash, the spell's power remains. Disfigured and grotesque, she returns from beyond the grave to be at his side. Horrified, he kills himself.
"Grand Guignol, it's so weird and disturbing," said Joanna Ebenstein, the event's co-curator and the force behind the Morbid Anatomy Library. "It's kind of theater, but it's kind of trash. No one cared about it at the time, no one worth speaking of. Kind of like reality TV today, maybe."
That sort of tawdry indulgence is right in step with the sideshow displays at the museum, which include taxidermied animal oddities and quirky relics from the Coney Island of yesteryear. The neighborhood has a much darker history than one might expect, making it a perfect setting for the re-imagining of Grand Guignol.
"We remember Coney Island as, like, roller coasters and hot dogs, but the sh*t that was going on in Coney Island, like 1890s to 1910, was so f*cking weird," Ebenstein explained. "You could see full-scale spectacles of hundreds of people re-enacting Pompeii being destroyed by Vesuvius. Or you could see the Galveston flood, the Jamestown flood, San Francisco destroyed by earthquake, a tenement destroyed by fire. These were like theatrical productions."
Between sips of throwback cocktails provided by Hendrick's Gin, Atlas Oscura representative Seth Teicher said that hosting events like the Grand Guignol Variety Show are a part of his organization's mission to help people see the world through a lens of wonder. There's more coming, too: On April 28, the organization will host its annual event, Obscura Day.
"This coming April, we'll be organizing hundreds of events on all seven continents," he said in an email. "Thousands of our community members [will] head out en masse to explore the curious places around them and have amazing adventures."
What can would-be adventurers expect? Last year's event included a trip to a ghost town in the Mojave, back-room tours of strange museums, a visit to the world's largest treehouse with its builder, and the exploration of an abandoned railroad tunnel filled with bioluminescent glow worms in Australia.
Until then, adventurous souls can satisfy their curiosity with a visit to Morbid Anatomy's current exhibit at the Coney Island Museum, the Great Coney Island Spectacularium, a live exhibition exploring Coney Island's off-kilter history.
Calling all HuffPost superfans!
Sign up for membership to become a founding member and help shape HuffPost's next chapter
BEFORE YOU GO