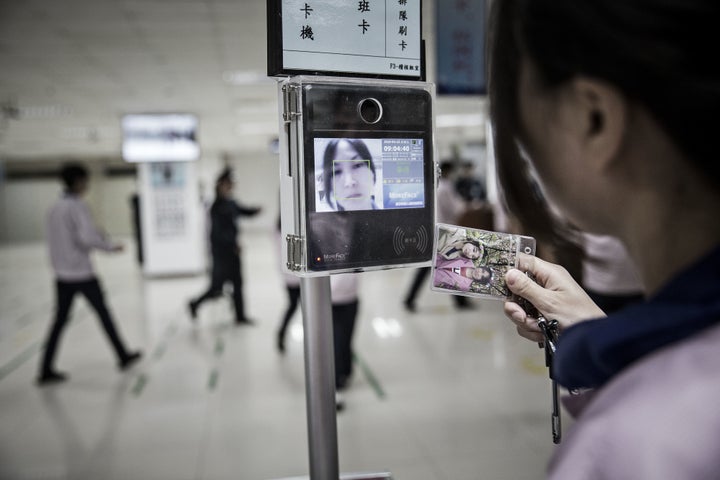 Unlike actual apples, the fruits of Apple Inc.'s labor don't grow on trees. They're made by humans, some of whom labor long hours for a meager monthly wage that would barely buy them an iPhone of their own.
A feature published last month by Bloomberg's Shai Oster offers a rare peek inside one of Apple's most secretive production centers: the Pegatron factory on the outskirts of Shanghai, where some 50,000 Chinese workers transform raw silicon and plastic into the iPhone 6S.
The factory sits on a sprawling campus that includes cafeterias, courtyards and its own fire and police stations. Safety netting spans the gaps beneath catwalks. Face scanners and security gates greet workers at the door, where they must present an ID badge to gain entry. 
The security measures are designed to keep employees from working more than 60 hours a week, according to Bloomberg. But some workers say they need to exceed the 60-hour limit just to make ends meet. 
Pegatron does make available a few concessions to its workers' humanity, such as snack bars and lounge areas outfitted with Wi-Fi. Such spaces offer hints that factories in China might be entering a new era, where a modicum of comfort softens the brutal efficiency of factories past.
While inside the Pegatron factory, photographer Qilai Shen snapped a series of photos of subjects alternatively moving and mundane, capturing the rhythm and pulse of a place where nearly no outsiders go.
Like the iPhone's silicon guts, the whirring machinery of Apple's factories often remains hidden. Now, here it is on full display:
Calling all HuffPost superfans!
Sign up for membership to become a founding member and help shape HuffPost's next chapter