Every week, we bring you some of the most fascinating photos from around the world.
This week, we've got feeding flamingo father, the Iron Lady's final resting place, and a Molotov cocktail in Mexico City.
Check them out below and vote for your favorite:
1.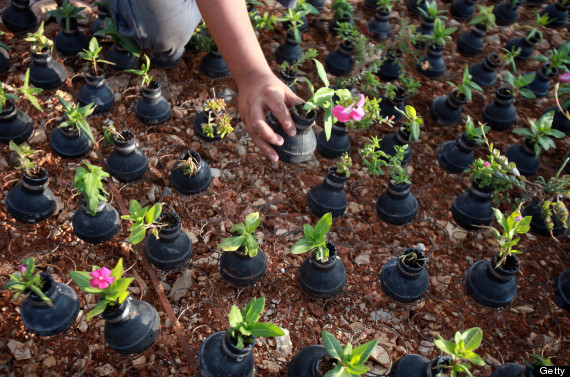 A Palestinian places a flower planted in a tear gas canister, in the West Bank village of Bilin on October 1, 2013. The canisters have been gathered from demonstrations where Israeli security forces used them to disperse protesters. (ABBAS MOMANI/AFP/Getty Images)
2. A soldier from the Kenya Defence Forces salutes to pay his respects as he and other Kenyans came to light candles, sing and pray, marking one week since the terrorist attack that killed 67 people, in front of the Westgate Mall in Nairobi, Kenya Saturday, Sept. 28, 2013. (AP Photo/Ben Curtis)
4.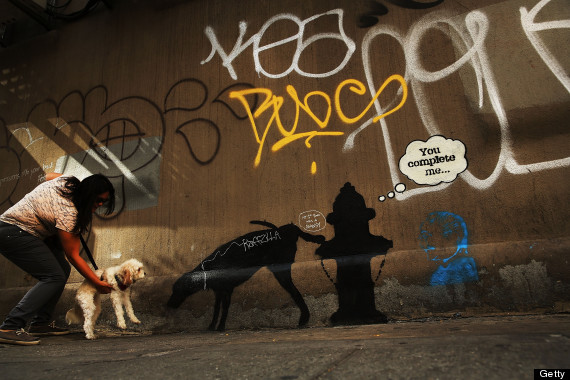 Christina Ng poses in front of a new Bansky work with her dog Cece on October 3, 2013 in New York City. New work by the mysterious British street artist Banksy has appeared in New York after announcing a a month-long residency in the city. (Photo by Spencer Platt/Getty Images)
5.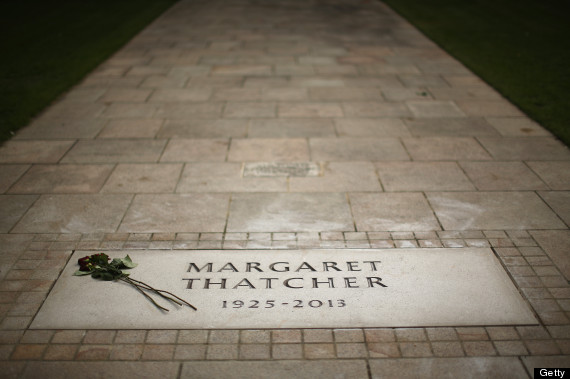 Roses lie across the memorial stone marking where the ashes of Baroness Thatcher were laid at Royal Hospital Chelsea on September 30, 2013 in London, England. (Photo by Dan Kitwood/Getty Images)
6.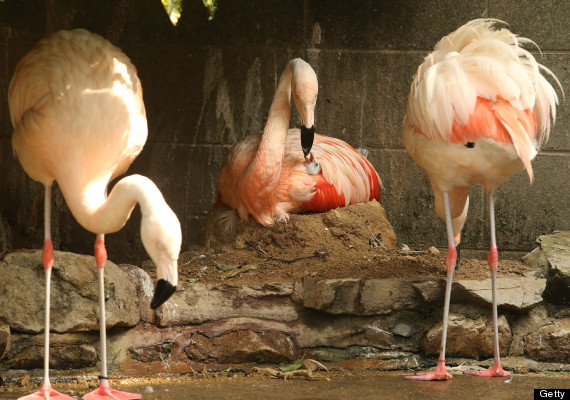 A four-day-old Chilean flamingo chick feed by its father named Migi Aka at the Himeji Central Park on October 2, 2013 in Himeji, Japan. A baby flamingo was born on September 29, 2013. (Photo by Buddhika Weerasinghe/Getty Images)
7.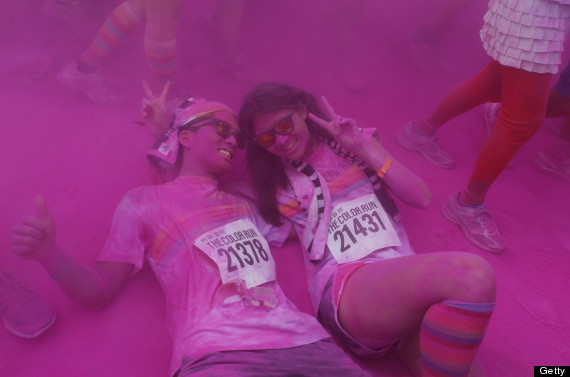 Competitors pose for a photograph after a run through the red color throw area during the Taiwan Colour Run at Dajia Riverside Park on September 28, 2013 in Taipei, Taiwan. This is the first time Taiwan has hosted a Colour Run. (Photo by Ashley Pon/Getty Images)
8. In this Friday, Oct. 4, 2013 photo, an Indian artist performs during the grand rehearsal for Navratri celebrations in Ahmadabad, India. Feasting and fasting takes over normal life for millions of Hindus during Navratri, the festival of nine nights. (AP Photo/Ajit Solanki)
9. In this Wednesday, Oct. 2, 2013 photo, a police officer is engulfed in flames after being hit by a Molotov cocktail thrown by protesters marking the anniversary of the Tlatelolco massacre in Mexico City. (AP Photo/Eduardo Verdugo)
10. A Pataxo Indian takes part in the first day of the National Indigenous Mobilization protest in Brasilia, Brazil, Tuesday, Oct. 1, 2013. The protest is against a proposed constitutional amendment known as PEC 215, which amends the rules for demarcation of indigenous lands. (AP Photo/Eraldo Peres)
REAL LIFE. REAL NEWS. REAL VOICES.
Help us tell more of the stories that matter from voices that too often remain unheard.