Every week, we bring you some of the most fascinating photos from around the world.
This week, we've got adorable Pakistani schoolboys, a bizarre festival in Thailand and epic fireworks over Sydney.
1.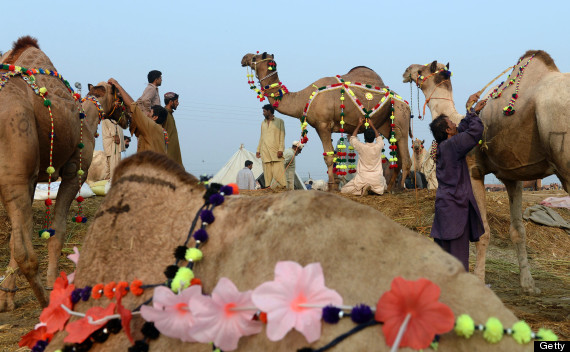 Pakistani livestock traders decorate their camels at an animal market ahead of the Muslim festival Eid al-Adha in Lahore on October 8, 2013. (Arif Ali/AFP/Getty Images)
2. Bavarian riflemen and women in traditional costumes fire their muzzle loaders in front of the 'Bavaria' statue in Munich, southern Germany, Sunday, Oct. 6, 2013. Members of various shooting clubs of the region met for a salute on the last day of the famous 'Oktoberfest' beer festival. (AP Photo/Matthias Schrader)
3. A book is taken out of a shelf on the first day of the Book Fair in Frankfurt, Germany, Wednesday, Oct. 9, 2013. The fair runs through Oct. 13. (AP Photo/Michael Probst)
4.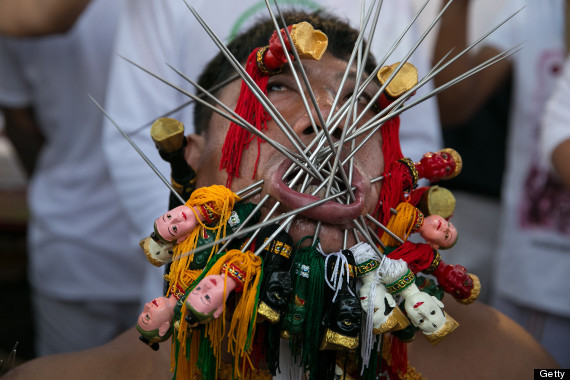 Vegetarian festival devotees get pierced early morning at the Bang Neow shrine in Phuket, Thailand on October 10, 2013. (Photo by Paula Bronstein/Getty Images)
5.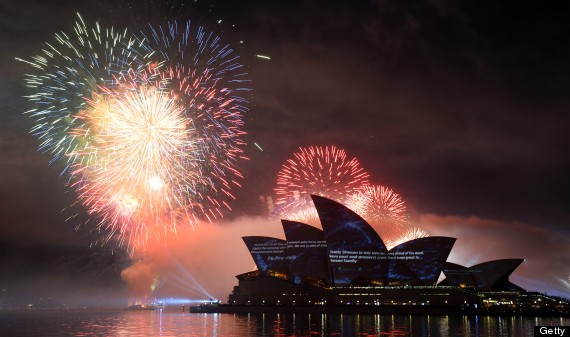 Projections light up the Sydney Opera House sails with the history of the Royal Australian Navy as they celebrate 100 years since their first ships entered Sydney Harbour, on October 5, 2013. (WILLIAM WEST/AFP/Getty Images)
6.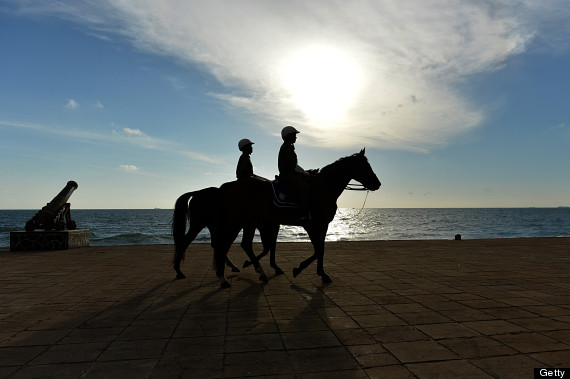 Sri Lankan policemen on horseback patrol through the water front of Colombo on October 7, 2013. (Ishara S.KODIKARA/AFP/Getty Images)
7.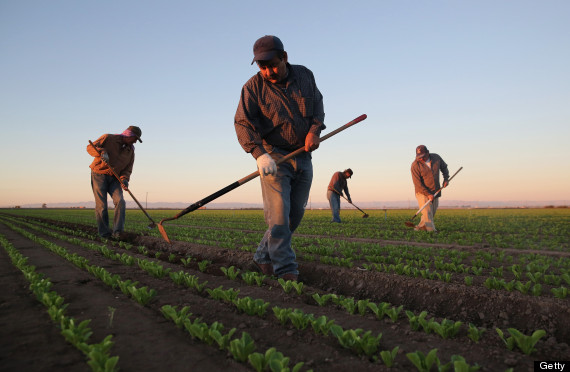 Mexican agricultural workers cultivate romaine lettuce on a farm on October 8, 2013 in Holtville, California. (Photo by John Moore/Getty Images)
8.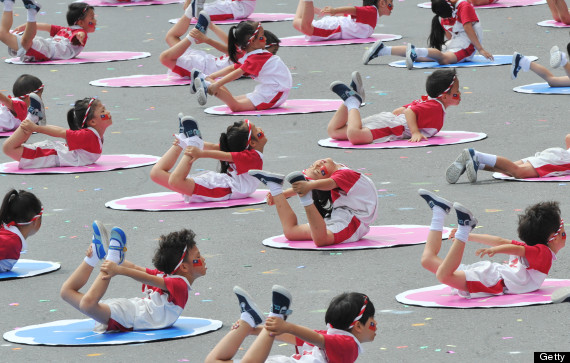 Students perform during celebrations to mark National Day in Taipei on October 10, 2013. (Mandy Cheng/AFP/Getty Images)
9.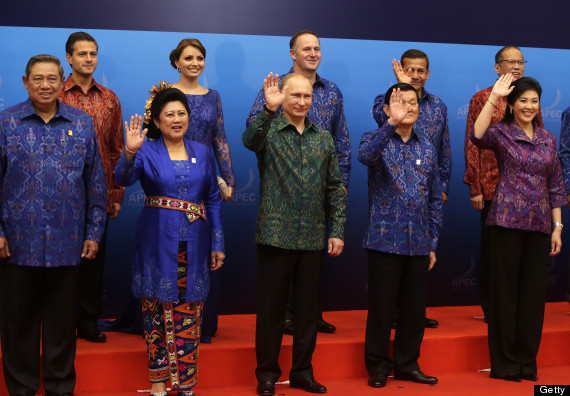 Indonesia's President Susilo Bambang Yudhoyono, First Lady Ani Yudhoyono, Russia's President Vladimir Putin, Vietnam's President Truong Tan Sang, Thailand's Prime Minister Yingluck Shinawatra, (L-R, 2nd row) Mexico's President Enrique Pena Nieto, Mexico's First Lady Angelica Rivera, New Zealand Prime Minister John Key, Peru's President Ollanta Humala and Philippines President Benigno Aquino wave during a family photo before the gala dinner hosted for the leaders at the Asia-Pacific Economic Cooperation (APEC) Summit in Nusa Dua on the Indonesian resort island of Bali on October 7, 2013. (mast irham/AFP/Getty Images)
10. Pakistani schoolboys look out the window of their classroom at other classmates chanting prayers to commemorate the anniversary of Malala Yousufzai's shooting by the Taliban, at a school in Rawalpindi, Pakistan, Wednesday, Oct. 9, 2013. (AP Photo/Muhammed Muheisen)
REAL LIFE. REAL NEWS. REAL VOICES.
Help us tell more of the stories that matter from voices that too often remain unheard.