Every week, we bring you some of the most fascinating photos from around the world.
This week, we've got rescued migrants in Italy, a Jakarta fashion show, and an inspiring marathon for peace in Iraq.
1.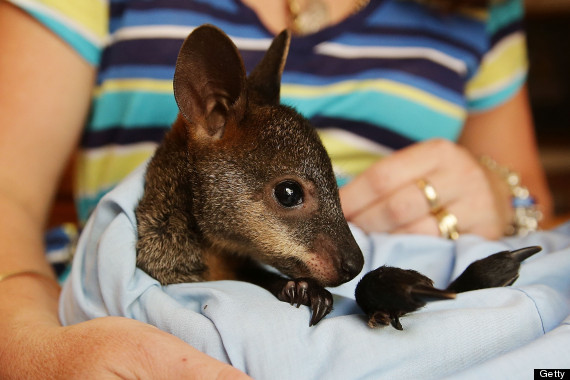 Volunteer, Christelle Gilmore cares for 'Phoenix' an orphaned baby Swamp Wallaby burned in the Springwood fires on October 22, 2013 in Castlereagh, Australia. There are fears for wildlife likely caught up in the blazes, which are often very fast moving. (Photo by Brendon Thorne/Getty Images)
2. Lydia Torres, left, 44, and Jenelle Torres, 42, right, kiss after Newark Mayor and Senator-elect Cory Booker, officiated their wedding ceremony at Newark City Hall just after midnight Monday, Oct. 21, 2013. (AP Photo/Mel Evans))
3.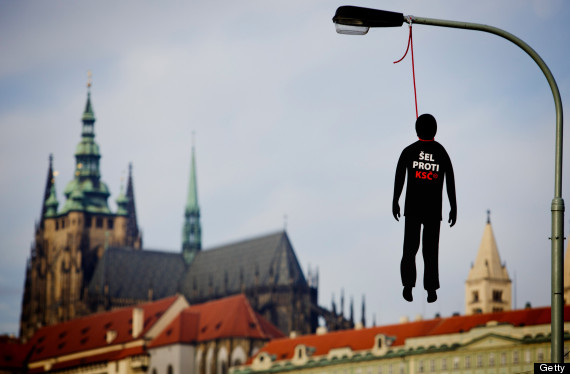 A paper dummy with a red noose with the sign 'Went against KSC' hangs from a lamp-post on October 22, 2013 in Prague, Czech Republic. KSC is an abbreviation for the Czechoslovakia Communist Party. The dummies symbolize the people who were executed during the communist regime before the Velvet revolution in 1989 and appear to be a warning about the possible rise of communist power after the Czech early election which is being held on October 25 and 26. (Photo by Matej Divizna/Getty Images)
4.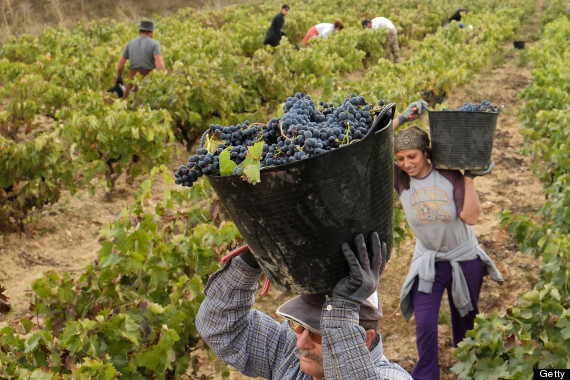 People harvest grapes at a vineyard of the winery 'Raul Calvo' in Gumiel de Mercado, region de Ribera del Duero, near Burgos, on October 19, 2013. (CESAR MANSO/AFP/Getty Images)
5.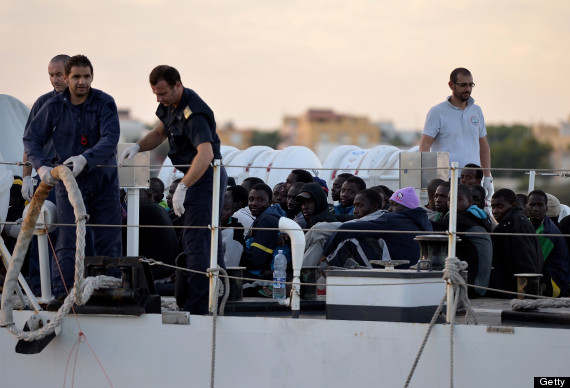 Some 100 migrants sit on the Guardia Costiera boat after being rescued off the shores of the island of Lampedusa on October 25, 2013. Two boats with other 219 migrants were picked up by Italian Navy ships deployed in Italy's new Mare Nostrum search-and-rescue operation. (FILIPPO MONTEFORTE/AFP/Getty Images)
6.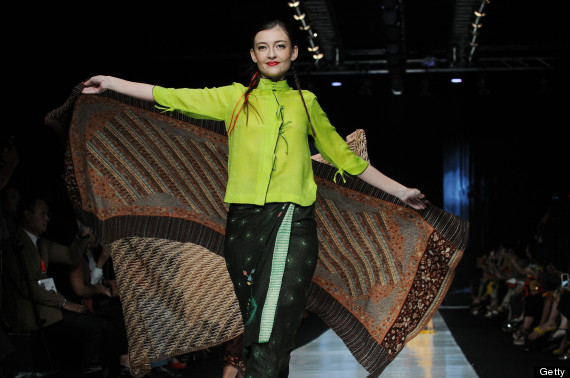 A model showcases designs by Obin on the runway at the Indonesia Memanggil show during Jakarta Fashion Week 2014 at Senayan City on October 25, 2013 in Jakarta, Indonesia. (Photo by Robertus Pudyanto/Getty Images)
7.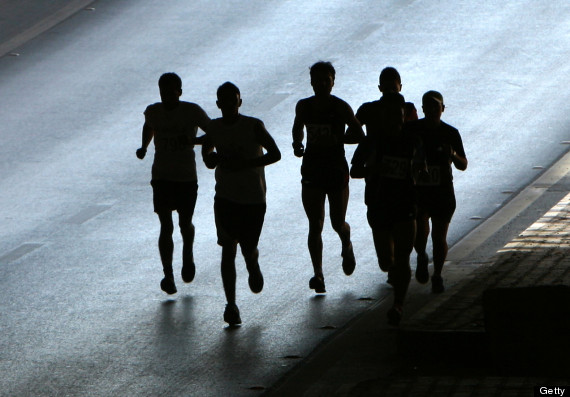 Runners compete in the second International Iraqi Marathon in the northern Kurdish city of Arbil on October 19, 2012. The marathon, under the motto of 'Let us run for peace and development', is organised by the governor of Arbil and the United Nations Assistance Mission for Iraq (UNAMI). (SAFIN HAMED/AFP/Getty Images)
8.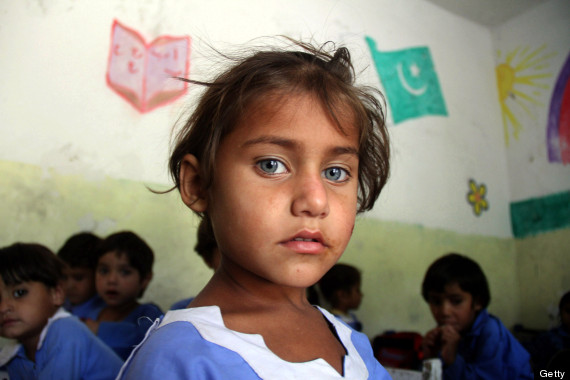 A Pakistani student poses in a classroom at a government school in the outskirts of Islamabad on October 23, 2013. According to a UNESCO report, the official statistics released by the Federal Education Ministry of Pakistan the overall literacy rate is 46 percent, while only 26 percent of girls are literate. In rural areas only one-in-three women have ever attended school. (Photo by Hussain Anjum/Anadolu Agency/Getty Images)
9.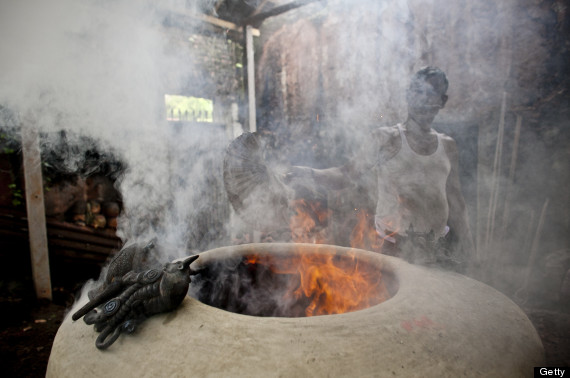 Finished sculptures sit on the edge of a clay oven at Dhamrai Metal Crafts on October 25, 2013 in Dhaka, Bangladesh. The owner of the metal crafts shop, Sukanta Banik, creates bronze sculptures in the art of 'lost wax casting.' (Photo by Getty Images)
10.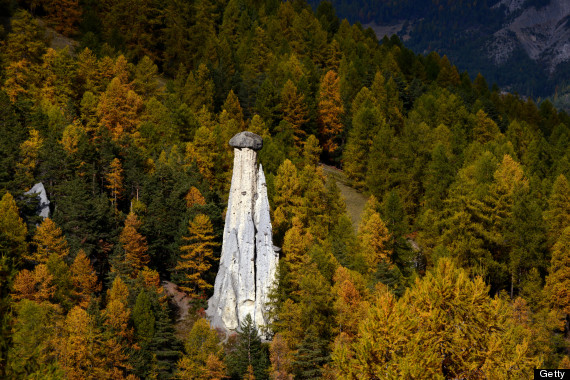 This picture taken on October 25, 2013 shows the 'Demoiselle coiffée', a rock near Saint-Veran, the highest village in Europe at an altitude of 2042 meters, in the regional park of Queyras, in the French Alps, southeastern France. (JEAN-PIERRE CLATOT/AFP/Getty Images)
REAL LIFE. REAL NEWS. REAL VOICES.
Help us tell more of the stories that matter from voices that too often remain unheard.