Welcome to "Moving Image," our roundup of the best photos from around the world this week.
The following images tell the story of the past seven days' most compelling events, capturing happenstance moments and monumental occurrences all over the globe.
Our picks for this week are:
1. This sunset in Palestine. A Palestinian youth plays with a ball, as they sun sets in Gaza City, Tuesday, Oct. 29, 2013. (Hatem Moussa/AP)
2. This potter preparing for Diwali in India. An Indian potter paints earthen lamps ahead of Diwali, or the Hindu festival of lights, in Amritsar, India, Wednesday, Oct. 30, 2013. Hindus light lamps, wear new clothes, exchange sweets and gifts and pray to goddess Lakshmi during the festival which will be celebrated on Nov. 3. (Prabhjot Gill/AP)
3. This boy in the Philippines. A boy hops from a cluster of crypts to another which are spruced up for the observance of All Saints' Day at a public cemetery at Paranaque city, south of Manila, Philippines Thursday Oct. 31, 2013. Traditionally, Christians visit cemeteries and memorial parks to offer prayers every Nov. 1 to pay tribute to their departed loved ones. (Bullit Marquez/AP)
4. This astronaut in Kazakhstan.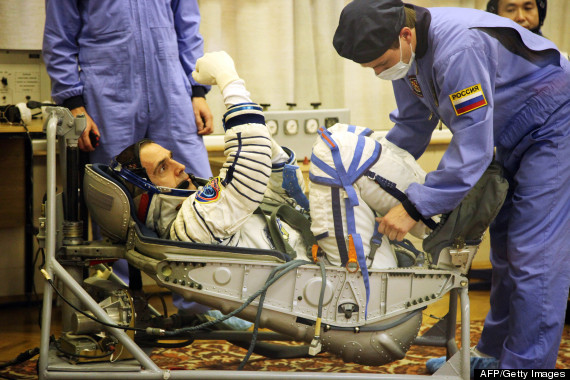 Wearing his spacesuit US astronaut Rick Mastracchio attends the pre-flight training in the Russian leased Kazakhstan's Baikonur cosmodrome on October 28, 2013. The three-man crew, including Japanese astronaut Koichi Wakata, US astronaut Rick Mastracchio and Russian cosmonaut Mikhail Tyurin, is scheduled to blast off to the International Space Station (ISS) from Baikonur on November 7. (AFP/Getty Images)
5. These footballers in Brazil.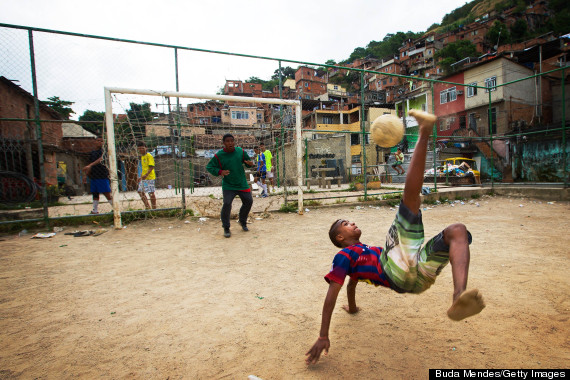 Young boys play football at the Vila Nova Project in the Morro dos Macacos area on October 26, 2013 in Rio de Janeiro, Brazil. The Project Vila Nova was idealized by Alex Sandro and has so far run for 2 years, catering to children and young residents of the Morro dos Macacos area. (Buda Mendes/Getty Images)
6. These waves in England. People watch the waves batter into the sea wall of a marina in Brighton, south England, Monday, Oct. 28, 2013. A major storm with hurricane force winds is lashing much of Britain, causing flooding and travel delays. Weather forecasters say it is one of the worst storms to hit Britain in years. (Sang Tan/AP)
7. This snapshot of Fashion Week in Brazil. Models wear creations from Osklen Winter collection during the Sao Paulo Fashion Week in Sao Paulo, Brazil, Monday, Oct. 28, 2013. (Andre Penner/AP)
8. This image of The Flaming Lips frontman in Los Angeles. Wayne Coyne, of The Flaming Lips, performs through confetti during their "Halloween Blood Bath" tour stop at The Greek Theatre, Tuesday, Oct. 29, 2013, in Los Angeles. (Chris Pizzello/Invision/AP)
9. This farmer in Indonesia.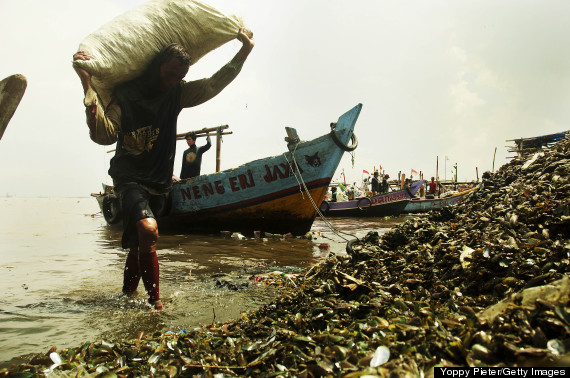 A farmer delivers green mussels on October 31, 2013 in Jakarta, Indonesia. Authorities in Jakarta have put a hold on issuing permits to farmers harvesting green mussels in the bay of Jakarta due to the poor water quality. (Yoppy Pieter/Getty Images)
10. These masks in England.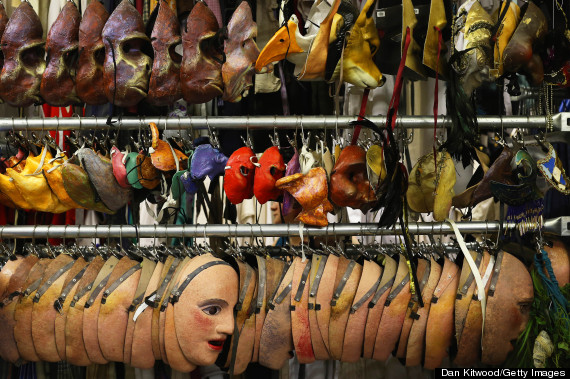 Masks hang on a rail at the National Theatre's Costume and Props Hire department in Kennington on October 30, 2013 in London, England. (Dan Kitwood/Getty Images)
11. This golfer in China. Luke Guthrie of the U.S. tees off from the 5th hole during the final round of the BMW Masters golf tournament at the Lake Malaren Golf Club in Shanghai, China, Sunday, Oct. 27, 2013. (AP)
12. The First Lady and Elmo in Washington, D.C. First lady Michelle Obama, center, flexes her arms for PBS Sesame Street's characters Elmo, left, and Rosita, right, during an event to help promote fresh fruit and vegetable consumption in the State Dining Room of the White House in Washington, Wednesday, Oct. 30, 2013. (Pablo Martinez Monsivais/AP)
13. This shot of Health and Human Services Secretary Kathleen Sebelius in Washington, D.C. Health and Human Services Secretary Kathleen Sebelius testifies on Capitol Hill in Washington, Wednesday, Oct. 30, 2013, before the House Energy and Commerce Committee hearing on the difficulties plaguing the implementation of the Affordable Care Act. (J. Scott Applewhite/AP)
14. This brick factory worker in Afghanistan. Samiullah, 23, works at a brick factory on the outskirts of Kabul, Afghanistan, Sunday, Oct. 27, 2013. Men generally work for 12 hours a day, six days a week, and make about 557.980 Afghani ($10) per day. (Rahmat Gul/AP)
15. This luminous image in England.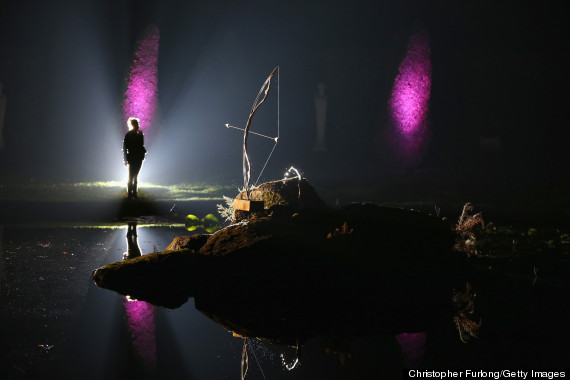 A member of staff views the illuminated Ring Pond in the grounds of Chatsworth stately home as it is lit up as part of the Luminaire event at Chatsworth House on October 24, 2013 in Chatsworth, England. The house and various features in the gardens are to be illuminated telling the story of the lunar cycle from October 26 to 30. (Christopher Furlong/Getty Images)
Let us know your favorite photos in the comments section and check back next week to see new images.
This story appears in Issue 73 of our weekly iPad magazine, Huffington, in the iTunes App store, available Friday, Nov. 1.
PHOTO GALLERY
Moving Image 2013: The Year's Best Photos
Calling all HuffPost superfans!
Sign up for membership to become a founding member and help shape HuffPost's next chapter