Welcome to "Moving Image," our roundup of the best photos from around the world this week.
The following images tell the story of the past seven days' most compelling events, capturing happenstance moments and monumental occurrences all over the globe.
Our picks for this week are:
1. These soldiers helping a typhoon survivor in central Philippines. Soldiers rush a typhoon survivor after she collapsed in a queue to board a military transport plane Wednesday Nov. 13, 2013 from the damaged Tacloban airport in Tacloban city, Leyte province in central Philippines.
2. This gripping game of tug of war in Brazil.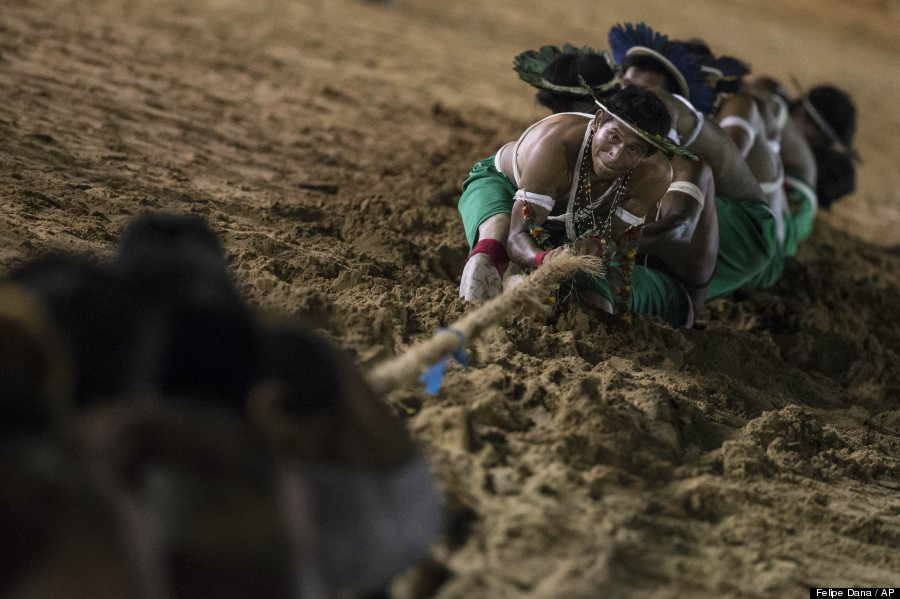 Gaviao Indians participate in a tug of war competition during the indigenous games in Cuiaba, Brazil, Wednesday, Nov. 13, 2013. Around 1,600 Indians from 48 tribes are celebrating Brazil's indigenous cultures during the 12th edition of the Games of the Indigenous People, which runs until Nov. 16.
3. This stunning shot of a fisherman in Myanmar. This picture taken on November 9, 2013 shows a traditional fisherman sitting in his boat on Inle Lake in Myanmar's northeastern Shan state. Myanmar has the potential to quadruple the value of its economy to 200 billion USD by 2030 if it presses on with reforms, embraces technology and shifts away from agriculture, a study said recently.
4. This portrait of two women in Syria.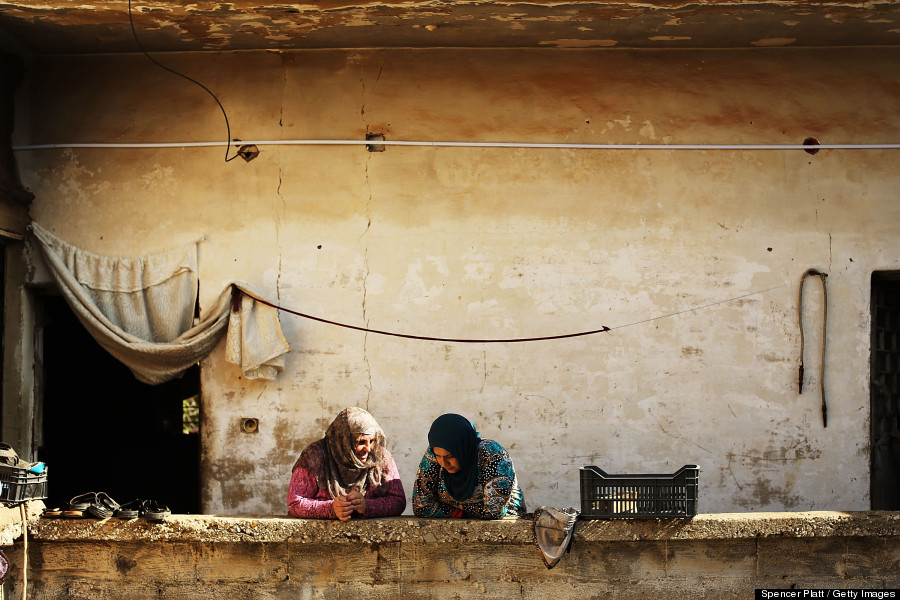 Two Syrian woman talk inside of a former prison now being occupied by Syrian refugees in the Bekaa Valley, close to the border with Syria on November 11, 2013 in Majdal Anjar, Lebanon.

5. These enchained children in Turkey. Shia children mourn as they enchain themselves through the universal Ashura Day that is held at Halkali Arena Park on November 13, 2013 in Istanbul, Turkey. Ashura Day pays homage to the martyrdom of Husayn ibn Ali, the second grandson of Muhammad, who was killed during the Battle of Karbala in 680.
6. This Sri Lankan police officer stopping traffic in Sri Lanka. A Sri Lankan traffic police officer directs traffic away from the main road which is used for the Commonwealth Heads of Governments only, in Colombo, Sri Lanka, Thursday, Nov. 14, 2013.

7. This original Tuskegee Airman in Washington, D.C. Maj. L. Anderson, 88, of Washington, an original Tuskegee Airman, hold his Congressional Gold Medal after being presented with the medal in a ceremony at the African American Civil War Museum in Washington, Monday Nov. 11, 2013.
8. This ominous hand in Germany. A security guard closes a curtain behind which leading party members were arriving at the federal party convention of the German Social Democrats (SPD) on November 14, 2013 in Leipzig, Germany. The SPD is currently involved in tedious negotiations with the German Christian Democrats (CDU) in an effort to create a new German government, though so far the two parties are finding little common ground.
9. This harrowing image of a protester in Cambodia. An injured Cambodian worker escapes from riot police in the compound of a Buddhist pagoda in Phnom Penh, Cambodia, Tuesday, Nov. 12, 2013. Cambodian police have fired live ammunition at protesting garment workers outside the capital, injuring at least six protesters and killing a bystander.
10. This snapshot of the Queen in England. Queen Elizabeth II watches a youth working out during boxing training during her visit to The Factory Youth Zone in Manchester on November 14, 2013.
11. This gamer in Madrid.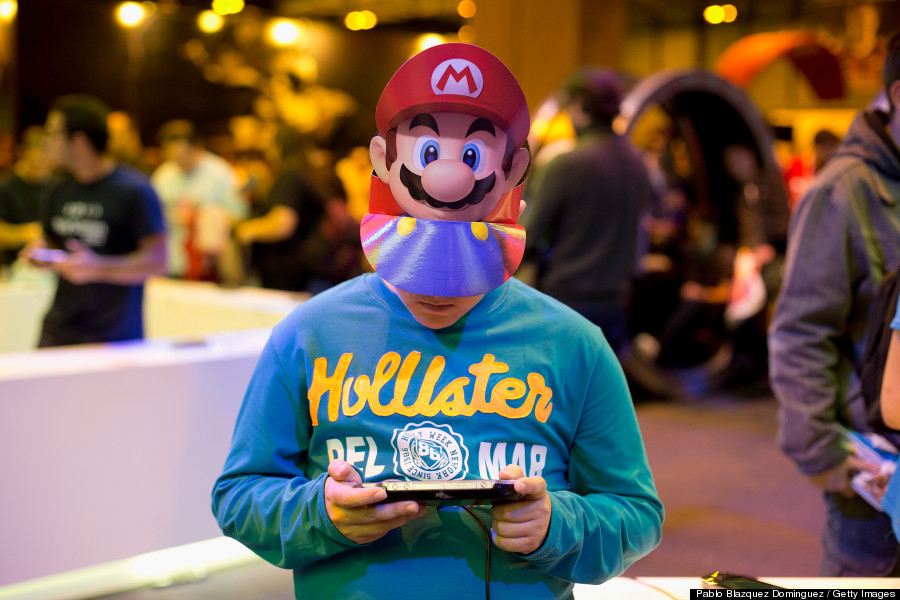 A child wearing a 'Mario Bros' cap plays video games at Madrid Games Week in IFEMA on November 9, 2013 in Madrid, Spain.

12. These brick factory workers in Afghanistan. Afghan laborers work at a brick factory on the outskirts of Herat on November 10, 2013. Over a third of Afghans are living in abject poverty, as those in power are more concerned about addressing their vested interests rather than the basic needs of the population, a UN report said.
13. This shot of a power outage in the Palestinian territories. A Palestinian woman and her children light candles in their home during a power outage in Gaza City on November 10, 2013.
14. This striking photo of massive debris in central Philippines. A surivor walks among the debris of houses destroyed by Super Typhoon Haiyan in Tacloban in the eastern Philippine island of Leyte on November 11, 2013. The United States, Australia and the United Nations mobilised emergency aid to the Philippines as the scale of the devastation unleashed by Super Typhoon Haiyan emerged on November 11.
15. This picturesque ice rink in England. A view of the newly-opened ice rink at Somerset House in central London, Monday, Nov. 11, 2013. The ice rink, which has become an annual event in the last few years, will be open for the festive period from Nov. 14, 2013 to Jan. 5, 2014.
Let us know your favorite photos in the comments section and check back next week to see new images.
This story appears in Issue 75 of our weekly iPad magazine, Huffington, in the iTunes App store, available Friday, Nov. 14.
REAL LIFE. REAL NEWS. REAL VOICES.
Help us tell more of the stories that matter from voices that too often remain unheard.
BEFORE YOU GO
PHOTO GALLERY
Moving Image 2013: The Year's Best Photos