Behind soundproof, bullet-resistant glass, a private entrance and a closed-captioned security system, the Royal Suite at The Four Seasons Washington is as beautiful as it is functional. Custom-designed wool-and-silk-blend rugs adorn the limestone floor and ground the contemporary furnishings throughout the suite. Crystal fixtures contrast with rich wood, iridescent shell details and furnishings in a silvery palette. Even the most jaded and discerning of luxury travelers would be thrilled to stay in this dazzling apartment.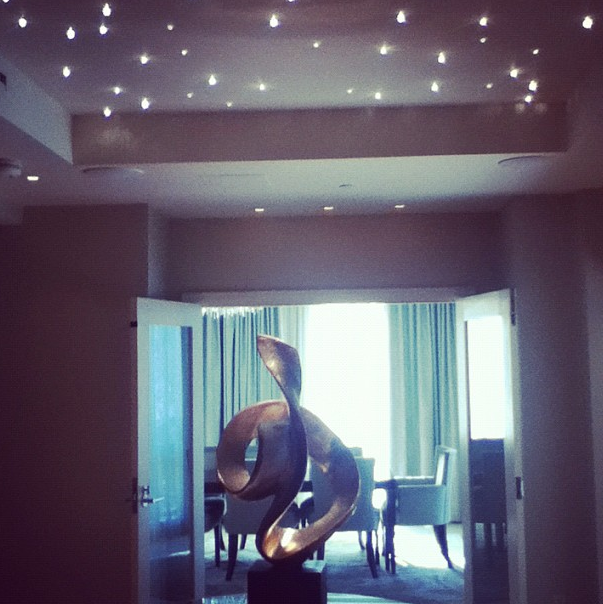 As we enter the foyer, I am temporarily blinded by a gorgeous galaxy of Swarovski crystal fixtures, rich ebony wood with inlays of mother of pearl and a scalloped pattern of sparkling stone mosaic. The foyer opens to the dining room, which accommodates 10 and is equipped with a Bang & Olufsen LCD for those important PR or diplomatic meetings overlooking the huge private terrace. A fully equipped kitchen pantry with Sub-Zero refrigerator and separate service entrance is adjacent.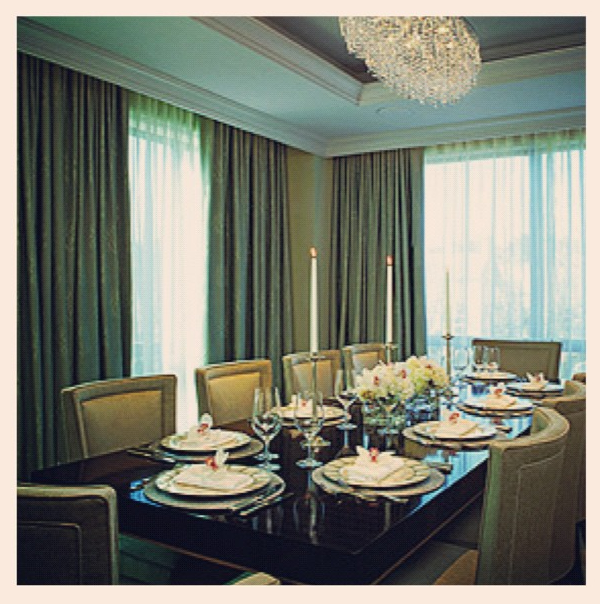 From the main entrance level, twin stairways lead to a stunning open space. American walnut portals define the living spaces, which include four distinct seating areas. The lounge offers posh leather oval chairs and a Lalique sea goddess.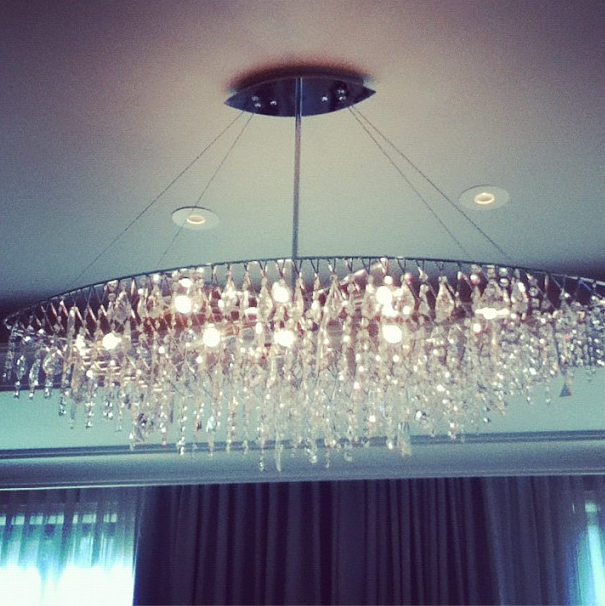 The main conversation area has luxe Italian sofas, chairs and a handmade alligator table. The library is decorated with warm inglenook-style seating, a glass fireplace and custom cabinets displaying a collection of art books. Finally, the media area is fully outfitted with Bang & Olufsen systems, including a 60-inch LCD on which you can watch Meet The Press, Access Hollywood, or review the dailies from the movie you're shooting in Washington.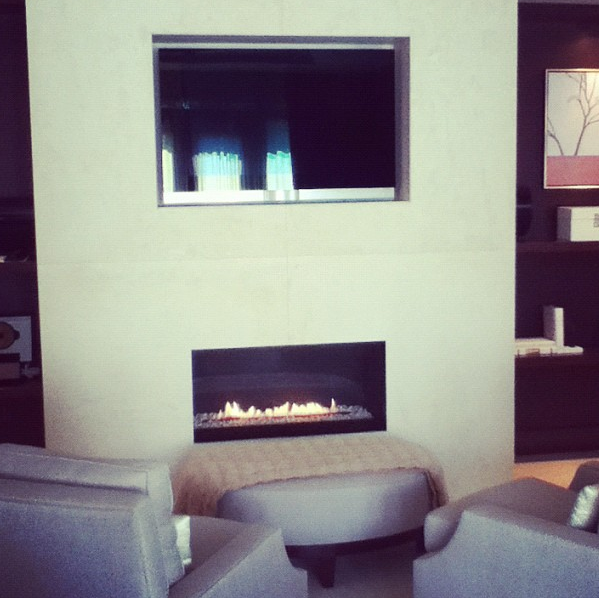 I'm fantasizing about hosting a cocktail party in this gorgeous space but Lilianna Baldassari, public relations director for the hotel, tells me that this suite is not available to rent for parties. She also tells me that this suite is $15,000 a night and everyone pays full retail. *Gulp.* There are no VIP room upgrades to this grande dame.
The floor-to-ceiling windows is framed with embellished silk velvet drapery, surrounds the entire living space. The suite opens to reveal a landscaped 1,000-square-foot terrace designed as an urban getaway with 3 seating groupings, a fire pit and a dining table for 10 overlooking historic Georgetown.
Here are Hilary Phelps and I on the terrace, pretending that we live here: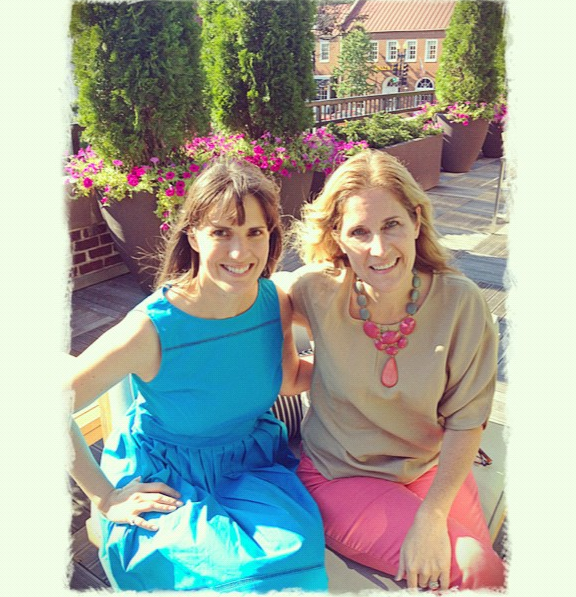 Neutral mohair carpet leads into the bedroom foyer and master suite. Its bathroom features an expanse of white marble surrounds, a sculptural 90-gallon bathtub and more gorgeous crystal fixtures are elegantly draped overhead.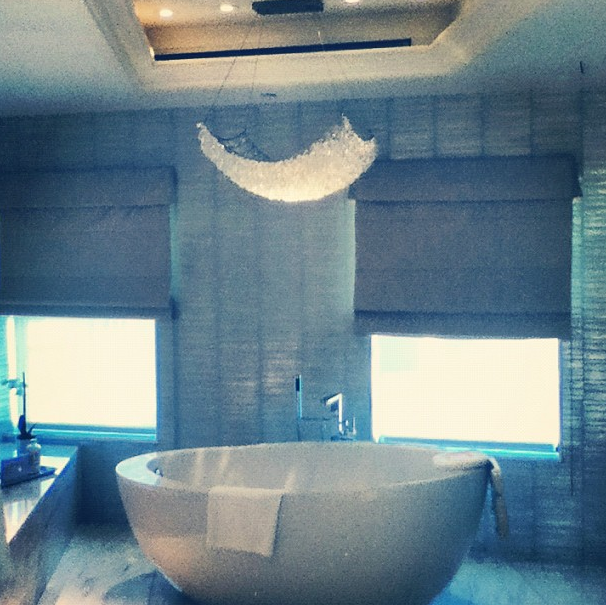 Contemporary chrome fittings add sparkle to the space along with a rain shower with Vichy jets and a frameless glass enclosure. The bedroom with its alluring silver and cream palette, elegant hand-knotted carpet and cream millwork opens to the outdoor terrace overlooking Georgetown.
This private space also includes his-and-hers walk-in closets, a ladies' dressing and sitting area, a private wood-paneled office and an exercise room with an elliptical trainer, a treadmill and two Bang & Olufsen LCD screens. As we complete the tour, it suddenly dawns on me that this suite is larger than my suburban Bethesda home.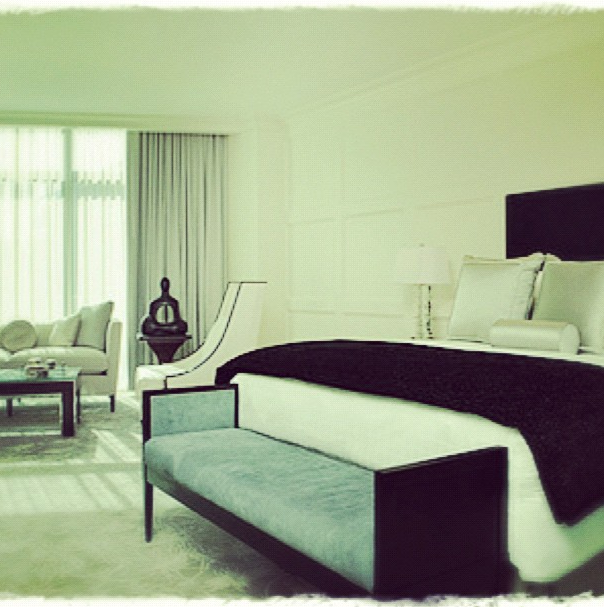 The Royal Suite's other amenities include a collection of Washington, DC, books, a diverse selection of CDs, Academy Award-winning DVDs, video games and a kitchen pantry stocked with some of the Hotel's finest bottles of wine and champagne.
Clearly, The Royal Suite is the perfect location for the mega-rich to entertain or hold private meetings or dinner parties, as the suite lends itself to multiple uses. This spacious one-bedroom suite allows guests to maintain privacy within different surroundings while providing them the added bonus of not having to leave the comfort of their suite. Guests in the Royal Suite are provided with complimentary services such as a personal concierge/butler service, unpacking and packing services, use of a car and driver for up to four hours per day, wireless Internet access and a personal shopper from the guest's store of choice.
Royal Suite residents can also request numerous services - including a personal trainer, chef, security officer, administrative assistant or massage therapist - for an additional fee. What's an additional grand or two when you're laying out $15K a night? I immediately make a mental note to book the suite when I win the lottery.
If The 4,000 square foot Royal Suite is not large enough for you and your entourage, (attention Jolie-Pitts!) it can be converted into a three-bedroom suite (5,287 square feet) for $17,320 a night. Or, for ultimate privacy, security and flexibility, the entire wing can be closed off to include eight bedrooms (8,825 square feet) for a cool $28,640 per night.
See below for a video tour of The Four Seasons Washington's Royal Suite: