For many Syrian refugees, being displaced means not only losing their home, but also losing a chance to go to school and achieve their goals. 
The International Rescue Committee is working with refugee girls in Jordan, helping them envision who they want to be when they grow up and create an action plan to get there.
Through the Vision Not Victim program, girls get access to mentors and new skills that expose them to a wide range of career options, from politics to the arts to aviation. In Jordan, for instance, Rula Al Hroob, a member of Jordan's parliament and a refugee herself, spoke to the girls about her career in politics and how she reached her goals. Photographer Meredith Hutchison then captured the girls dressed up as the professional women they hope to be one day.
While this photo series can't begin to capture the dreams of all 2.4 million child refugees from Syria, below are 10 girls posing as their aspirational future selves:


1. Fatima, 16, Future Architect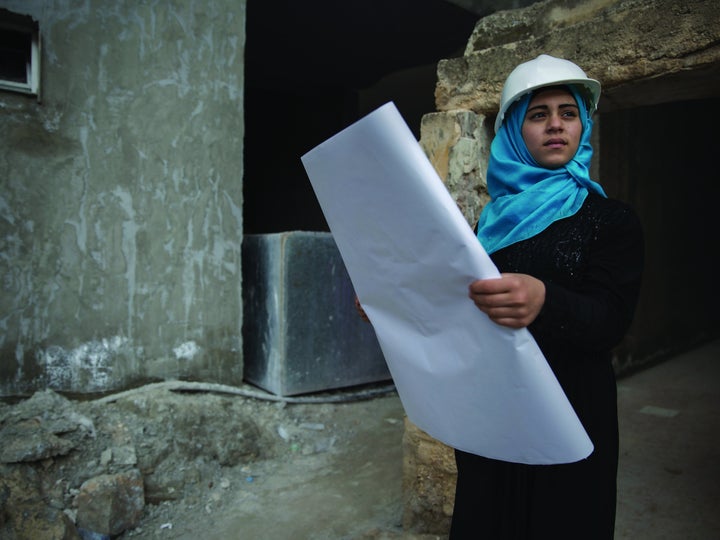 "I've always wanted to be an architect. Yet, when I was young people told me that this is not something a woman could achieve, and they encouraged me to pursue a more 'feminine' profession. But I dreamt constantly of making beautiful homes for families, and designing buildings that bring people joy.
Now that I've reached my vision, I hope I am a model for other girls - showing them that you should never give up on your dream - no matter what others say."
2. Haja, 12, Future Astronaut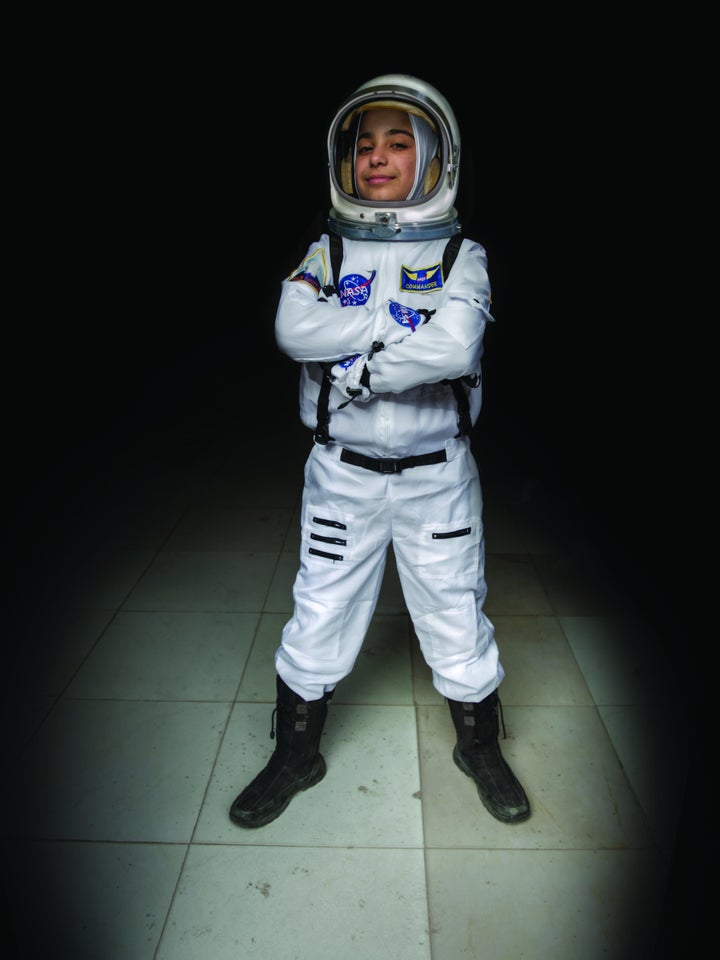 "Ever since we studied the solar system in primary school, I have wanted to be an astronaut. I would imagine myself up in the sky discovering new things. I love being an astronaut because it lets me see the world from a new angle.
In this society my path was not easy – many people told me a girl can't become an astronaut. Now that I have achieved my goals, I would tell young girls with aspirations to not be afraid, to talk to their parents about what they want and why, to always be confident and know where you want to go."
3. Rama, 13, Future Doctor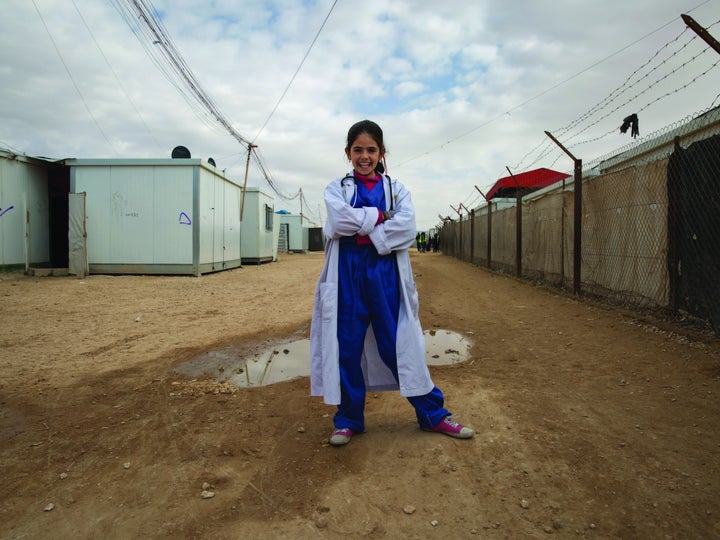 "Walking down the street as a young girl in Syria or Jordan, I encountered many people suffering – sick or injured – and I always wanted to have the power and skills to help them.
Now, as a great physician in my community, I have that ability. Easing someone's pain is the most rewarding aspect of my job. To be able to give them relief and make them smile – this is what I love most."
4. Amani, 10, Future Pilot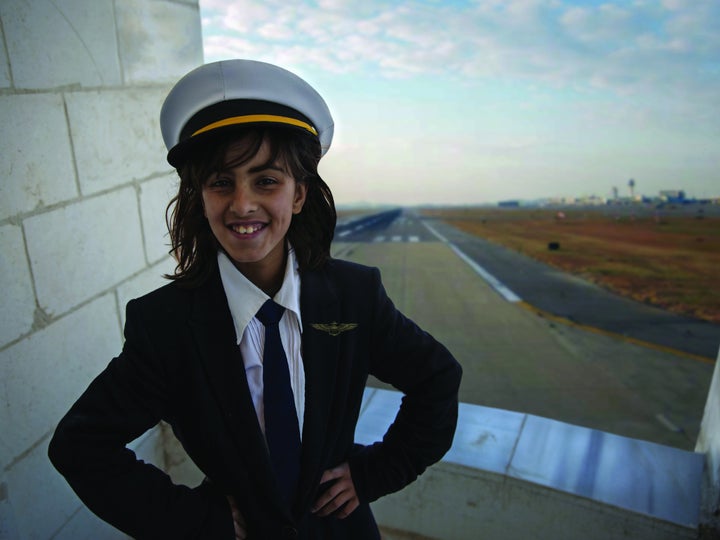 "I love planes. Even before I had ever been on a plane, I knew I wanted to be a pilot. Flying is adventurous and exciting. When I was younger, my brother always told me that a girl can't be a pilot, but I knew deep down this is what I wanted to do.
I finished my studies and found a way to get to flight school. Now, not only do I get to live my dream, but I also get to help people travel, to see the world, and discover new places."
5. Maleck, 16, Future Policewoman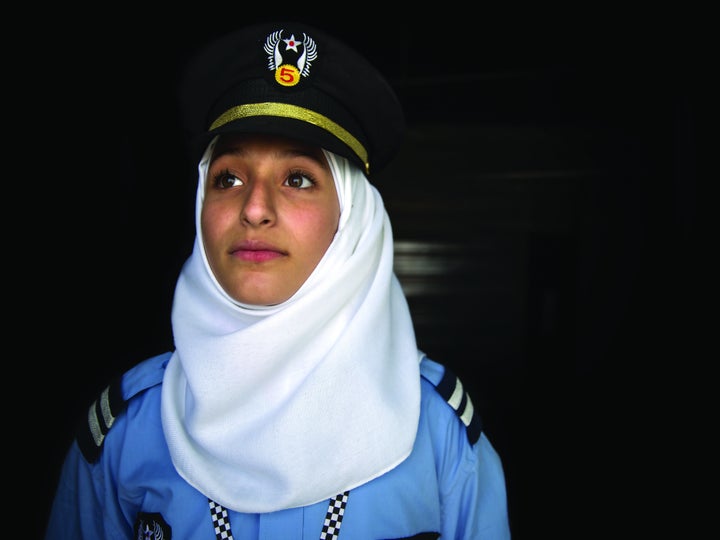 "I've always wanted to be a policewoman because the police not only keep people safe, but they also create justice in society. Everyday I wake up, go to the station, and then head out into the city to see where I can help.
I also work to inspire other young girls to become policewomen – supporting them to dream about their future and thinking about how they will overcome obstacles."
6. Muntaha, 12, Future Photographer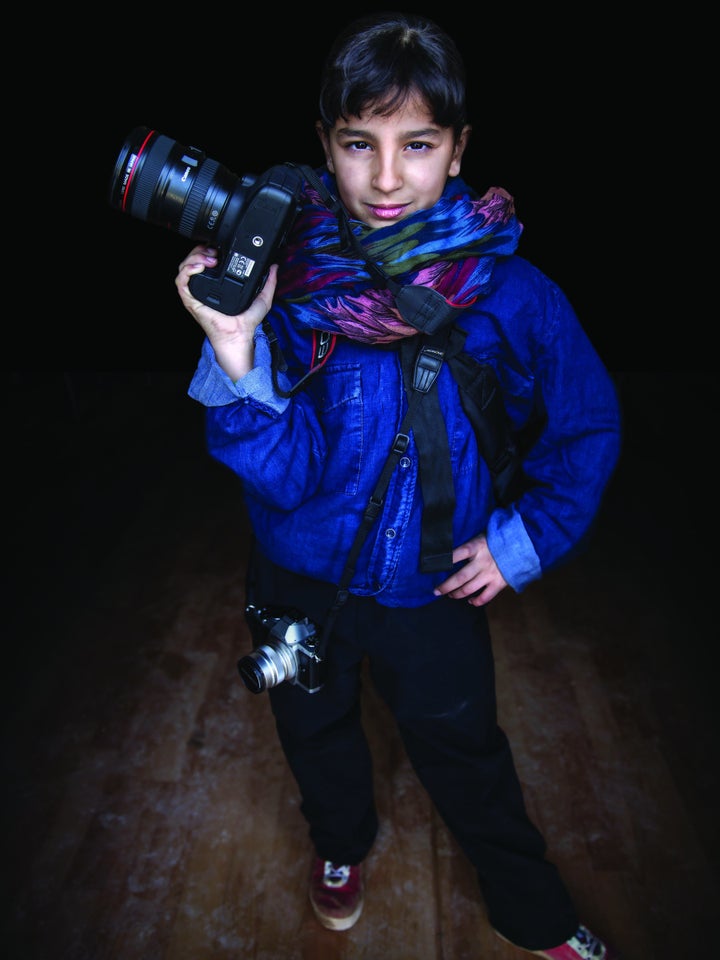 "Since I was a young girl I loved taking people's photographs. I loved going to different events and documenting what was happening – both the good and bad. Now, as a professional photographer I use my images to inspire hope in others – to encourage love and understanding."
7. Nour, 16, Future Lawyer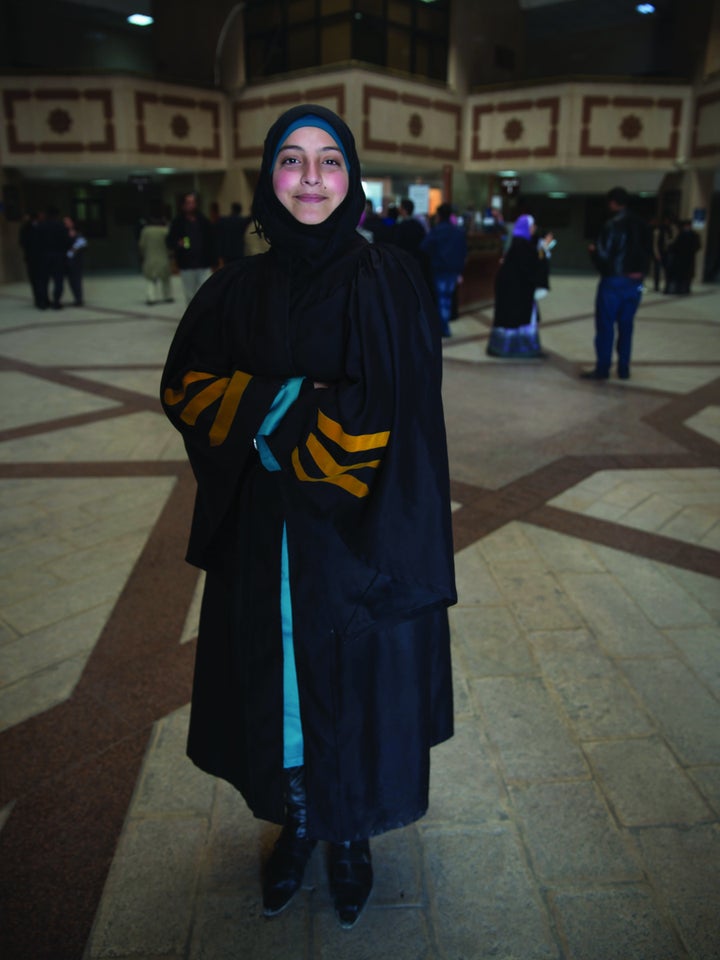 "I want violence against women to end. I want women to be able to make decisions for the community, and say their opinion without fear. I want our society to open up and give space for women to be whoever they want to be. This is why I decided to become a lawyer.
When I was younger, my mother told me I was courageous and truthful, and that I could be a great lawyer who fought injustice. I took her advice, and now am a respected lawyer working on women's rights and defending women who are victims of domestic violence."
8. Mona, 10, Future Physician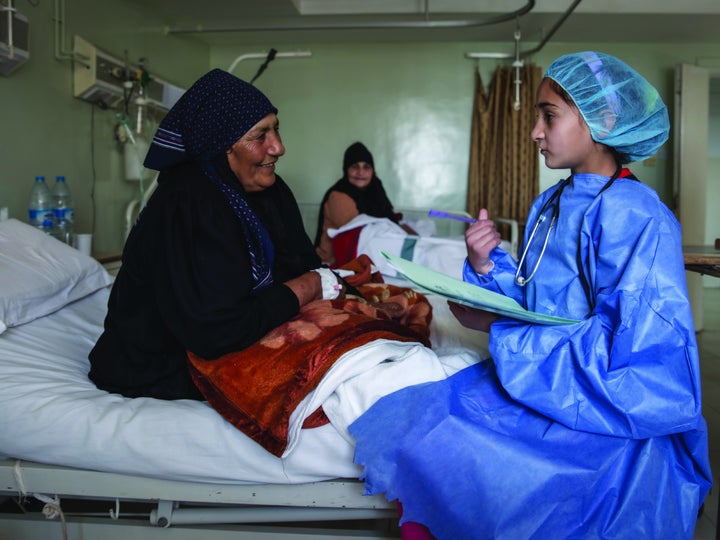 "In this image, I am in the future and a well-respected physician at a major hospital in Syria. I am asking my patient about her pain, and helping her get better.
I feel very fortunate to be where I am today. My mother was born and raised in a village and didn't go to school, but as a young girl I had the opportunity to learn and grow into a great doctor. People feel safe around me, they believe in me, and I use my skills and compassion to help many others."
9. Fatima, 12, Future Teacher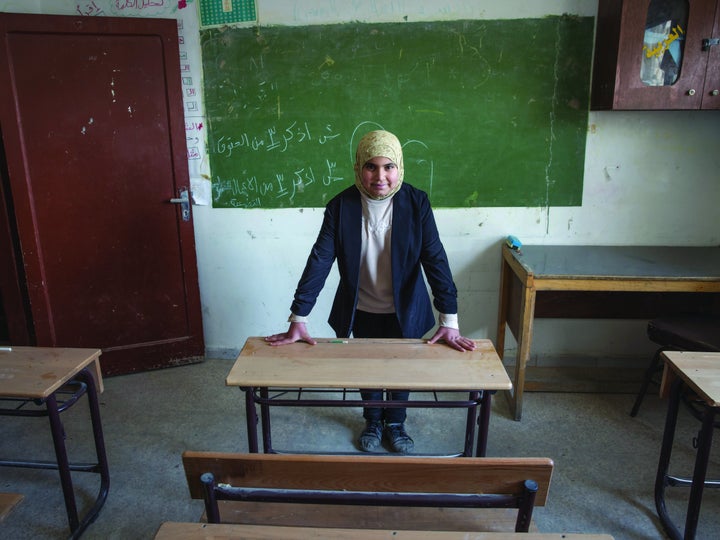 "In this image, it is the early morning and I am waiting in my classroom for my students to arrive. I teach younger children to read and write Arabic.
I am a very compassionate and kind person, and so a perfect teacher. I am strict, but I go out of my way to gently help those students who are having difficulties."
10. Merwa, 13, Future Painter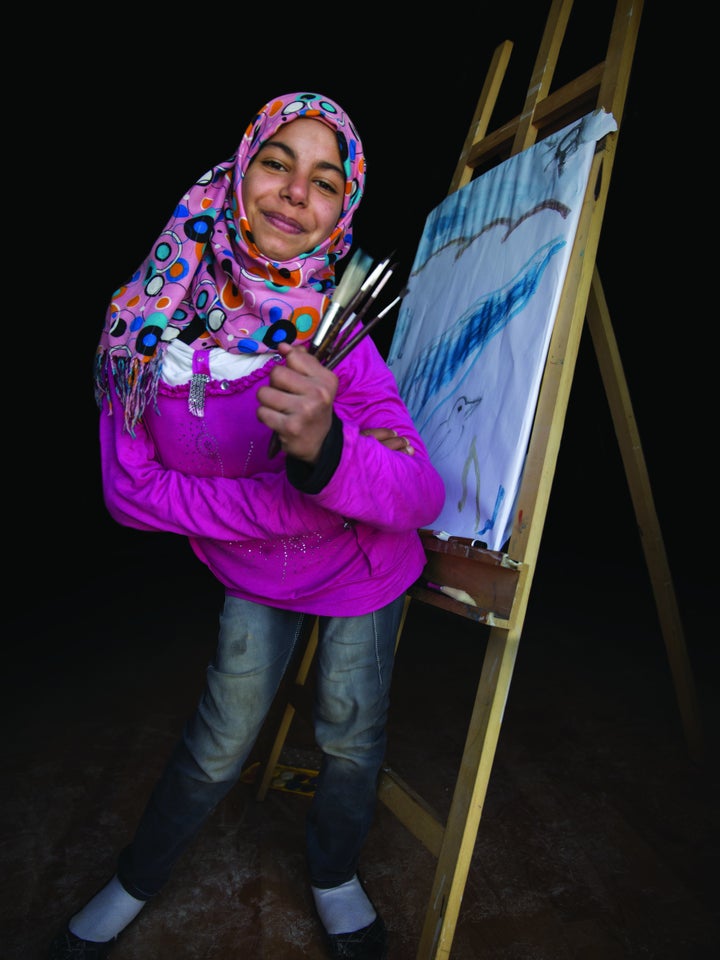 "In this image, I am a popular painter, working on a landscape in oils. When I was younger, painting was a hobby – but as I grew older I saw I had a great talent and went to art school.
Now I have my own gallery where I sell my paintings and sculptures. My hope is that my artwork inspires peace in the world and encourages people to be kind to one another."
Calling all HuffPost superfans!
Sign up for membership to become a founding member and help shape HuffPost's next chapter
BEFORE YOU GO
PHOTO GALLERY
These Famous People Were Refugees