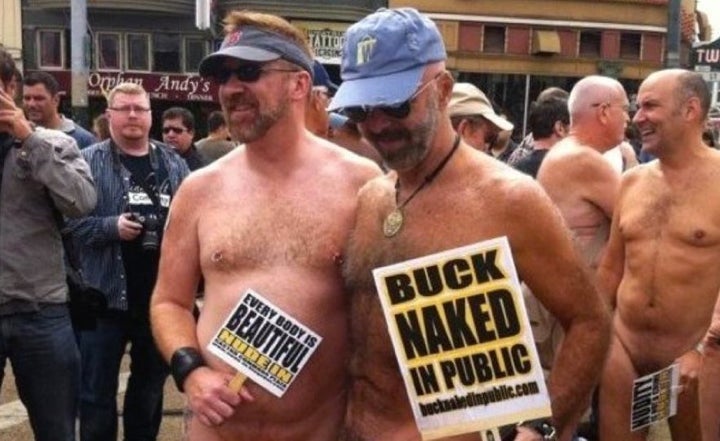 There are an increasing number of places in San Francisco where it's illegal to sit— the sidewalk for instance.
If Supervisor Scott Weiner has his way, the city's restaurants will soon be added to that list. Well, strictly speaking, Weiner's proposed legislation only applies to a certain subset of people—naked ones.
On Thursday, a bill clamping down on the ability to be naked in public in San Francisco was passed by the Board of Supervisors' Public Safety Committee and will now go before the full Board for final approval.
Public nudity is perfectly legal in San Francisco as long as the exhibitionist isn't aroused. However, there are an increasing number of people in the city's Castro neighborhood who make a regular practice of lounging around in the buff in the area surrounding local plaza colloquially known as "The Buff Stop."
This practice has raised hackles in the increasingly kid-filled, and legendarily gay-friendly, Castro neighborhood.
Weiner, who represents the area, has introduced legislation to amend the city's health code to ban nudity for customers in restaurants (its already prohibited for employees) and require anyone sitting on an outdoor bench or pubic transportation to put down a towel between the seat and their rear ends.
Jonathan Storper, for one, talked to Wiener's office this summer about the Naked Guys placing bare bottoms on the plaza's public seats. Nudity "is not a gay-straight issue," the attorney said, adding that even in San Francisco "there is a time and place for everything."

"I've talked to the police about enforcing the healthcare concern, and they tell me they cannot do that," Storper said. "And I've talked to the public health department. They say it's not their jurisdiction."
Whereas the nearby city of Berkeley, usually considered just as famously tolerant as San Francisco, put an outright ban on public nudity in the late 1990s, no one in San Francisco is seriously considering a full prohibition.
Thursday's hearing was expected to draw a clothed crowd—City Hall has a strict "no shirt, no shoes, no service" policy—however, nary a soul showed up to voice their opinion either for or against the measure.
In September, a group of nudists irked by the proposal staged a "nude-in" protesting the regulation.
"The tourists love it—it's something they don't see anywhere else," nudist and former mayoral candidate George Davis told the San Francisco Chronicle. "The only people who have problems with it are excessively authoritarian. They're angry, they're religious nutcases or they've got unrealistic issues of body shame and body acceptance."
"San Francisco is a liberal and tolerant city, and we pride ourselves on that fact," said Wiener in a statement. "Yet, while we have a variety of views about public nudity, we can all agree that when you sit down naked, you should cover the seat, and that you should cover up when you go into a food establishment."
The measure will shortly go before the full Board of Supervisors for approval. If it passes, the closest San Franciscans will get to a naked lunch will be reading the book.
Check out this slideshow of photos from the "nude-in":
Calling all HuffPost superfans!
Sign up for membership to become a founding member and help shape HuffPost's next chapter
BEFORE YOU GO