The Obamas arrived in New Orleans from Martha's Vineyard yesterday morning so the president could mark the 5-year anniversary of the flooding of the city of New Orleans. Before President Obama's speech on the disaster and the state of the recovery of New Orleans at Xavier University, the Obamas made an unscheduled stop for lunch at the Parkway Bakery and Tavern, in the Mid-City neighborhood overlooking Bayoux St. John. The restaurant is known for its shrimp and roast beef po' boys -- the president had the shrimp -- and went underwater five years ago.
The play-by-play of the Obamas' visit, from the pool report:
POTUS, FLOTUS and their daughters entered the crowded place and POTUS ordered at the window.

POTUS hugged the woman who took his order and then kissed her on the cheek.

He turned to a handful of people standing behind him along the wall and apologized for cutting in line, after posing for a photo with them.

"We're just glad to see you thanks for coming down," one woman he cut in front of said.
POTUS, who had dropped his jacket, and FLOTUS then mingled with the crowd and shook hands with at least three dozen beaming customers under the covered terrace, as cheers and applause broke out. A few lucky people also got hugs.

He thanked diners for their hospitality and promised to stay focused on their city.
"We're still here and we're just gonna keep on building. We're going to keep on working, alright?" he said.

As POTUS was working the room, a voice came over the loudspeaker and said, "Barack pickup."

[...]

"I appreciate you coming here," one woman told POTUS.

"Of course," he replied.

After spending some time with the diners, Obama headed to his seat.

"Alright I better go sit down before somebody steals my sandwich," he said.

Asked what he ordered, Obama said, "I got the shrimp."

"Somebody said the roast beef's good too," he added.

A young man standing beneath one of those Ziploc bags told POTUS to "get the surf and turf, on top of each other."

"The combo thing," POTUS replied knowingly. "There was a time I could do that. When I was your age.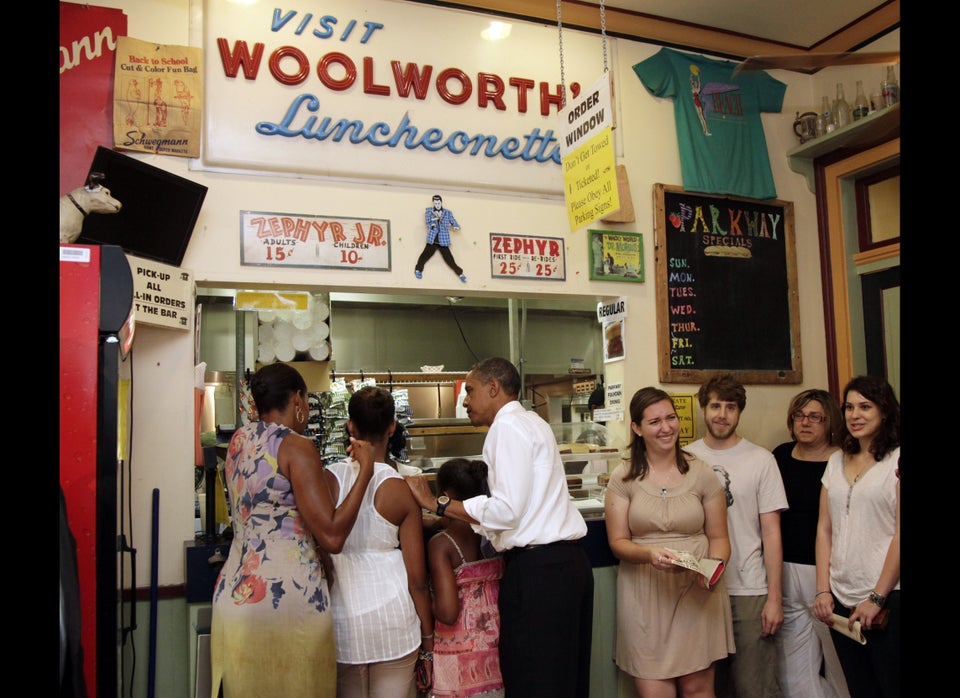 PHOTOS: The Obamas' Unscheduled Lunch Break At New Orleans' Parkway Bakery And Tavern
The Parkway Bakery and Tavern is a 100-year-old institution, now owned by Jay Nix and his sister Eileen Nix. Jay's fiance Sandra Kruse and Eileen and her three children all work at the restaurant. Five years ago they were six feet underwater inside and there was 10 feet of water outside. The Nix family reopened the restaurant 88 days later, reconstructed to never flood again.