(Story continues below.)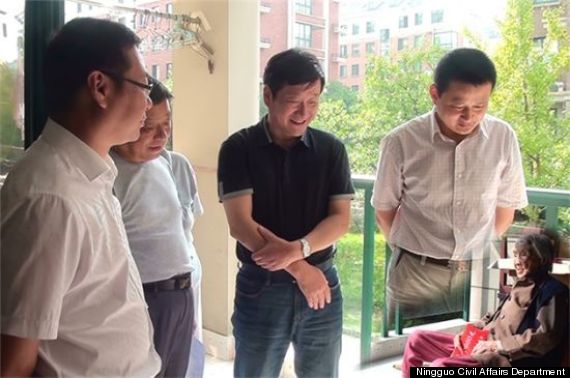 Published on the website for the Department of Civil Affairs in Ningguo City, located in the eastern Anhui province, the photo was apparently meant to depict Vice Mayor Wang Jun and other officials visiting a local centenarian during a festival. The Guardian has identified the elderly woman as Cheng Yanchun.
The pic, however well intentioned, raised eyebrows online due to the bizarre size of the politicians, in comparison to Cheng. The ghostly appearance of one politician's legs also caused some to question the photo's authenticity.
Government officials have expressed their regrets over the debacle, and the employee responsible for the photo was required to apologize and write a "self-criticism report" about the botched job, according to The Guardian. Officials claimed that Photoshop was used merely to fix spacial problems that arose during the photo shoot. (So stop worrying, Internet: Ningguo's Department of Civil Affairs is not staffed by ghosts.)
Ningguo's photo mess resembles a poorly Photoshopped picture from last year which shows government officials from the Yuhang District, of China's costal Zhejiang province, appearing to float in mid-air while inspecting a park. The inept photo edit even inspired a meme called "Floating Chinese Government Officials."
We seriously doubt anyone was ever fooled by these sloppy photo edits. At least when North Korea breaks out the Photoshop, it sometimes succeeds. Back in March, the country released a photo of several hovercraft landing on a beach; but the Agence France-Presse eventually pulled the image, citing "evidence of tampering." That pic (below) looks way more convincing than Ningguo's "Ghost Man Meets Mini Woman" pic, doesn't it?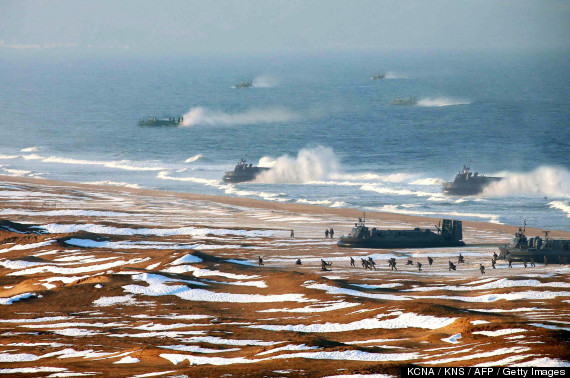 This picture released by North Korea's official Korean Central News Agency on March 26, 2013, and taken on March 25, 2013, shows the landing and anti-landing drills of KPA Large Combined Units 324 and 287 and KPA Navy Combined Unit 597 at an undisclosed location on North Korea's east coast. (AFP PHOTO / KCNA VIA KNS)
REAL LIFE. REAL NEWS. REAL VOICES.
Help us tell more of the stories that matter from voices that too often remain unheard.
BEFORE YOU GO
PHOTO GALLERY
Bashar Assad: The Man Without Wrinkles Or Shadows