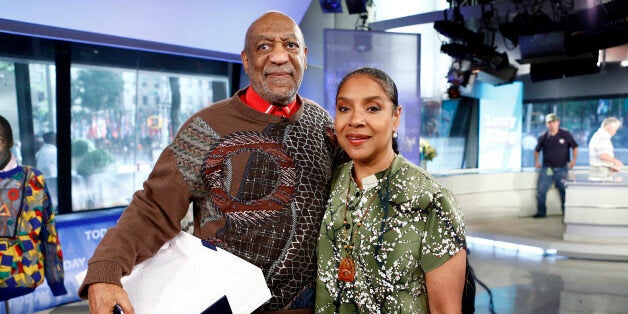 "That is not what I said," Rashad said. "What I said is, 'This is not about the women. This is about something else. This is about the obliteration of a legacy.'" Continued Rashad: "I am a woman. I am a woman. I would never say such a thing."
As for Cosby, Rashad spoke highly of her former television husband: "He's a genius. He is generous. He's kind. He's inclusive."
When asked about the numerous abuse allegations against him, however, Rashad said it was an issue with the media. "What has happened is declaration in the media of guilt without proof," she said.
EARLIER: Phylicia Rashad has commented for the first time about recent allegations of sexual assault made against her former TV husband, Bill Cosby. In an interview with Showbiz 411, the actress -- who played Clair Huxtable on "The Cosby Show" -- said she felt the allegations were part of a larger plot to destroy Cosby's career.
"Forget these women," she said. "What you're seeing is the destruction of a legacy. And I think it's orchestrated. I don't know why or who's doing it, but it's the legacy. And it's a legacy that is so important to the culture." Rashad later added that she thinks someone is trying to "keep Bill Cosby off TV."
Rashad also defended Cosby's wife, Camille. "This is a tough woman, a smart woman," she said. "She's no pushover."
In a statement released in December, Camille Cosby compared the allegations made against her husband to the botched Rolling Stone article investigating campus rape at the University of Virginia.
"The story was heart-breaking, but ultimately appears to be proved untrue," she wrote. "Many in the media were quick to link that story to stories about my husband -- until that story unwound. None of us will ever want to be in the position of attacking a victim. But the question should be asked -- who is the victim?"
He is the FATHER you thought you knew. 'The Cosby Show' was my today's tv reality show. Thank you. That's all I would like to say :).
Rashad's comments come on the heels of those made by another one of Cosby's former's co-stars, Keshia Knight Pulliam, who played Rudy Huxtable on the show. During an interview with "Today" on Monday, Pulliam said she ultimately could not speak to what has happened.
What I can say is this: I wasn't there. No one was there except for the two people who know exactly what happened. All I can speak to is the man that I know and I love. The fact that he's been such an example, you can't take away from the great that he has done. You know, the amount, the millions and millions of dollars that he has given back to colleges and education, and just what he did with 'The Cosby Show' and how groundbreaking that was...Ultimately, they're just that, allegations. You know, it's very much been played out in the court of public opinion. But we're still in America, where ultimately you're innocent until proven guilty. I wasn't there. That's just not the man I know. So I can't speak to it.
Popular in the Community