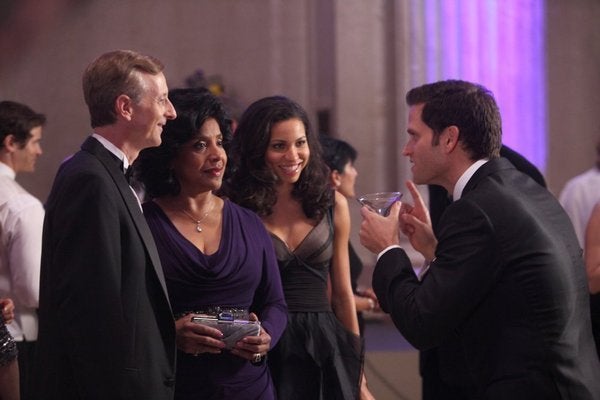 Phylicia Rashad hasn't been a series regular on television since "The Cosby Show" (and a few of its incarnations thereafter). But Clair Huxtable is a far cry from Dr. Vanessa Young, the character on "Do No Harm" that lured Rashad -- who's done guest spots and spent the majority of her time in theater -- back to primetime.
NBC's "Do No Harm" centers on Dr. Jason Cole (Steven Pasquale), a big-shot neurosurgeon with a multiple-personality disorder that can no longer be suppressed by an experimental medication. Now, it's wearing off, and Jason's destructive alter-ego Ian Price is coming out in the evening hours and wreaking all sorts of havoc. Rashad's character Dr. Young plays Jason's boss and a big champion of Dr. Cole, as well. But presumably, that's all about to change.
What attracted you to "Do No Harm" and the role of Dr. Vanessa Young?
The writing. It is intense, it is suspenseful, it is engaging. It is all of that and that's what attracted me to it. I thought, "This is certainly a departure from any of the work that I have done before and have been doing most recently. And you know, I like it!" I've been presented with pilots over the years and none of them have really caught my attention like this did.
Oh right! Did you have to do any research to get comfortable with the terminology or anything?
I grew up around doctors so they don't go around talking like that all day long, but having grown up around doctors, dentists and healthcare professionals, I'm not intimated by that type of language.
In the pilot, Dr. Young seems to like Dr. Cole and trust him, but it seems like only a matter of time before she meets Ian and that all changes. How does that affect her?
Everybody is affected by the changes. Everyone. Every character because we're all working together.
Is there potential for her to help him?
Well, there's certainly potential for her to try.
Though you've done a lot of theater, people know you in the TV world for doing comedy. Have you found doing a TV drama to be very different?
For me, it's all acting. It's all performance. Yes, there are some differences. It's a different format: Instead of working with one director as we did on "The Cosby Show" for so long -- Jay Sandrich -- now I'm working with multiple directors and each of them has their own approach and their own style so that's the difference. The differences tend to be approach and technique.
What has it been like working with Steven?
He is a very upbeat, joy-filled and extremely talented individual. He works very hard, but he doesn't let you feel that. You know that because you're watching it. [Laughs.] He never lets you feel the weight of that on him. It's a lot, but he's really disciplined.
Jurnee Smollett is playing your daughter on the show and that's a bit of a reunion for you two because you worked with her on "Cosby." What was it like working with her again?
We have done two episodes and gosh, it was so good. [Laughs.] It was wonderful. She's a very fine actress and she's a very great person so it was just wonderful.
Now that you're back on NBC, have you been running into Tempestt Bledsoe since she's back with the network too on "Guys with Kids"?
No, I have not seen Tempestt. I'm looking forward to seeing her and congratulating her in person and to tell her what a marvelous job I think she's doing and how very proud of her I am. I really am very, very proud of her. Bill and I always thought she had that. Mr. Cosby and I always used to talk about how we thought she had great potential as an adult actress. And that's why she can do that kind of comedy because she's not playing for laughs; she's playing for honesty.
PHOTO GALLERY
NBC's New Shows
Calling all HuffPost superfans!
Sign up for membership to become a founding member and help shape HuffPost's next chapter
BEFORE YOU GO