So how exactly does one get hired to voice a character in a Pixar film?
Well, to hear Phyllis Smith (i.e., the Office vet who voiced Sadness in Inside Out) tell the tale, it wasn't talent or luck that actually won her this part. But -- rather -- insomnia.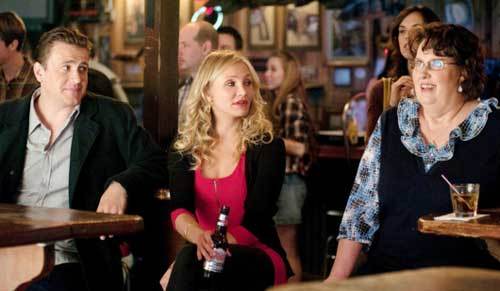 "Jonas Rivera -- the executive producer of Inside Out -- couldn't sleep one night. So he turns his TV on and starts watching Bad Teacher. Which is this movie that I made with Cameron Diaz back in 2010," Smith recalled during a recent interview. "Anyway, Jonas must have seen something he liked in Lynn Davies -- which was the name of the character that I played in this film. Because the next morning he calls Pete Docter and says 'I think I found our Sadness.' "
A day or so later, Phyllis is sitting on the couch in her home in St. Louis when the phone rings. It's the casting director from Pixar Animation Studios. Who then invites Smith to come on out to Emeryville to meet with Rivera & Docter.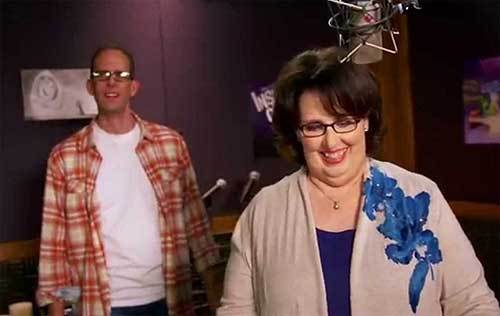 "And the next thing I know, I'm out at Pixar and they're giving me a tour of the campus. Which is amazing. And they then take me into this room where the walls are completely covered with artwork for this movie about emotions that Pixar is in the process of making. And they then tell me the concept for Inside Out. And when they then asked me if I'd be interested in voicing a character in this movie ... Well, I don't think that I waited more than a second before I said 'Yes,' " Smith laughed. "Yes, please!"
That sort of upbeat, positive response may surprise a lot of folks who only know Phyllis from the somewhat soft spoken / downcast characters that she has played on The Office & Bad Teacher. But in real life, this former NFL cheerleader and burlesque performer is an actual pretty jubilant person.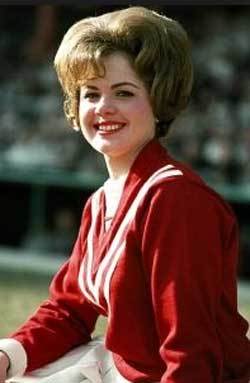 "A lot of people don't know this about me. But I actually started out as a dancer. It was only after I'd had some injuries that I basically retired from the performing side of show business and then began working in casting. I did that for 19 years or so before a friend of mine decided to cast me as Phyllis Lapin-Vance on The Office, " Smith recalled. "So as someone who worked in casting, would I have had the insight to cast myself as the voice of Sadness? I don't think so. I don't know if I could have seen what Jonas saw. Or heard, I should say. But I'm so, so glad that he did."
So what's been Phyllis' favorite part of being associated with Inside Out ? Was it getting flown over to Cannes for this Pixar film's world premiere back in May? Or walking down the red carpet in Hollywood when this Pete Docter movie had its Los Angeles premiere in June? Actually, no. Smith's fondest memory of this film happened just a few weeks ago far closer to home.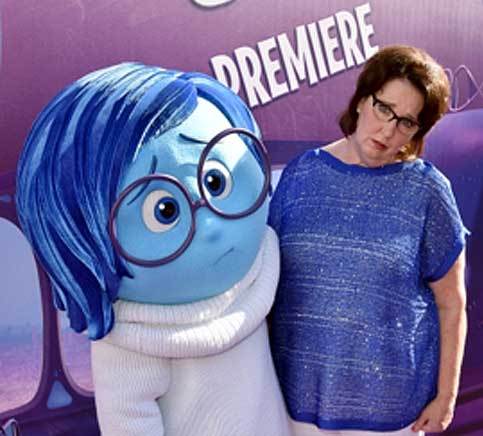 "Now you have to understand that my Mom is 93. And given her age and her health, it just wasn't possible for her to fly all the way out to Southern California and then get to see Inside Out when it was being shown at the El Capitan. She had to stay back home in St. Louis," Phyllis recounted. "Mind you, Disney did send this great big box of Inside Out toys and products to the house. And my Mom and I had the best time going through that box. She just loved the Sadness doll. That day was a very nice memory. A core memory for me that I'll be sure to hang onto.'
"But it wasn't until just a few weeks ago that my Mom finally got to see Inside Out. My brother surprised us. He just showed up at the house one day and said 'Come on. Let's go see Phyllis's movie. So Mom got out of the house and we went to our local theater to see Inside Out, " Smith continued. "Now the movie had been out quite a while at that point. So it was not a packed house at that theater. But it was still really neat to be able to sit there with my Mom and my brother and then look over at them while Inside Out was playing. My brother actually cried during one moment in the movie. Whereas my Mom was just beaming up at the screen. Her smile went from ear to ear. That was another nice memory for me."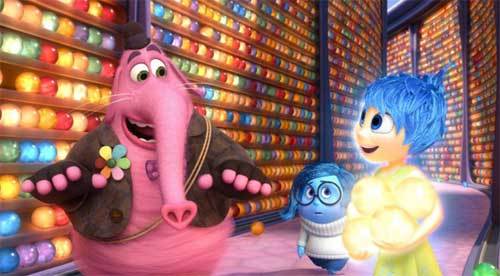 But when it comes to Inside Out, what was Phyllis' absolute favorite memory? She has trouble settling on just one.
"You have to understand that -- when you're a voice actor on an animated film -- you're really just a tiny little piece of this huge process. And when you finally get to see the finished product and see all of the wonderful work that the animators & the designers & the writers did to make your character stand out, it's just so touching, so humbling," Smith enthused.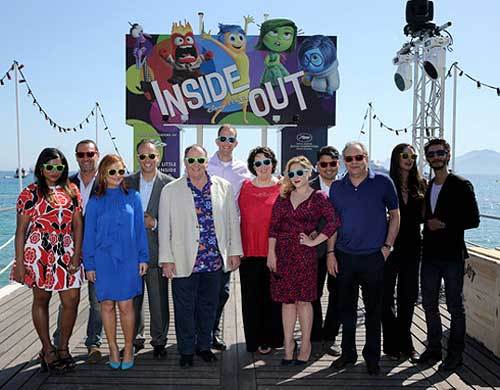 But -- in the end -- the moment, the memory that Phyllis treasures most was when John Lasseter pulled her aside for a quick chat while the filmmakers and the voice cast were at Cannes.
"He gave me the nicest compliment. First of all, John thanked me for being the voice of Sadness. He then went on to say that -- because I had done such a nice job with my character on Inside Out -- I would now and forever be a part of the Pixar family," Smith recalled. "And I, in turn, thanked John and Jonas and Pete for giving me the opportunity to voice a character for Inside Out. To be a part of a motion picture that clearly means so much to so many people."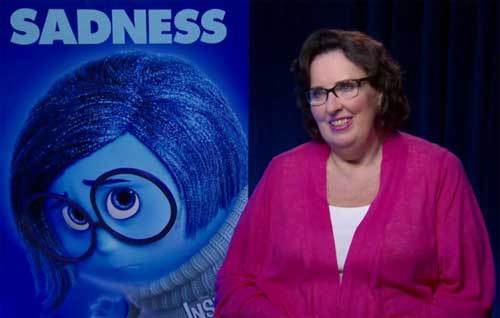 Phyllis recently got a taste of just how much Inside Out actually means to people when she was shopping at her local Target store back in St. Louis.
"I heard this tiny voice behind me. And when I turned around, there was this little bitty girl standing there. She was maybe 5 or 6 years-old. And she was holding this Sadness doll. I don't think that her family had actually paid for it yet. And she asked me if I could sign her Sadness doll. And that was really heartwarming," Smith said.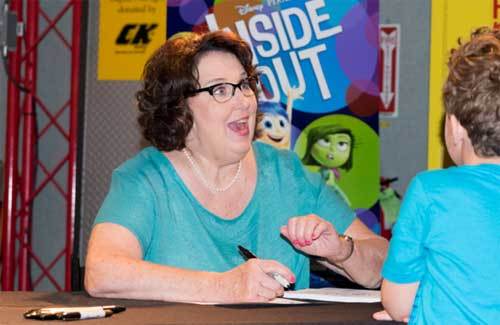 Who would have thought that being cast as the voice of Sadness would cause Phyllis Smith such joy?
Calling all HuffPost superfans!
Sign up for membership to become a founding member and help shape HuffPost's next chapter