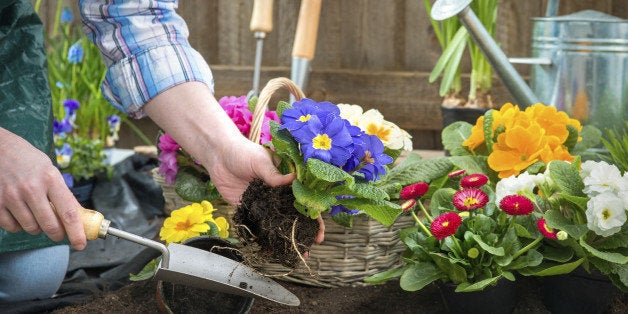 The weather in the Pacific Northwest was hot and gorgeous this week so I forwent my usual indoor workouts and yoga classes to work in the yard. I planted box planters with vegetable starters. I weeded flower beds alongside our dog who acted like a canine weed whacker, biting at the tall grasses and dandelions that have overrun the beds. I turned over dirt, hauled and emptied bags of soil, and planted new flowers. I was happy to get sweaty, dirt-covered, and work out my major muscle groups. After all, the Centers for Disease Control says, "Gardening is an excellent way to get physical activity. Active people are less likely than inactive people to be obese or have high blood pressure, type 2 diabetes, osteoporosis, heart disease, stroke, depression, colon cancer, and premature death."
Similar results were reported in the journal HortTechnology that published a study that looked at the affects on allotment gardening on healthy aging. The study authors reported, "Allotment gardeners reported significantly less perceived stress than participants of indoor exercise classes."
The other beauty about gardening on a small or a large scale is that it can be done by people almost any age or ability. Similar to caring for a goldfish, caring for a plant can teach a young child responsibility (as well as a bit about science, nature, and nutrition, if the plant is also a food). Researchers at Kansas State University saythat through gardening, older adults can gain hand strength, boost their self esteem, and aid in stroke rehabilitation and recovery.
So at the end of this week on Earth Day, help celebrate the earth and your health by digging in the dirt and planting something--whether it be an herb in a pot for your kitchen windowsill, a vegetable in a community garden, or a flower to add more color and beauty to your space. Feel yourself de-stress and be grateful for all of the health benefits.
Support HuffPost
A No-B.S. Guide To Life
Related
Popular in the Community