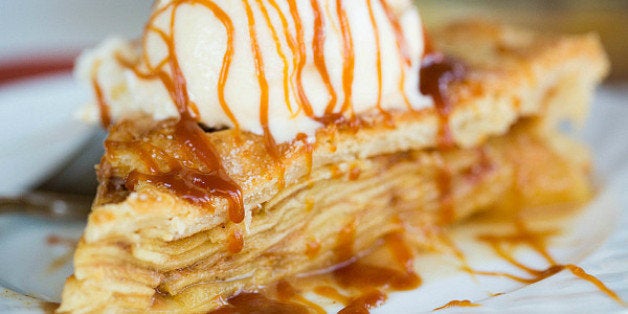 Today, March 14, or 3/14, is National Pi Day. If you're up for it, you could celebrate by searching for the end of pi (hah!), or attempting to discern a meaningful pattern in the number's decimal representation. Alternatively, you could make or eat delicious pie.
It seems that most American authors who we think of as belonging to the canon had an affinity for the flakey, fruity dessert. Ernest Hemingway and Willa Cather had pie recipes of their own, and Jack Kerouac mused about its richness while romping across the Midwest. Ralph Waldo Emerson was known to enjoy eating pie for breakfast. When others refused to partake in his strange habit, he'd ask, perplexed, "What else is pie for?"
Here are the favorite pies of your favorite American authors:
Jack Kerouac was a big fan of plain ol' apple pie, served up the Midwestern way. Not only did he include descriptions of it in his classic stream-of-consciousness novel, raving about its richness, he also described it in the letters that he wrote home to his mother. Literature's most famous roadtripper would live off of apple pie for months.
Quote: "I ate apple pie and ice cream—it was getting better as I got deeper into Iowa, the pie bigger, the ice cream richer." -from On the Road
Willa Cather's Gooseberry Pie
Willa Cather worked for a number of women's magazines, including Pittsburgh's Home Monthly and New York City's McClure's Magazine. She grew up in Nebraska, and even when she moved to more urban areas, she sought seclusion by spending her summers in the scantly populated Grand Manan Island in Canada. Her stories are about decidedly Midwestern topics, and in Shadows on the Rock the characters discuss and make a gooseberry pie. According to At Willa Cather's Tables, published by the Willa Cather Foundation, the author was "fond of gooseberries" and "wrote her family about preparing a gooseberry dessert."
Quote: "What are you having for dessert tonight, my dear?" "We have the cream cheese you brought from market yesterday, and whichever conserve you prefer; the plums, the wild strawberries, or the gooseberries." -from Shadows on the Rock
Sylvia Plath's Lemon Meringue Pie
Sylvia Plath's diaries are full of her musings and fears concerning her more domestic interests, which we get a glimpse of in The Bell Jar. In one of her journals, she laments, "I was getting worried about becoming too happily stodgily practical: instead of studying Locke, for instance, or writing—I go make an apple pie, or study the Joy of Cooking, reading it like a rare novel. Whoa, I said to myself. You will escape into domesticity & stifle yourself by falling headfirst into a bowl of cookie batter."
Quote: "Baked a lemon meringue pie, cooled lemon custard crust on cold bathroom windowsill, stirring in black night stars." -from Sylvia Plath's diaries
Hunter S. Thompson's Key Lime Pie
Hunter S. Thompson, like Emerson, valued the act of eating a slice of pie for breakfast. Thompson wasn't quite as dedicated to the morning staple as Emerson, as he wrote about many other breakfast foods to feast on each day, including grapefruit, coffee and margaritas. Still, he enjoyed, key lime pie in the morning (well, around noon, anyway) accompanied by hot weather, the newspaper and good music.
Quote: "...something like a slice of key lime pie, two margaritas and six lines of the best cocaine for dessert..."
Ernest Hemingway's Campfire Apple Pie
Hemingway is no stranger to the kitchen—A Movable Feast richly describes eating oysters in Paris, and The Sun Also Rises goes into detail about the wine in Spain. There's an entire cookbook based on his recipes, many of which he inherited from his father, Ed. His Campfire Apple Pie involves baking the pie in a Dutch oven-like device, and using dried apples. Otherwise, it's a relatively standard apple pie. He also writes briefly about pie in his celebrated short story, "Ten Indians."
Quote: "I have discovered that there is romance in food when romance has disappeared from everywhere else."
Mark Twain's Huckleberry Pie
In Mark Twain's A Tramp Abroad, the author writers about the various American foods that he missed while overseas, including, but not limited to, potatoes prepared various ways, corn, ice water, and of course, a number of pies. Twain opines about "Apple pie. Apple fritters. Apple puffs, Southern style. Peach cobbler, Southern style. Peach pie. American mince pie. Pumpkin pie. Squash pie." Supposedly, his favorite pie was an Apple Mush pie, which involves using apple sauce in the filling, but he was also a fan of "Fresh American fruits of all sorts," so we'd venture to guess that he also enjoyed huckleberry pie (one of his most famous characters is named "Huckleberry," after all).
Quote: "Part of the secret of success in life is to eat what you like and let the food fight it out inside."

Related
Popular in the Community