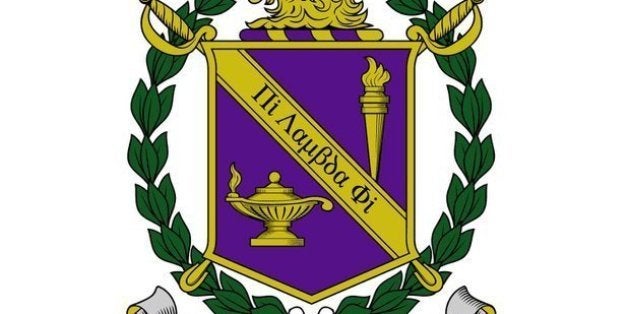 I would like to share with you the story of one of the first "sisters" within a men's fraternity. If you know anything about fraternities and sororities, you know that fraternities are mainly for men, while sororities are mainly for women. Yes, there are co-ed fraternities and sororities out there, but let's focus on the many ones with gender roles deemed by society.
Pi Lambda Phi is a fraternity first founded at Yale University in 1895 by Frederick Manfred Werner, Louis Samter Levy, and Henry Mark Fisher. It was founded as a response to the discrimination that those three students experienced when they were denied permission to join any of the other fraternities at Yale because of their religious backgrounds. They sought to create the first nonsectarian and nondiscriminatory fraternity, "a fraternity in which all men were brothers, no matter what their religion; a fraternity in which ability, open-mindedness, farsightedness, and a progressive, forward-looking attitude [would] be recognized as the basic attributes."
Pi Lambda Phi's creed references the importance of eliminating prejudice, and that spirit of inclusion has been at its core since its inception. This ideal remains quite firmly in place in the fraternity even today. Pi Lambda Phi has members from all walks of life. It is an organization that believes that diversity is a key factor in making itself a better and more understanding fraternity. The Pi Lambda Phi sister whom I am going to tell you about knew that the Pi Lambda Phi chapter at Winona State University (the Minnesota Kappa Chi chapter) had always been inclusive but wasn't sure about the international fraternity as a whole.
She had been inducted into the chapter as a male (as per the stipulation that only men be inducted). While she was an active undergraduate member, even though she saw how the other members were very open-minded (the chapter had an openly gay member that they accepted fully), and even though she sensed that there was potential to share her story with them, she still kept her secret hidden while she was an undergraduate.
In December 2011, as an alumna of the fraternity, she came forward and contacted Ian Lowe, Executive Director of Pi Lambda Phi. She informed Ian that although she had been initiated into the fraternity as a male (which was in alignment with the fraternity's policies and guidelines), she now identified as a transgender woman and was in process of transitioning. This was no easy step for her to do, but she loved the organization so much and still wanted to be part of a group that had made her feel welcome when she was living her former life.
After Ian Lowe verified her membership, he shared that he would have to disclose this information to the fraternity's governing board to determine how her membership might be viewed given her transition. Lowe stated to her that the specific details of her life would not be shared with the governing board, but that the topic of one's status as an alum when one transitions would be the topic. Lowe further conveyed that he recognized that this is a sensitive topic and that he respected her for her courage in approaching him. She presumed that it would be no easy decision for the governing board and waited as patiently as she could to hear back from them.
On March 20, 2013, she received her answer. She was informed that her transition had no influence on her membership since it was post-initiation, and therefore she would remain recognized as an alum of the fraternity.
Since then she has gotten her name legally changed and is now known as Juliet K. Owen. She is an alumna in good standing with Pi Lambda Phi.
She has even opened up and told her story to her chapter at Winona State University. The members of the chapter didn't know her story previously but have accepted her and begun forming the bonds of fraternal friendship with her.
She is officially a member of an organization that is made for men. It is unknown if she is the only one, but she is at least one of the first to have the courage to be make it public.
This is how Pi Lambda Phi gained a recognized female member in their organization. The fraternity continues to demonstrate the importance of inclusion of people and the fact that they look to the future for further challenges and further acceptance of diverse peoples.
In case you haven't figured it out by now, yes, I am Juliet Owen. I am a member of Pi Lambda Phi. I am very proud to be part of this organization. Our motto is "Not Four Years, But a Lifetime," and my story is one example of how that motto remains relevant.
REAL LIFE. REAL NEWS. REAL VOICES.
Help us tell more of the stories that matter from voices that too often remain unheard.