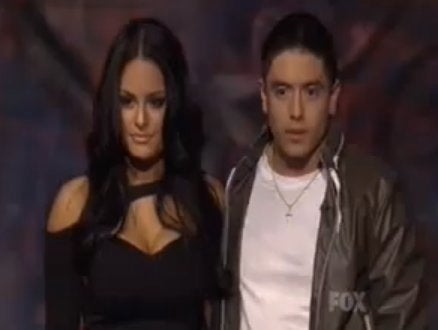 No one saw this coming. American Idol sent home Pia Toscano on Thursday night, widely viewed as one of the best singers left in this year's competition, and it sent the judges fuming.
"I have no idea what just happened here," said judge Jennifer Lopez. "I'm shocked, I'm angry, I don't even know what to say."
Fellow judge Randy Jackson agreed with Lopez, and added, "I'm never really mad on this show, but this makes me mad."
Toscano, 22, is from Queens, New York City, and the fact she was sent home drew boos from the audience, Reuters reported. There are eight competitors remaining.
The elimination also led to widespread social media chatter, with many saying they were shocked, and some saying they won't watch Idol anymore altogether. Even Snooki weighed in with a tweet, "Pia should have won the whole thing! I'm not watchin Idol anuymore. I'm with JLO on this one..."
Pia Toscano soared on the night before her elimination. See her performance of "River Deep, Mountain High" below: